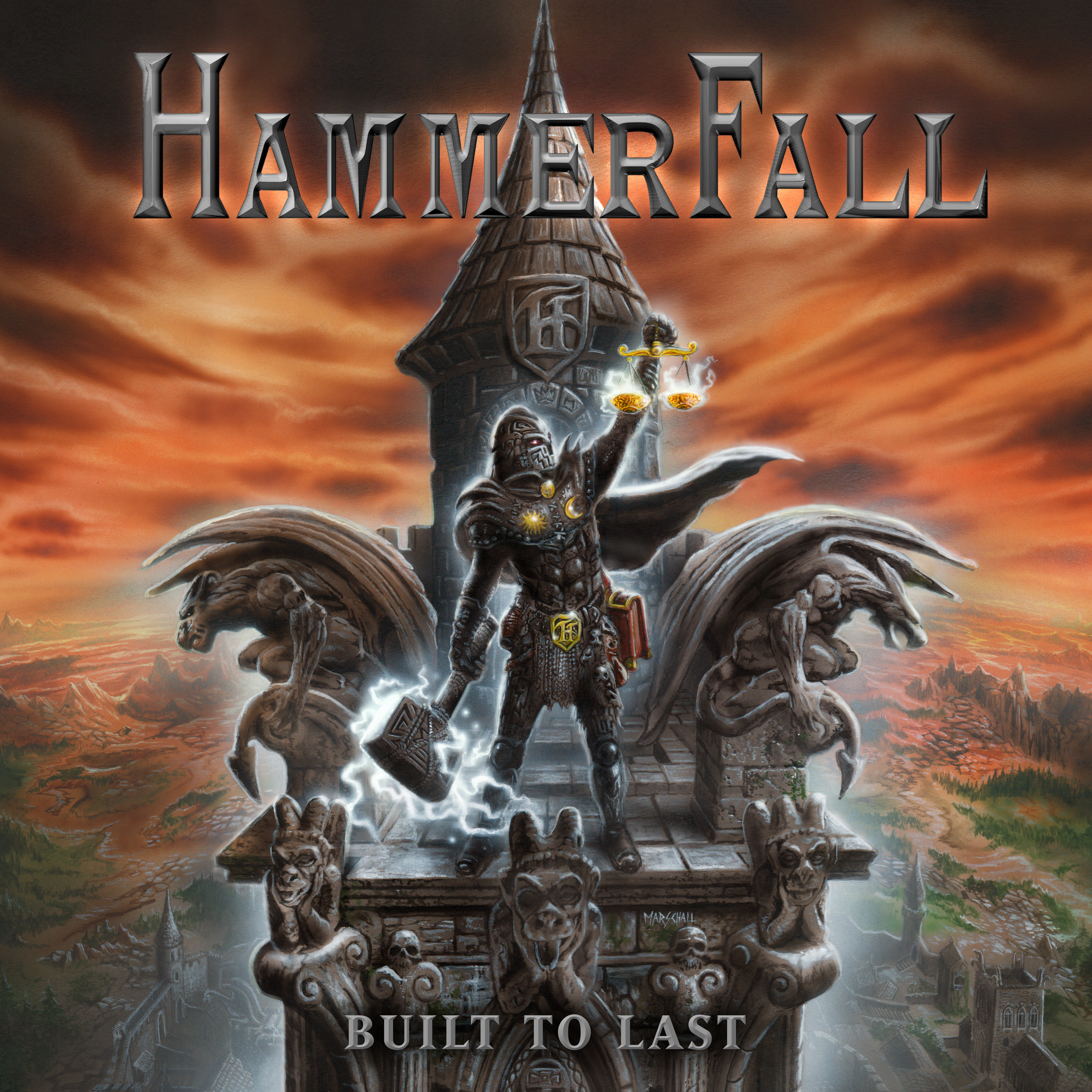 Hammerfall – Built To Last CD Review
21st October 2016
0
By
Fraser
Power metal is seen, unfairly, as thrash metal's younger, nerdy brother. While thrash was out partying, power metal was in their mum's basement playing D&D. I've always thought this view was rather harsh. Yes, power metal lacks the edge of thrash, and the aggression of death metal, but that does not diminish its value. Rather, it enhances it. After listening to Morbid Angel or Slayer for hours upon hours, a bit of easy-on-the-years, upbeat power metal is the perfect way to unwind. Hammerfall, one of the genre's heavyweights, have been charging onwards with their brand of cheery, fantasy-obsessed metal for the better part of two decades. They carved out a signature sound, that, while is largely what one would expect from a power metal band, has a bit more balls and a stronger lean towards catchy songwriting. Their tenth offering, Built To Last, not only continues, but advances this trend.
Fans of Hammerfall know what to expect from the band. For those new to the dragon-slaying Swedes, Built To Last is a good place to start in their discography. Packed with blinding guitar work, anthemic choruses and Joacim Cans's beautiful singing, it ticks all the boxes for a good Hammerfall album.
The Sacred Vow is classic Hammerfall – fast, though still melodic, and absolutely colossal in its delivery. One of the highlights of Built To Last is Twilight Princess. Coming in at just over five minutes, Twilight Princess is a beautiful, melancholic track focussed entirely on melody. It offers a chance to catch your breath from the up-tempo power experienced throughout much of the record. This moment of respite is short-lived, however. The second Twilight Princess finishes, Hammerfall dive into the shreddy, fantastical brilliance the are known for with Stormbreaker. Star of Home is another of the album highlights, perfectly mixing some of Built To Last's heavier riff work with extreme melody, and stunning lyrics.
A real irritation of mine is when metal bands write songs about how cool metal is. Back in the '70s and '80s, it was accepted, but in the current age it feels lazy. For a band as imaginative as Hammerfall, writing Tolkien-esque stories translated into song is where their strength lies. Although Built To last has it's twee, writing-metal-about-metal cheesy moments, they are few-and-far-between. On the whole, Built To Last is a massively enjoyable, fist-in-the-air album with the fantasy lyrics the genre is loved for. A solid effort from the Swedish masters!
Score: 8 out of 10
Built To Last Information
Track List:
1. Bring It!
2. Hammer High
3. The Sacred Vow
4. Dethrone And Defy
5. Twilight Princess
6. Stormbreaker
7. Built To Last
8. The Star Of Home
9. New Breed
10. Second To None
Record Label:
Napalm Records
Release Date:
4th of November 2016
For fans of…
Blind Guardian, Helloween, Iron Maiden
Check out Hammerfall on Facebook, and preorder Built To Last here!
How useful was this post?
Click on a thumb to rate it!
Average rating 0 / 5. Vote count: 0
No votes so far! Be the first to rate this post.
Related
About the author
This bearded wildman from North of the wall survives the harsh ever-present winter of Scotland on a healthy diet of thrash, death metal and beer.