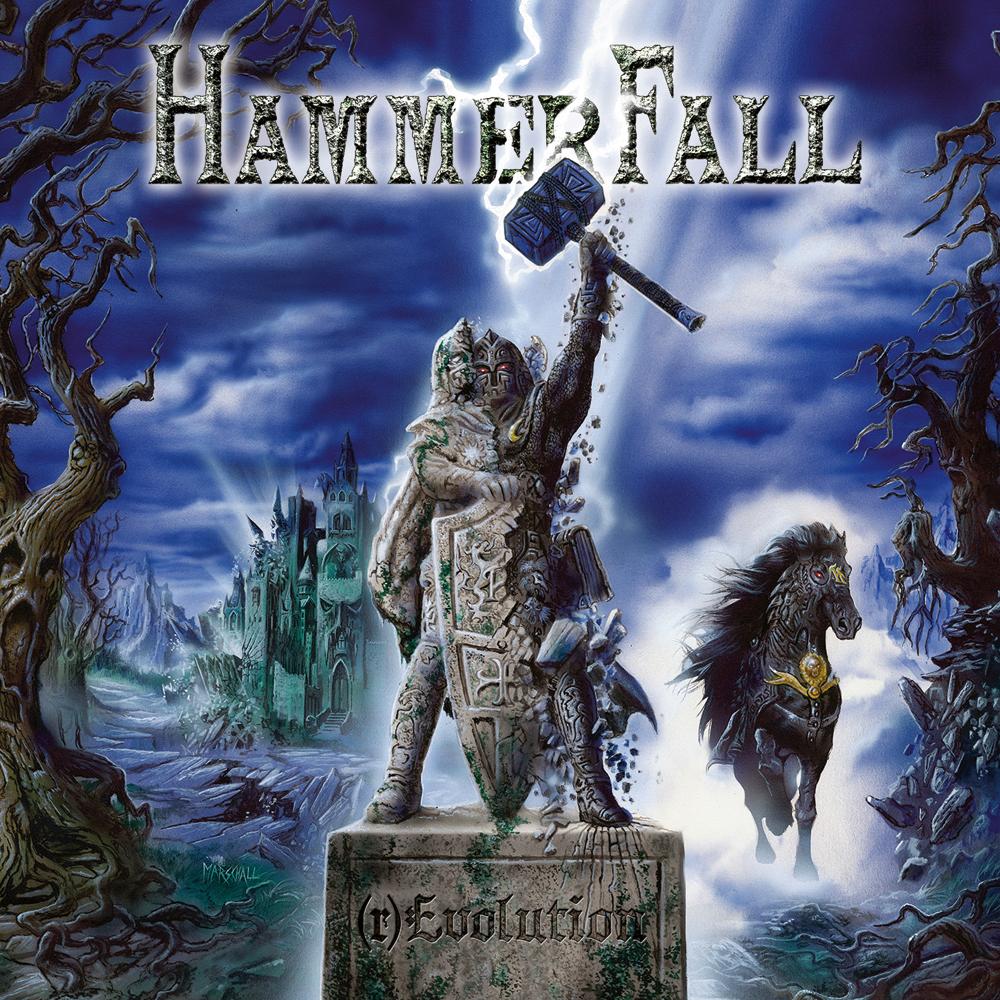 Hammerfall – (r)Evolution
1st September 2014
HAMMERFALL are back with their 9th album (r)Evolution and band mascot 'Hector' makes a welcome return to the album sleeve and even his own song "Hector's Hymn". Now I love HAMMERFALL and remember when "Glory to the Brave" was released as it was the injection of pure power and balls that the power metal scene needed. They followed this up with the pinnacle album of their career "Legacy of Kings" and since then the albums have been on a slow decline (although all still good albums, just not near the greatness of the first two albums). Band mascot 'Hector' was removed from last album "Infected" and this infuriated fans, this is also probably the worse HAMMERFALL album as well as they tried to make their sound darker, coincidence maybe? Think of an IRON MAIDEN album cover without Eddie?!?!? (Sacrilege).
So what does (r)Evolution bring to the table? Well HAMMERFALL fans rejoice this is what you wanted and needed, they have gone back to their roots! This is probably the best album they have released without Jesper Stormblads contributions to the song writing. This is pure heavy power metal…speedy muscular riffs, powerful over the top drumming, catchy sing-a-long choruses, war party gang vocals and wave upon wave of molten cheese! What's not to like?
If you can't stand HAMMERFALL, then this album is going to do little to convert you and you will continue to despise them (your missing out). If you longed for HAMMERFALL to get back to their roots and make more albums in the vein of "Glory to the Brave" & "Legacy of Kings", then this is the closest you are going to get and you will lap it up. After a few listens this album is up there with 'Renegade' and 'Crimson Thunder' in where a few of the tracks on the album are stand out and instant bang your head classic metal songs, but the albums also have some less memorable tracks on them. Although still decent solid tracks, nothing that stands out. '(r)Evolution' is such an album after I remove my HAMMERFALL fan head and see the album as a neutral, "Hector's Hymn" is probably one of the best HAMMERFALL songs written and it's a shame the rest of the album doesn't live up to this and carries it through to the end, although it's still a solid great album with some great songs. I just don't think this will gather HAMMERFALL many new fans. However the older fans will see it as a step in the right direction and hopefully the 10th album will be on par with "Legacy of Kings".
As a fan of the band and glad they are going back to their roots I would love to give this album a higher mark, however being the great reviewer that listening to this album from a neutral point of view, this leads me to the mark of…(see below).
SCORE – 7 out of 10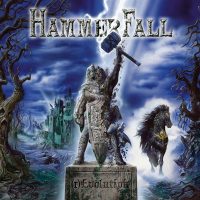 ALBUM INFO
Track Listing:
1… Hector's Hymn
2… (r)Evolution
3… Bushido
4… Live Life Loud
5… Ex Inferis
6… We Won't Back Down
7… Winter Is Coming
8… Origins
9… Tainted Metal
10… Evil Incarnate
11… Wildfire
LABEL:
Nuclear Blast
RELEASE DATE:
29th August 2014 (Europe), 1st September 2014 (UK) & 2nd September 2014 (USA)
STANDOUT TRACKS:
"Hector's Hymn", "Bushido", "Live Life Loud", & "Origins"