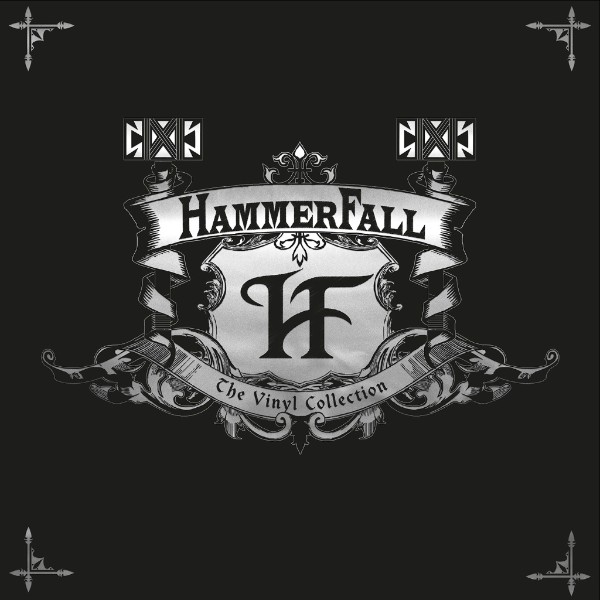 HAMMERFALL 'THE VINYL COLLECTION'
29th September 2016
Swedish Power Metal titans HAMMERFALL are releasing a vinyl box set including all their ten Nuclear Blast studio albums from 1997's debut 'Glory To The Brave' to 2014's acclaimed '(r)Evolution'.
The box will also include the live album 'Gates Of Dalhalla' which has never been available on vinyl before.
Hammerfall: The Vinyl Collection will be available on both limited edition clear vinyl and a limited edition silver version (see below images).
Pre-order the box now from the Nuclear Blast UK Store. 
http://www.nuclearblaststore.co.uk/shop/nuclearblast/products.php?cat=4216
Hammerfall: The Vinyl Collection is released on December 9th.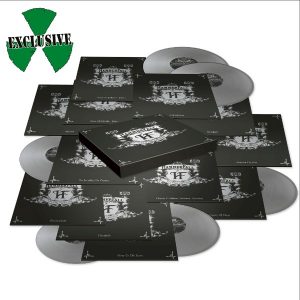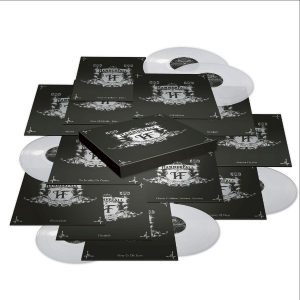 Tracklistings are as follows: 
LP – Glory To The Brave
Side A
01. The Dragon Lies Bleeding
02. The Metal Age
03. Hammerfall
04. I Believe
05. Child Of The Damned
Side B
01. Steel Meets Steel
02. Stone Cold
03. Unchained
04. Glory To The Brave
 
LP – Legacy Of Kings
Side A
01. Heeding The Call
02. Legacy Of Kings
03. Let The Hammer Fall
04. Dreamland
05. Remember Yesterday
Side B
01. At The End Of The Rainbow
02. Back To Back
03. Stronger Than All
04. Warriors Of Faith
05. The Fallen One
LP – Renegade
Side A
01. Templars Of Steel
02. Keep The Flame Burning
03. Renegade
04. Living in Victory
05. Alwas Will Be
Side B
01. The Way Of The Warrior
02. Destined For Glory
03. The Champion
04. Raise The Hammer (instrumental)
05. A Legend Reborn
 
LP – Crimson Thunder
Side A
01. Riders Of The Storm
02. Hearts On Fire
03. On The Edge Of Honour
04. Crimson Thunder
05. Lore Of The Arcane
06. Trailblazers
Side B
01. Dreams Come True
02. Angel Of Mercy
03. The Unforgiving Blade
04. In Memoriam
05. Hero's Return
 
LP – Chapter V: Unbent, Unbowed, Unbroken
Side A
01. Secrets
02. Blood Bound
03. Fury Of The Wild
04. Hammer Of Justice
05. Never, Ever
06. Born To Rule
Side B
01. The Templar Flame
02. Imperial
03. Take The Black
04. Knights Of The 21st Century
 
2LP – Masterpieces
Side A
01. Child Of The Damned
02. Ravenlord
03. Eternal Dark
04. Back to back
05. I Want Out
Side B
01. Man On The Silver Mountain
02. Head Over Heels
03. Run With The Devil
04. We're Gonna Make It
05. Breaking The Law
Side C
01. Angel Of Mercy
02. Rising Force
03. Detroit Rock City
04. Crazy Nights
Side D
01. När Vindarna Viskar Mitt Namn
02. Flight Of The Warrior
03. Youth Gone Wild
04. Aphasia
 
2LP – No Sacrifice, No Victory
Side A
01. Any Means Necessary
02. Life Is Now
03. Punish And Enslave
04. Legion
Side B
01. Between Two Worlds
02. Hollowed Be My Name
03. Something For The Ages
04. No Sacrifice, No Victory
Side C
01. Bring The Hammer Down
02. One Of A Kind
03. My Sharona
 
LP – Threshold
Side A
01. Threshold
02. The Fire Burns Forever
03. Rebel Inside
04. Natural High
05. Dark Wings, Dark Words
06. Howlin' With The 'Pac
Side B
01. Shadow Empire
02. Carved In Stone
03. Reign Of The Hammer
04. Genocide
05. Titan
 
 
2LP – Infected
Side A
01. Patient Zero
02. B.Y.H.
03. One More Time
Side B
01. The Outlaw
02. Send Me A Sign
03. Dia De Los Muertos
Side C
01. I Refuse
02. 666 – The Enemy Within
03. Immortalized
Side D
01. Let's Get It On
02. Redemption
 
2LP – (r)Evolution
Side A
01. Hector's Hymn
02. (r)Evolution
03. Bushido
Side B
01. Live Life Loud
02. Ex Inferis
03. We Won't Back Down
Side C
01. Winter Is Coming
02. Origins
03. Tainted Metal
Side D
01. Evil Incarnate
02. Wildfire
03. Demonized
 
2LP – Gates Of Dalhalla Part 1
Side A
01. Patient Zero
02. Heeding The Call
03. Any Means Necessary
04. B.Y.H.
Side B
01. Riders On The Storm
02. Let's Get It Out
03. Crimson Thunder
04. Renegade
Side C
01. Blood Bound
02. Last Man Standing
03. Fury Of The Wild
04. Drum Solo: Anders Johansson
Side D
01. Always Will Be
02. Dia De Los Muertos
03. Steel Meets Steel
 
2LP – Gates Of Dalhalla Part 2
Side A
01. Threshold
02. The Dragon Lies Bleeding
03. Let The Hammer Fall
04. När Vindarna Viskar Mitt Namm
Side B
01. Something For The Ages
02. The Templar Flame
03. Oh Fortuna
04. Glory To The Brave
Side C
01. One More Time
02. Hammerfall
03. Hearts On Fire
Side D
-etched-