HARD ROCK HELL 9 ANNOUNCE MORE BANDS
30th April 2015
Black Label Society headline Thursday @ Hard Rock Hell 9
Following huge fan demand, Black Label Society will be gracing the HRH stage for a long overdue performance in North Wales this November, alongside other HRH favourites Saxon and UFO.
Black Label Society

Continuing the onslaught will be another two hot tickets from the U.S. namely Scorpion Child & Crobot who will both be making their HRH debut.
Scorpion Child

Crobot

Lastly we have another four to add to the huge spectrum of rock and metal on offer at HRH. First up are Swedish Rockers, The Scams and then the homegrown stuff, namely Stone Kings, Stags and Dendera
The Scams

Stone Kings
https://stonekings.bandcamp.com/
Stags

Hard Rock Hell 9 takes places @ Camp HRH, Pwllheli on 12 -15 November 2015 and tickets can be bought @ www.hardrockhell.com/tickets or ring 0203 287 6684
Full line up so far stands as
Black Label Society
Saxon
UFO
Rock Goddess
Toseland
Scorpion ChildCrobot
Black Spiders
SuperCharger
Trucker Diablo
Screaming Eagles
Pig Iron
Skanska Mord
Sky Valley Mistress
King Creature
Riot Horse
The Scams
Stone Kings
Stags
Dendera
With more to follow shortly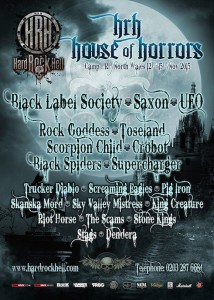 How useful was this post?
Click on a thumb to rate it!
Average rating / 5. Vote count: