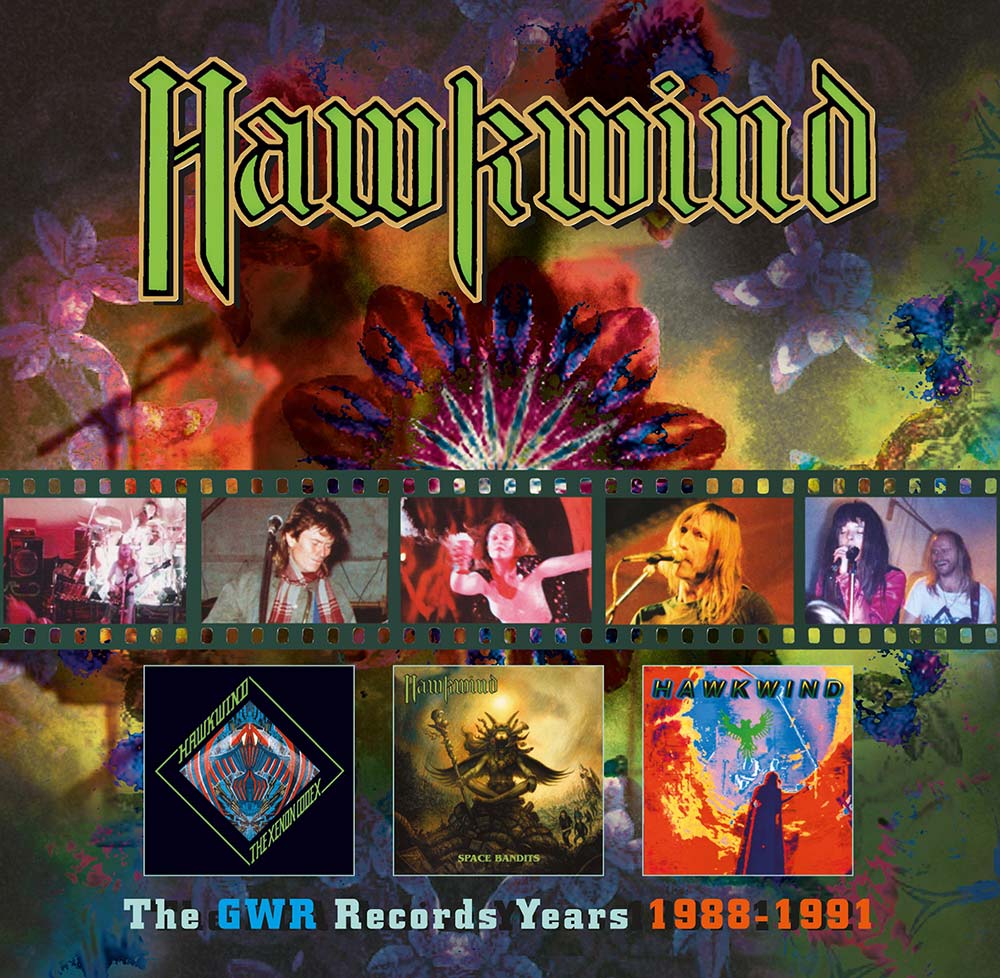 Hawkwind – The GWR Recordings 1988-1991
24th February 2017
Atomhenge has been the home of the Hawkwind catalogue for many years (1975-1997) & the previous reissue box sets of the back catalogue have been exquisite. This GWR set, celebrating  1988-1991 is no exception.
The Xenon Code was the last Hawkwind album of the 80s & listening to it again now for the first time in almost 3 decades it apparent to see where bands like Dream Theater & Status Quo gleaned some of their ideas for future albums. A fantastic sounding album & a fore-runner into what the next decade would bring for the world of Dave Brock & Co.

1990 brought around the release of Space Bandits, which to some (myself included) is considered to be one of the bands best albums produced in this era. This particular album showed a rejuvenated group. Richard Chadwick joined, playing the drums, former member Simon House made a guest appearance on this record & Bridget Wishart added her vocal accompaniments to & this produced one hell of an album.

The final album for GWR was Palace Springs. Although this album had been recorded back in 1989 as a precursor to Space Bandits, this was shelved for unknown reasons until 1991. 2 new Hawkwind studio tracks (Back In The Box & Treadmill) whilst the remainder of the album came from a live show, recorded at the Palace Theatre, Los Angeles, CA, USA, 10 October 1989.

Although this was a fairly well documented fractious period for Hawkwind, They produced 3 great albums for GWR that are really nicely presented in this 3 CD clam box. All resplendent in their cardboard, replica album sleeves alongside a cute, double-sided poster. 
The CDs sound superb. Admittedly they're showing their age slightly (but only due to the synth tech there was at that time) but that doesn't detract from the outstanding nature of the music that is contained on each of the 3 shiny silver discs of joy.
If you've just discovered Hawkwind & you're trying to build up their discography cheaply & quickly, I can think of no better way. If you're a lifelong fan & wish you'd never parted with your collection in the 1st place when the MP3 revolution came along (my editor is VERY guilty of that crime) then again, these sets are also for you. In fact, these issues are for any fan of space, prog, psychedelia & great music in general. 
A worthy purchase & available HERE
Score 9/10 
Track List
THE XENON CODEX
1. THE WAR I SURVIVED
2. WASTELANDS OF SLEEP
3. NEON SKYLINE
4. LOST CHRONICLES
5. TIDES
6. HEADS
7. MUTATION ZONE
8. E.M.C.
9. SWORD OF THE EAST
10. GOOD EVENING
SPACE BANDITS
1. IMAGES
2. BLACK ELK SPEAKS
3. WINGS
4. OUT OF THE SHADOWS
5. REALMS 6. SHIP OF DREAMS
7. TV SUICIDE

PALACE SPRINGS
1. BACK IN THE BOX
2. TREADMILL
3. LIVES OF GREAT MEN
4. VOID OF GOLDEN LIGHT
5. TIME WE LEFT
6. HEADS
7. ACID TEST
8. DAMNATION ALLEY