HAWKWIND Into The Woods the new album 5 May 2017
2nd February 2017
Cherry Red Records are pleased to announce the release of the new album by the legendary Hawkwind, Into The Woods. In many ways, it is the perfect sequel to last year's acclaimed concept studio album and live stage show, The Machine Stops, which was inspired by E.M. Forster's Sci-fi classic, a dystopian vision of the future brought to life with characteristic Hawkwind style.
Warm-up dates for Hawkwind in mid-March are dubbed 'A Glimpse Into Greenness', which gives some indication of the conceptual and lyrical themes behind the band's new album. To promote Into The Woods, Dave Brock and Co. will be touring through May, beginning on 10th. The tour culminates in what is set to be a memorable show at London's prestigious venue The Roundhouse on 26th May. It will be 45 years since Hawkwind played at the venue's historic 'Greasy Truckers Party' in The Roundhouse and first recorded 'Silver Machine'

Track Listing:
Into The Woods / Cottage In The Woods / The Woodpecker / Have You Seen Them / Ascent / Space Ship Blues / The Wind / Vegan Lunch / Magic Scenes/ Darkland / Wood Nymph / Deep Cavern / Magic Mushroom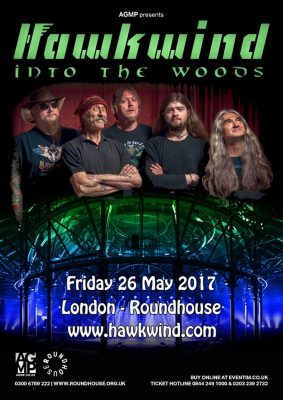 See Hawkwind on tour (more dates to be announced):
Thursday 16th March       Leeds University               The Refectory
Friday 17th March             North Wales                       HRH Prog V
Saturday 18th March        Newport                              The Neon
Friday 26th May                 London                                 The Roundhouse
Sat-Mon 27th-29th May   Nr. Evesham, Worcs.       Mello Festival
Fri-Sun 16th-18th June     Clisson, France                   Hellfest
Check out Hawkwind HERE
How useful was this post?
Click on a thumb to rate it!
Average rating / 5. Vote count: