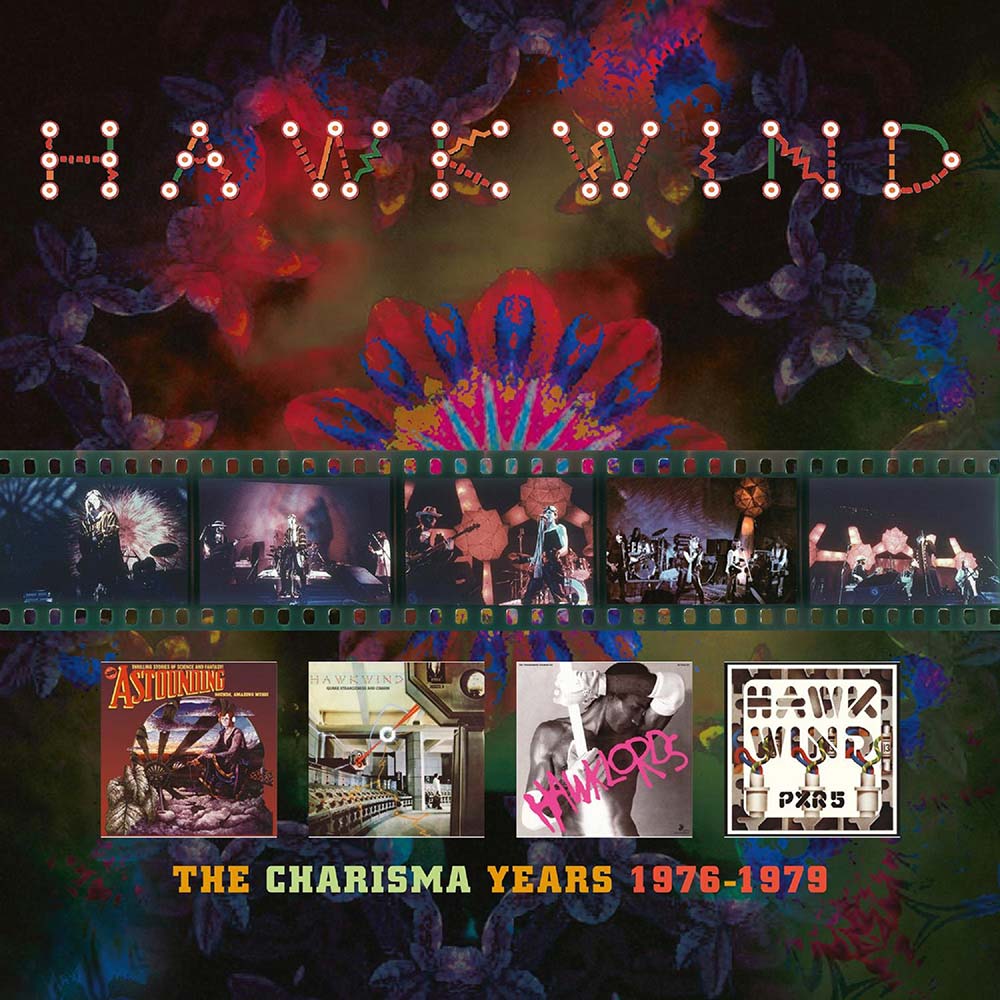 Hawkwind – The Charisma Years
22nd September 2016
What can be said about Hawkind that hasn't been said before? Pioneers of space psychedelia rock, Hawkwind are probably one of the most influential bands since Pink Floyd.
This lovely box set contains 4 albums from their classic 1976-1979 period on Charisma records, "Astounding Sounds, Amazing Music", "Quark Strangeness & Charm", "Hawklords: 25 Years On" and "PXR 5
Every album is a great testament to not only their songwriting ability, musicianship but also to their story telling skills. Every album is a sci-fi story classic & a masterclass on how to overdub & double track vocals without the use of a computer.
What is lovely about this box is the inclusion of the Hawklords album – 25 Years On. This album was released under the name of Hawklords due to a legal wrangling over the name of Hawkwind.

Full of some of the most superb sounding space rock & all lovingly re-mastered. This is the most underrated era of Hawkwind.  Astounding Sounds, Amazing Music had a lot to prove as this was after the departure of Lemmy (RIP) & their hit single Silver Machine.
This was a band with everything to lose but a shit load more to gain. Hawkind weren't going to rest on their laurels & they made 4 brilliant & inspired albums.
Quark Strangeness & Charm was the 1st album without co-founder Nik Turner. This album alone showed a growth in not just sound but the ability of  Robert Calvert as vocalist.
PXR5 was their 9th album & despite its relative success, Hawkwind split up & went on hiatus.
All 4 discs are housed within a clamshell case, in their own cardboard sleeve which features the original artwork along with a splendid looking illustrated poster.
This is an essential purchase to finally retire the vinyl & update the collection.

For fans of Ministry, Ozric Tentacles, Monster Magnet

The Charisma Years album information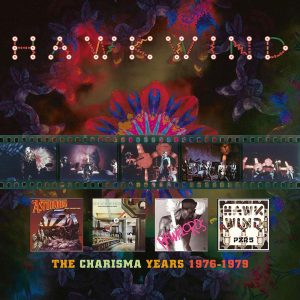 Track List

DISC ONE:
ASTOUNDING SOUNDS, AMAZING MUSIC
1. REEFER MADNESS
2. STEPPENWOLF
3. CITY OF LAGOONS
4. THE AUBERGINE THAT ATE RANGOON
5. KERB CRAWLER
6. KADU FLYER
7. CHRONOGLIDE SKYWAY
DISC TWO:
QUARK, STRANGENESS & CHARM
1. SPIRIT OF THE AGE
2. DAMNATION ALLEY
3. FABLE OF A FAILED RACE
4. QUARK, STRANGENESS & CHARM
5. HASSAN I SABBAH
6. THE FORGE OF VULCAN
7. THE DAYS OF THE UNDERGROUND
8. THE IRON DREAM
DISC THREE:
HAWKLORDS: 25 YEARS ON
1. PSI POWER
2. FREEFALL
3. AUTOMOTON
4. 25 YEARS
5. FLYING DOCTOR
6. THE ONLY ONES
7. (ONLY) THE DEAD DREAMS OF THE COLD WAR KID
8. THE AGE OF THE MICRO MAN
DISC FOUR:
PXR 5
1. DEATH TRAP
2. JACK OF SHADOWS
3. UNCLE SAM'S ON MARS
4. INFINITY
5. LIFE FORM
6. ROBOT
7. HIGH RISE
8. P.X.R. 5
Release Date
30th Spetember 2016
Label
Atomhenge
Check out Hawkwind HERE & the box is available HERE