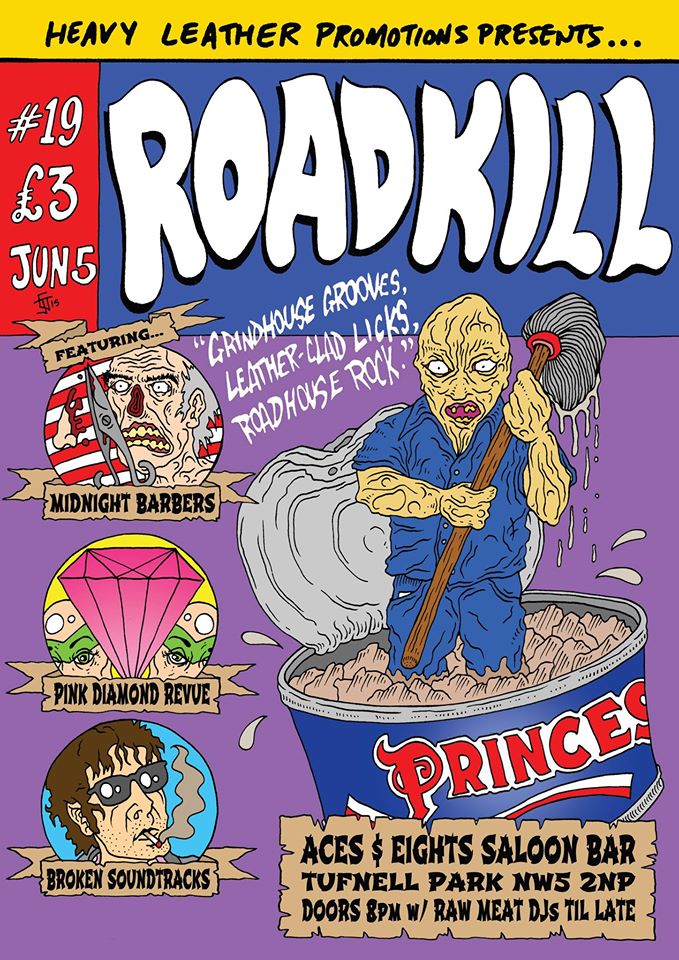 Heavy Leather Promotions presents ROADKILL #19
1st June 2015
Heavy Leather Promotions proudly presents ROADKILL, your monthly dose of Grindhouse Grooves, Leather Clad Licks and Roadhouse Rock on Friday 5th June at Aces and Eights Saloon Bar, Tufnell Park.
"London's best and only 100% pure garage night." – Time Out London
With headliners The Midnight Barbers
This months headliners, The Midnight Barbers, merge classic garage with rhythm and blues and are riding high off the release of their last single, 'Business'. Swing rock, infectious vocal hooks and 50s swagger.
With support from The Pink Diamond Revue
Transcendental psychedelic soundscapes, acid soaked guitar riffs with a neat blend of the blues, The Pink Diamond Revue add dark electronics that make for a truly unique experience.
And special guests Broken Soundtracks
Heavy Leather favourites Broken Soundtracks return to Roadkill to kick off proceedings with their unrivalled rock n' roll attitude. Garage rock with classic songwriting, psych tendencies and anthemic choruses.
With very special guest DJ sets from our residents from RAW MEAT.
www.heavyleatherpromotions.com
www.facebook.com/heavyleather
https://www.facebook.com/events/776853185755932/