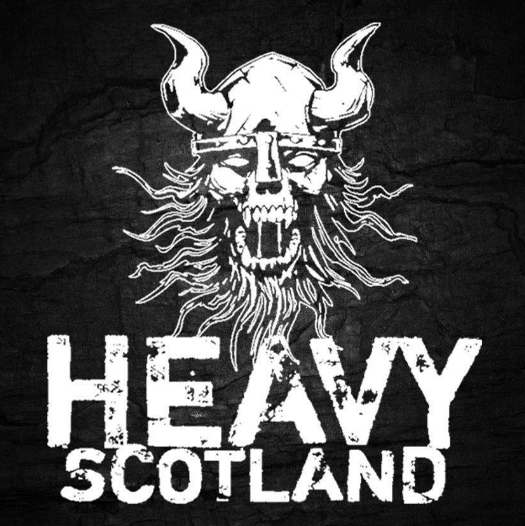 Heavy Scotland Announcement
29th September 2016
Brand new heavy metal festival HEAVY SCOTLAND have today announced their second wave of bands for their debut year, to be held in Edinburgh's Corn Exchange between the 1st-2nd April 2017.
Announced are extreme metal legends BEHEMOTH, whose appearance at Heavy Scotland will be the band's only UK festival show in 2017 and likely your only chance to see the band in the UK that year. Joining them are Swedish death metal veterans Grave – their first appearance in Scotland in ten years, Finnish hard rockers Shiraz Lane, and local favourites Centrilia.
They add to an already impressive line-up, especially for a festival in its first year:
Full line-up currently:
Behemoth (UK/EIRE Exclusive)
Arch Enemy
Grave
Dyscarnate
Sodomized Cadaver
Shiraz Lane
Disposable
Centrilia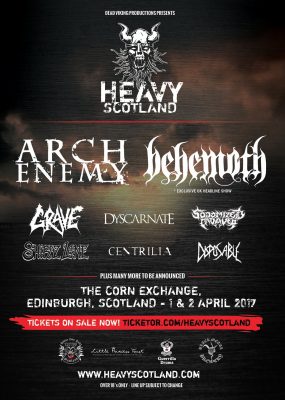 Tickets are now available to purchase from here: http://www.ticketor.com/heavyscotland 
Includes:
VIP bundles: £115 / £127 (selling out!)
Early Bird tickets: £70 (selling out!)
With more ticket options to be announced soon.
The festival are happy to announce their charity partnership with the Little Princess Trust. Heavy Scotland are offering free tickets to the festival for people who are willing to donate 12″ or more of their hair. T&Cs apply, please visit www.heavyscotland.com and email info@heavyscotland.com before participating.
Set to be the biggest and best new festival dedicated to all things dark, heavy, and vicious, Heavy Scotland is borne out of a love of metal. Aimed at supporting a famously dedicated metal scene but until now without a big festival, Heavy Scotland looks set to put Scotland on the map.
With accommodation options, more bands, and ticket options to announce, Heavy Scotland is already on the way to becoming the surprise festival success of 2017.
For more information:
https://www.facebook.com/heavyscotland
http://www.heavyscotland.com/
https://www.twitter.com/heavyscotland