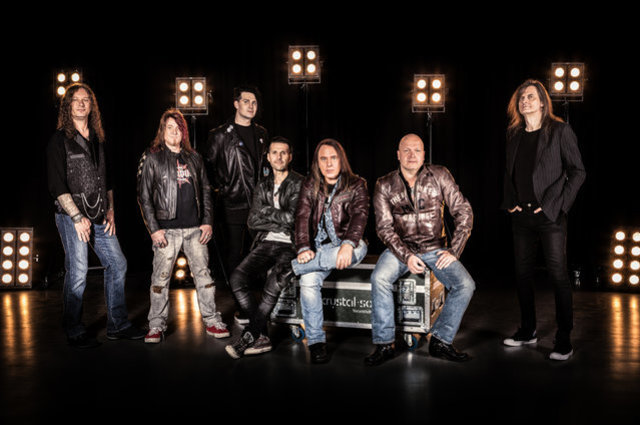 HELLOWEEN – 'STARLIGHT' unboxing video
24th October 2018
HELLOWEEN unveil contents of 'STARLIGHT' in unboxing video
Limited Edition Box Set released this Friday, October 26, 2018

STARLIGHT – The Noise Records Collection
PREORDER WITH EXCLUSIVE PATCH HERE – https://helloween.lnk.to/starlight
NOISE Records are proud to announce, Helloween – Starlight : The Noise Records Collection. A deluxe, limited edition boxset containing all the bands Noise recordings, from the long out of print EP's 'Helloween' & 'Judas', through their debut album 'Walls Of Jericho' to the masterpieces, 'Keeper Of The Seven Keys parts 1 & 2' and a new, revised version of 'The Best, The Rest, The Rare' that covers all the obscure and rare tracks from the Noise catalogue.
Three of these titles have long been out of print on vinyl and all of them are now on colour vinyl for the first time.  The box set also includes a special
Formed in Hamburg in 1984, Helloween are arguably the most influential heavy metal band to come out of Germany. Their benchmark 1987 album 'Keeper Of The Seven Keys Pt.1' is the record that turned the band into bona fide superstars, charting in their native Germany.
It's 1988 follow up 'Keeper of The Seven Keys Pt.2' propelled them to global stardom and charted in the UK, Germany and also in the USA where they made serious inroads after touring with the likes of Iron Maiden.
The band reunited with former '87 lineup members Kai Hansen and Michael Kiske in 2017 for the Pumpkins United tour which currently has them headlining arenas and festivals all over the globe, revisiting these classic albums along the way. Since their inception Helloween created the power metal subgenre, released fifteen albums and sold more than eight million records worldwide.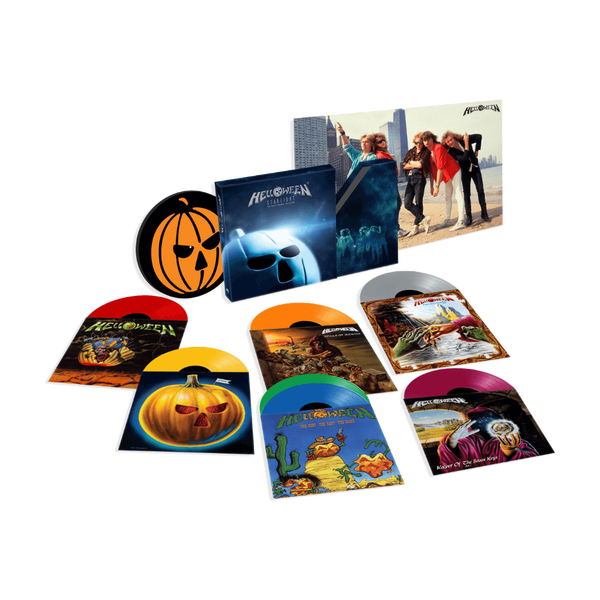 Track listings
Helloween
Side A
Starlight
Murderer
Warrior
Side B
Victim Of Fate
Cry For Freedom
Walls Of Jericho
Side A
Walls Of Jericho
Ride The Sky
Reptile
Guardians
Phantoms Of Death
Side B
Metal Invaders
Gorgar
Heavy Metal (Is The Law)
How Many Tears
Keeper Of The Seven Keys Pt.II
Side A
Invitation
Eagle Fly Free
You Always Walk Alone
Rise And Fall
Dr.Stein
We Got The Right
Side B
March Of Time
I Want Out
Keeper Of The Seven Keys
Judas
Side A
Judas
Side B
Ride The Sky (Live)
Guardians (Live)
Keeper Of The Seven Keys Pt.I
Side A
Initiation
I'm Alive
A Little Time
Twilight Of The Gods
A Tale That Wasn't Right
Side B
Future World
Halloween
Follow The Sign
The Best, The Rest, The Rare
Side A
I Want Out
Dr. Stein (Remix)
Future World
Judas
Walls Of Jericho
Ride The Sky (Edit)
Side B
Livin' Ain't No Crime
Save Us
Victim Of Fate (Re-recorded version)
Savage
Don't Run For Cover
Side C
Halloween (Radio edit)
Starlight (Re-recorded version)
Oersnt Of Life (From Death Metal)
Metal Invaders (From Death Metal)
Surprise Track
Side D
Keeper Of The Seven Keys (Remix)
How useful was this post?
Click on a thumb to rate it!
Average rating / 5. Vote count: