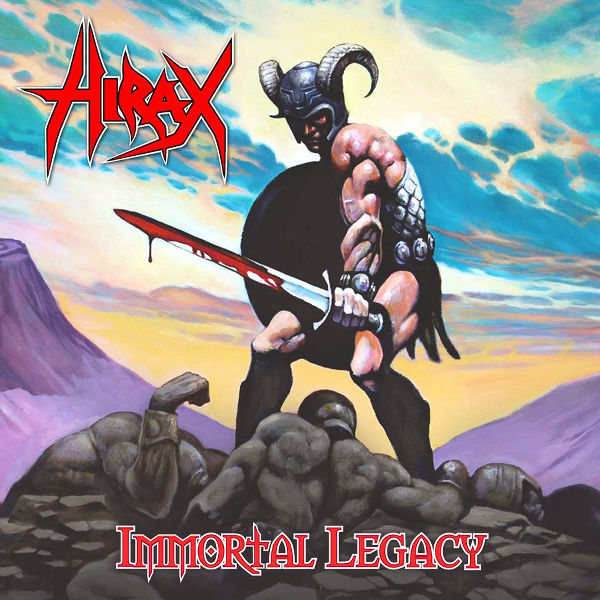 Hirax – Immortal Legacy
11th March 2014
I first heard of Hirax a few years ago when I watched the Get Thrashed DVD and was really impressed with the contributions from the band's founding member and vocalist, Katon W. De Pena.
Katon is a guy who clearly lives and breathes thrash metal with every fibre of his being and puts one hundred and ten percent into everything Hirax does.  Not only that, but he's black – which is really refreshing in a musical genre that, in Europe and the USA, has predominantly white artists and fans.
Musically, Hirax play old school thrash music, and over the last twenty nine years have released 4 albums and 4 EPs that pretty much stick to the same musical formula combining hard hitting thrash riffs with Katon's unique upper-range clean vocal style.
So, the question is, have Hirax tried anything new with this, their 5th album, Immortal Legacy?
In a word – no.
Immortal Legacy is a twelve track album of thrash metal that sounds like it came from the late eighties – and with song titles like 'Victims of the Dead', 'Tied to the Gallows Pole', and 'Violence Of Action' you know what to expect.
The album cover also looks like something from the late eighties – a painting of a cheesy looking warrior, standing over the bodies of his slain opponents, blood dripping of his sword.
There are some good tunes here, but it does feel a bit like the band are going through the motions.  Three of the tracks are less than 2 minutes in length so feel like fillers, and the rest have their moments but never really become anything more than decent.
With recent cracking releases from the likes of Death Angel and Annihilator the standard for thrash has been raised and on the basis of this album Hirax have fallen short.  It's a pity, because I really wanted to love this album – but it's just not anything special.

ALBUM INFO
Tracklist
01.  Black Smoke
02.  Hellion Rising
03.  Victims of the Dead
04.  Thunder Roar, The Conquest, La Boca de Bestia – The Mouth of the Beast
05.  Earthshaker
06.  Tied to the Gallows Pole
07.  Deceiver
08.  Immortal Legacy
09.  S.O.W. (intro)
10.  Violence of Action
11.  Atlantis (Journey to Atlantis)
12.  The World Will Burn
Release Date
24th February 2014
Record Label
Steamhammer
Website
http://www.blackdevilrecords.com/