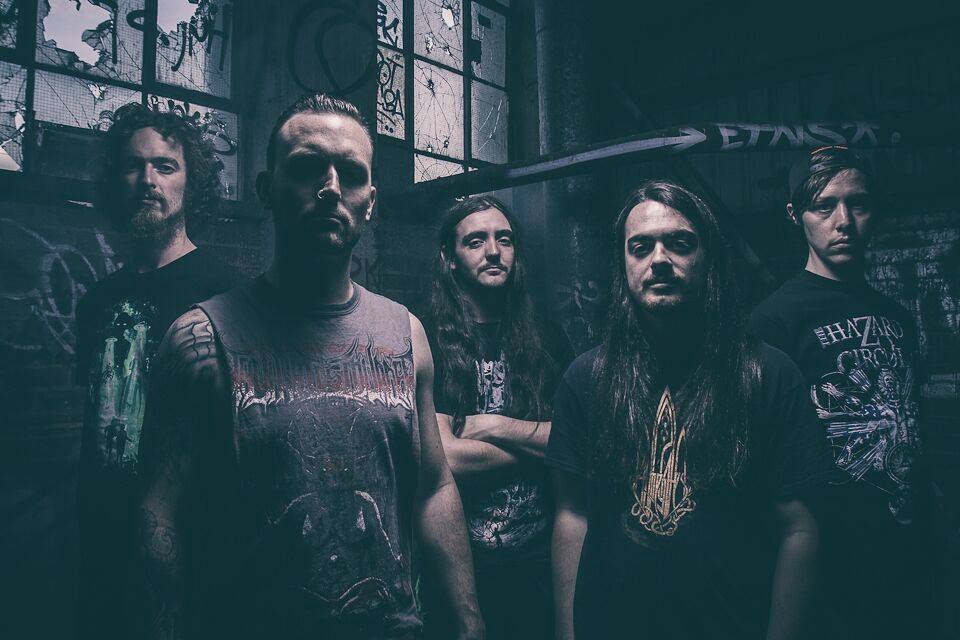 Hollow World Interview
27th July 2016
0
By
Fraser
Some of you may remember the article I wrote for Australia Day back in February, listing ten of the best underground bands I encountered during my time there… you know, between endless BBQ's and drowning in oceans of cheap beer.In that list, I included the brilliant Hollow World, Australia's answer to The Black Dahlia Murder. I caught them for a chat not too long ago, have a read below!
AATR: Hey guys, cheers for taking the time to chat today! How are things in the Hollow World HQ?
Hollow World: Things are seriously busy. We're currently putting the finishing touches on a full length album, It's been a lot of really intense work, but it's definitely going to show once we get this out to people!
AATR: For anyone unfamiliar with Hollow World and your music, can you introduce yourselves?
Hollow World: We play fast, high energy death metal whilst retaining a strong sense of melody. We don't like to take ourselves too seriously and are more interested in having fun than being 'cool'.
AATR: It's been just under a year since your dropped your second EP, The Wrath Kept Within. How has the last year treated you? 
Hollow World: This is a hard one to put into words, we went from playing small local shows to playing shows with At The Gates, Psycroptic, NeObliviscaris and Aversions Crown, We went on tour with fellow Aussie Melodeath fiends Orpheus Omega and finally broke out of playing in our home state (Victoria). We've already accomplished more than we'd ever thought we would and we really don't plan on slowing down now!
AATR: Have you any plans in the works for your next release? 
Hollow World: We sure do! We've almost finished recording a full length album. We've got a fairly strong message to deliver with the lyrical content this time. We're departing from our normal theme of fantasy and starting to enter real world topics.
AATR:Have you taken any new directions, musically, with this album?
Hollow World: Definitely, we've been very influenced by the proggier modern death metal sound that's currently being showcased by bands like Fallujah, Rivers of Nihil and even NeObliviscaris.
AATR: And have you any stories in the works for this release?
Hollow World: We do indeed, the album has a continual theme running the entire way through, I don't want to give away too much just yet, but there's not a set way to interpret it. Final judgement of our meaning is up to the listener.
AATR: What is the melodic death metal scene like in Melbourne?
Hollow World: Fantastic! 95% of my friendship group are people I met at gigs in Melbourne. The scene is very much alive and well!
AATR: And what about Australia as a whole?
Hollow World: Same goes, we've been fortunate enough to meet so many wonderful people outside of Victoria. The gigs go hard and the people are genuinely awesome, seems like that everywhere we've been so far.
AATR: As you said, a lot of your lyrics have a fantasy feel to them – can you walk us through some of the stories behind your songs?
Hollow World: Blade of Winter from our first CD was about a warrior who was unmatched in skill, he eventually heard rumours of a foe none could vanquish, travelling north he found himself in a frozen wasteland. Searching desperately for this warrior he had to prove himself against he finally realised as he was dying of exposure that the enemy were the elements themselves.
That story is actually continued in the second EP through the eyes of the warriors son. In Scion of Fire, the son learns of his father's death and begins to hate the cold and the winter with such strength and passion that he begins to become the opposite, gaining the power to wield fire itself in battle.
AATR: Obviously you're focused on the new record at the moment, but do you think you'll continue to explore the fantasy elements from your first releases in the future, or are you more likely to continue the real world topics?
Hollow World: We like the idea of both. For this album we opted for more of a real world theme – but having said that there's no reason we couldn't go back to including the fantasy element again in the next stuff that we write. I'd say it'll just depend on how we feel about the new songs when they come around and what sort of themes we think will suit them best
AATR: Which bands do you feel have had the biggest influence on your style and sound?
Hollow World: We initially started out very heavily influenced by At the Gates and older In Flames recordings which you can really hear on the first CD, with time we moved forward onto a more modern sound. We've slowly been evolving our music to a point where it really just feels like our own now. I'd say we have a closer connection to modern/progressive death metal bands now than the Gothenburg style melodeath we did when we initially started playing together.
AATR: What underground bands are you really enjoying at the moment, either in Australia or worldwide? 
Hollow World: I could seriously throw a giant wall of names here, trying to keep this to a short list is a definite struggle but here goes:
Rivers of Nihil, Fallujah, Beyond Creation, The Zenith Passage, Psycroptic, The Schoenberg Automation, Inferi, A Loathing Requim, Hadal Maw, A Million Dead Birds Laughing.
AATR: What does the future hold for Hollow World?
Hollow World: Our immediate goal is to get this album done and released, after that? I think we're ready to start seeing more of the world.
AATR: Thanks for your time today! Before I let you crack on, have you any parting messages for our readers?
Hollow World: If anyone would like to check out our music for the first time or see what we're up to, you can find us at our website or our Youtube page!
How useful was this post?
Click on a thumb to rate it!
Average rating 0 / 5. Vote count: 0
No votes so far! Be the first to rate this post.
Related
About the author
This bearded wildman from North of the wall survives the harsh ever-present winter of Scotland on a healthy diet of thrash, death metal and beer.