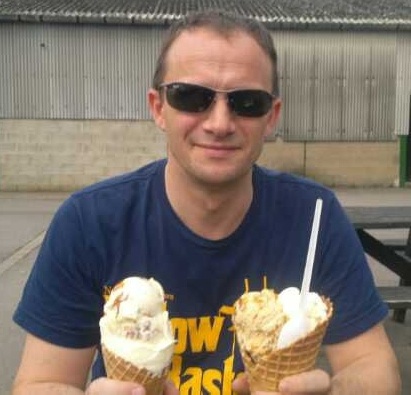 Howard 'H' Smith
18th December 2011
Hi
I used to front the UK thrash metal band Acid Reign and now perform stand up comedy as Keith Platt – Professional Yorkshireman.
Metal for me goes back to a lads holiday (OK I was only 13 but it was still just lads) around the time of 1983 and Black Sabbath's greatest Hits was the album of the trip. We were all drinking cider every night and I managed to drink enough to earn the requisite number of Strongbow vouchers that would get me a free record voucher. Yes these were times when people listened to vinyl, paid for music and cider only came in one flavour. After that I was hooked.
My first gig was Marillion at Leeds University, February 1984. I enjoyed it so much my second gig was Marillion at Sheffield City Hall a few days later. This was a venue where I would go on to see Metallica, meet Cliff Burton and get thrown out of for stage diving during Anthrax's Among The Living Tour.
I have always gone to a lot of live shows and still do, it's one of the perks of living in London. If anyone is going to play the UK they either don't leave it out or just play there, a fact which I know pisses a lot of you off. So next time that happens just come and stay at mine, I've always got a spare sofa.
Having been all over Europe back in the day touring with some of my favourite bands this was and still is a life highlight, I even got to sound check with Dark Angel once now that was a blast. To this day I will still travel to see bands, Belgium and Germany to see the mighty Rammstein (you can't say Rammstein without saying "the mighty") and Germany to see Billy Talent, OK I was there staying with my then girlfriend but it still counts!
My two main loves are metal and comedy, the guys here have been kind enough to give me an outlet for one of those that I didn't have and I'll always be grateful for that. I like all forms of metal, not really a death/grunge metal fan but I will give anything a go I'm always looking for the next thing and I consume a huge amount of music, which I will always try and pay for.
From time to time you'll be able to read my reviews, thoughts and opinions on here and either agree or disagree. Feel free to post your comments and abuse, it's all good. See you in the pit.