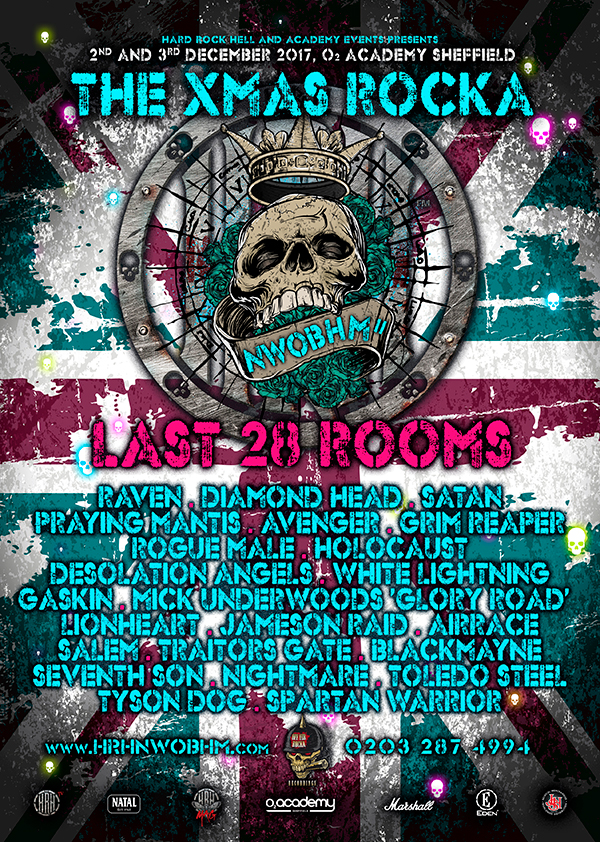 HRH NWOBHM -PRESS RELEASE
13th December 2016
HRH smash open The Vault to bring in another tranche of NWOBHM Legends including Satan, Rogue Male, White Lightning, Jameson Raid and more
HRH are proud to announce further great acts added to the line-up of HRH NWOBHM II – The Xmas Rocka in Sheffield: a two-day event at the O2 Academy Sheffield (2nd and 3rd December 2017). 
Satan are an influential heavy metal band hailing from Newcastle, England. Formed in 1979, they are seen as part of the New Wave of British Heavy Metal movement and considered notable for playing a form of proto-thrash/speed metal that was fairly advanced by the standards of the early 1980s.

Grim Reaper
, formed in 1979 in Droitwich, England, by guitarist Nick Bowcott.This year was their HRH debut and they put on such  show that the fans demanded their return.
Formed in 1983, 
Rogue Male
 are noted for mixing punk styles and aggression with the more metal sounds of the NWOBHM bands of the time and a great addition for HRH NWOBHM.
Desolation Angels
, formed in 1979, describe themselves as "Purveyors of melodic face-melting Heavy Metal Rock Riffing!" .Get in
Nightmare is a power metal band, from Grenoble, France. The band was influenced by the NWOBHM phenomenon and started their career playing classic heavy metal, later changing to power metal with death metal and thrash metal influences.
Also joining the event's line-up are White Lightning (a progressive edged hard rock act, recruited in part from the ranks of MOURNBLADE); and Jameson Raid (a British heavy metal band, usually considered to be part of the new wave of British heavy metal, following their inclusion on EMI's album Metal For Muthas II, though they were established as a hard rock band on the Birmingham circuit several years prior to this). 
Rounding up this wave of acts joining the rosta is Spartan Warrior (formed in 1980 from the ashes of Wearside Rock Band "Deceiver").
Between them, these bands embody decades of performance and contributions to the New Wave of British Heavy Metal movement which will be celebrated once again at the 2017 Xmas Rocka.
The full line Up Stands as
Raven – Diamond Head – Satan
Praying Mantis – Avenger – Grim Reaper 
Rogue Male – Holocaust – Desolation Angels
White Lightning – Gaskin –
Mick  Underwoods 'Glory Road'
Lionheart – Jameson Raid – Airrace
Salem – Traitors Gate – Blackmayne
Seventh Son – Nightmare –– Toledo Steel –
Remember, 2017's HRH NWOBHM's Xmas Rocka has almost sold out! Day passes have been released, but be warned: as this goes to press, we are down to the last 28 rooms. 
To reserve one of these precious few remaining tickets, either book online @ http://www.hrhnwobhm.com/ or ring Harri on 0203 287 4994