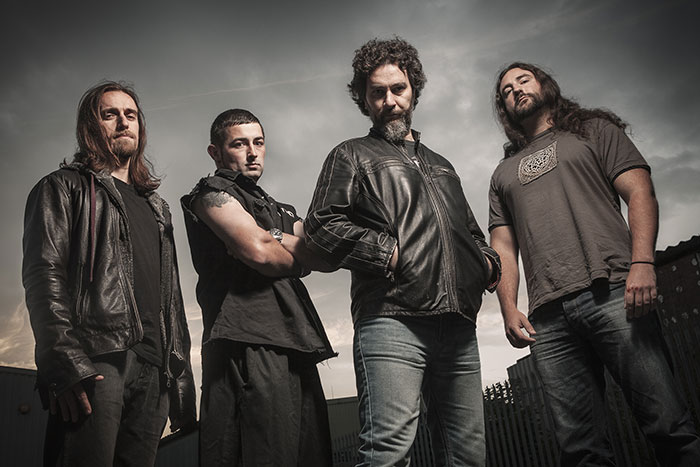 Hunted – Deliver Us: A Full Album Review
9th September 2021
0
By
Owen Edmonds
For the last two weeks I've had the pleasant sounds of the new Hunted album blasting in my ear holes. A mix of prog, thrash and metal this is the bands first release on the Pitch Black label and to me it fits really well with the labels other artists and releases.
Even though the band is South Wales based I haven't seen them live, I've a few mates who tell me that they are superb live, so when everything calms down I will be adding them to the list of bands I have to see to make up for the last 18months.
The Review
The first note I wrote down reads a this "Iron Maiden but heavier, intricate music, soaring vocals Halford-esque.". Let's be honest, if you are compared to Maiden and Rob Halford, you've got to be happy.
However, the more I listened to the album, the less my first impression lasted. Before I get into the nuts and bolts of reviewing some of the tracks I want to clarify that statement.
I've listened to a lot of modern prog recently and there seems to be a trend of bands writing really nice intricate pieces and then realising that they don't have complete songs, so they seem to just stick several smaller pieces together. This ends up with really harsh transitions from one section to another and it doesn't help songs flow.
Whether this is the reality of song-writing, I don't know, but this is the impression I get.
Deliver Us has a tendency to sound like it falls into this trap which is a shame. There are moments in quite a lot of tracks that I loved, for example, One More Time has a cool chorus and some really intricate verses but they don't feel like they go together.
It happens in Salvation on a String as well, the first couple of minutes are hard and heavy, really good. Then there is an abrupt change of pace to a slower and more melodic section, which is beautiful, but the transition doesn't quite work for me. It's as if the song can't make up it's mind. I accept that this maybe me being really harsh, I'd love to know what you think. However, that said, Salvation on a String is one of my favourite tracks on the album, primarily for the slower section.
Another of my favourite tracks is Burning Ones. This is a track that suffers from abrupt transitions but that aside it really moves through the gears and at almost 8minutes long it has time to breath and move which is something I really liked.
Conclusion
This is a band with a lot of creativity, there is a lot of skill on show throughout the album. There are moments that would fit with the very best music produced in the UK. I like the album and I hope now that they've been picked up by Pitch Black that they will be given time and support to really push themselves as song writers.
It may take them an album or two but when they get it right, they could produce something really special.
Score 7.5/10
Track Listing
Velvet Worm
Salvation on a String
For The Blind
Burning Ones
The Black Shore
The Lie
One More Time
Misled
Time Will Tell
Our Final Embrace
How useful was this post?
Click on a thumb to rate it!
Average rating 5 / 5. Vote count: 3
No votes so far! Be the first to rate this post.
Related
About the author
I love music. My favourite 3 bands are Iron Maiden, The Doors and Jethro Tull. However, I love early Metallica, early RHCP, RATM, QOTSA, The Lounge Kittens, Rammstein, Clutch, Slayer, Faith No More, Pearl Jam, Rush, Black Sabbath, Led Zeppelin and so many more.