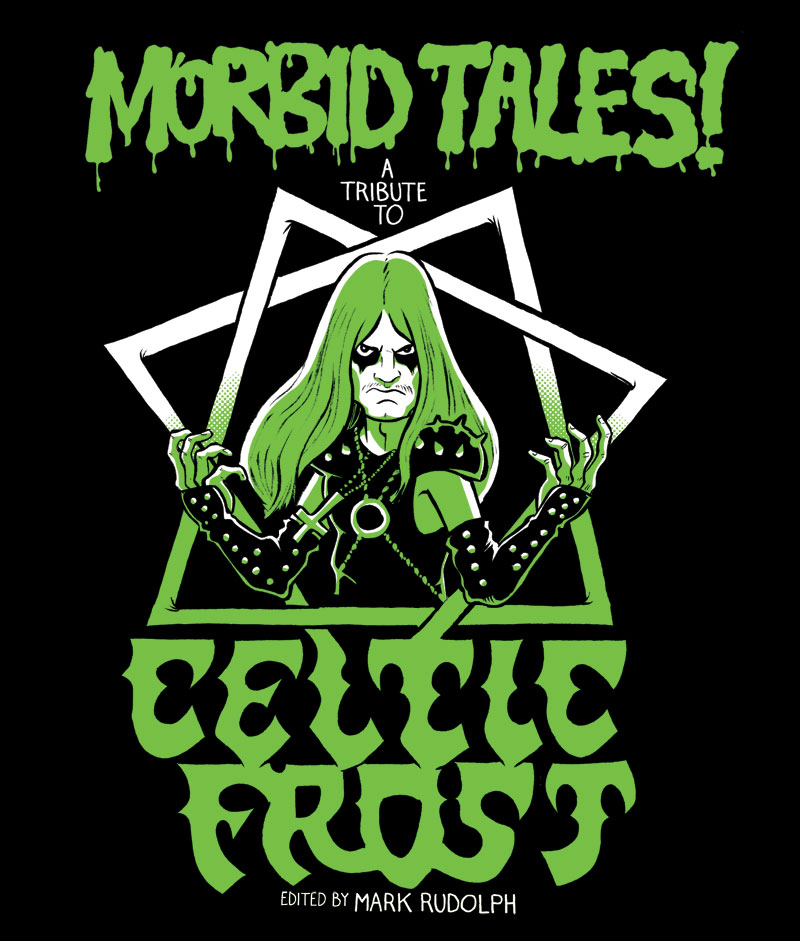 An Illustrated Tribute To Celtic Frost Coming This Year!
30th August 2014
A teaser trailer have just been revealed for Mark Rudolph's upcoming graphic novel 'Morbid Tales! An Illustrated Tribute To Celtic Frost, featuring contributions from Tomas Lindberg (At The Gates), Ivar Bjornson (Enslaved), Scott Kelly (Neurosis), Fenriz (Darkthrone), Dan Lilker (Brutal Truth), Shane Embury (Napalm Death) and many more, and (surprise, suprise) it looks awesome.
The book is the creation of Mark Rudolph, an illustrator and cartoonist who has designed artwork for bands like Carcass, Coalesce and Behold! The Monolith, in addition to appearing monthly in magazines such as Decibel:
Says Mark:
Finally I'm able to share this new anthology that many have been feverishly working on for the better part of 9 months. The second in a trilogy of metal-centric books (see 2012's Satan is Alive: A tribute to Mercyful Fate), Morbid Tales! is a less literal take on the subject matter than the Mercyful Fate book, this time documenting fictional/factual history and delving into the world created from Frost's music instead of translating lyrics.
This time around we have work from Justin Bartlett, Jason McGregor, Bruno Guerriero, Lars Krantz, Chuck BB, Shawn Knight, J. Bennett, Eamon Espey, Ed Luce. Jeremy Baum, Johnny Ryan, Josh Bayer, Jacob Hamrick, J.T. Dockery, Kelly Larson, Kim Holm, Michael Hacker, Mike Erdody, Slasher Dave, Tim Shagrat, Mark Rudolph, Sam Wolf, Tim Sievert, Mark Thompson, Scott Murphy, David Liljemark, Kevin Cross, Rob Mills and a few others to announce soon.
Forewords from Tomas Lindberg (At The Gates) and Ivar Bjornson (Enslaved) with other pieces from Joel Grind (Toxic Holocaust), Flo Swartz (Pyogenesis), Ben Ash (Carcass), Scott Kelly (Neurosis), Fenriz (Darkthrone), Dan Lilker (Brutal Truth), Jeff Wagner (author of Mean Deviation), Shane Embury (Napalm Death), Greg Macintosh (Paradise Lost), Trevor Peres (Obituary), Scott Carlson and Matt Olivo (Repulsion), Orvar Safstrom (Nirvanna 2002), Attila Csihar (Mayhem), Chris Reifert (Autopsy) and John Paradiso (Evoken). It's a great mixture of musicians and artists this time around.
And I'm partnering With Kenneth McNabb at Corpse Flower Records (a new vinyl only label) to produce the book and a limited edition LP of covers (to be announced soon) to be released later this year. Stay tuned for more information about preorders (coming up next month) and more peeks inside the book.
The covers record will be a vinyl only (with download code) and more about the artists featured on it will be announced soon. It's a varied group of bands covering all and I mean ALL eras of Celtic Frost. I grew up with 'Morbid Tales' and To Mega Therion', but I have a deep love for 'Vanity Nemesis' and 'Cold Lake' too. I wanted all aspects of Tom G. Warriors projects represented.
If that has left you wanting more then check out this video trailer below: