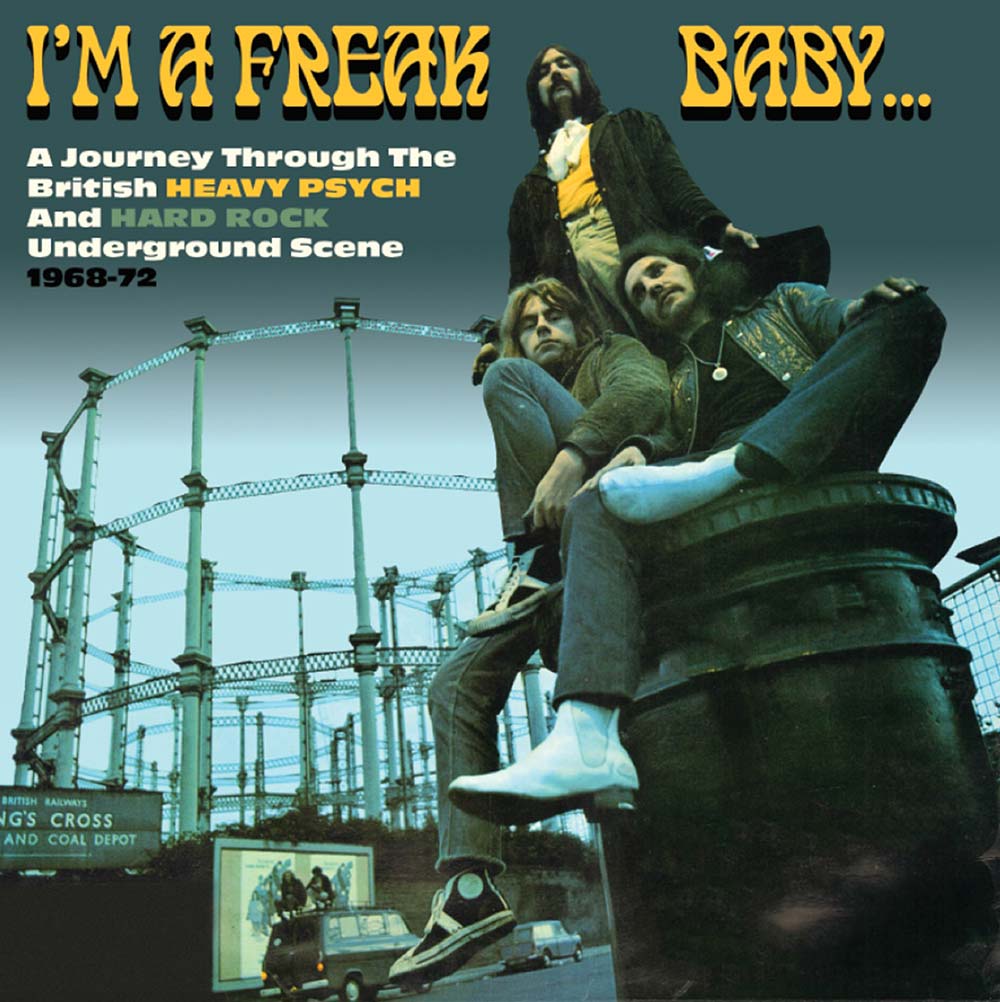 Various Artists – I'm A Freak Baby, A Journey Through British Heavy Psych 3 CD boxset
2nd June 2016
Housed in a clambox featuring a lavishly illustrated and annotated 36-page booklet, I'm A Freak, Baby is the most comprehensive and wide-ranging anthology to appear thus far of an underground scene that, in addition to being responsible for some magnificent music, also acted as a signpost to the subsequent emergence of British punk and heavy metal.
Although vintage British psychedelia is viewed by many these days as an Alice In Wonderland-style enchanted garden full of beatific flower children innocently gathering flowers or chasing butterflies, there was always a more visceral element to the scene. Pointedly free of such fripperies as scarlet tuni-wearing gnomes, phenomenal cats and talismatic bicycles, the power trio format that was popularised by the likes of Cream and the Jimi Hendrix Experience spawned a host of imitators. As the Sixities drew to a close and pop evolved slowly but inexorably into rock, psychedelia gave way to a sound that was harder, leaner, heavier, louder.
Across three discs and four hours of music, I'm A Freak, Baby : A Journey Through The British Heavy Psych And Hard Rock Undergroudn Scene 1968-72 investigates that largely under-documented period, incorporating everything from some of the biggest names in the burgeoning hard rock/proto-metal firmament (Deep Purple, Uriah Heep) all the way down to a significant number of provincial semi-pro bands who gigged extensively but were unable to land a recording contract during their lifetime.
We feature some of British rock's pioneering acts (The Yardbirds, The Move), a handful of bands who travelled far beyond their blues boom roots (Fleetwood Mac, Chicken Shack, The Groundhogs), the infamous Ladbroke (The Deviants, The Pink Fairies, Hawkwind, The Edgar Broughton Band), a smattering of inspired, where-the-hell-did-that-come-from one-shots like The Velvet Frogs and the mighty Egor, and a clutch of previously-unreleased recordings (The Kult, Hellmet, The Phoenix) that have even eluded the speicalist reissue companies and bootleggers…
Released 29 JULY 2016
3CD Boxset
Track Listing:
DISC ONE:
1. STRAY – All In Your Mind
2. THE OPEN MIND – Cast A Spell
3. THE MOOCHE – Hot Smoke And Sassafras
4. CRUSHED BUTLER – My Son's Alive
5. CHICKEN SHACK – Going Down
6. CYCLE – Father Of Time
7. THE DEVIANTS – I'm Coming Home
8. THE PINK FAIRIES – Do It
9. FACTORY – Time Machine
10. THE GROUNDHOGS – Cherry Red
11. WICKED LADY – I'm A Freak
12. CHARGE – Rock My Soul
13. HAWKWIND ZOO – Sweet Mistress of Pain
14. STONEHOUSE – Nightmare
15. THE IRON MAIDEN – Falling
16. BARNABUS – Apocalypse
DISC TWO:
1. WRITING ON THE WALL – Bogeyman
2. DEEP PURPLE  – Fireball
3. JERUSALEM – Primitive Man
4. EDGAR BROUGHTON BAND – Love In The Rain
5. HELLMET – Trust
6. SECOND HAND – Rhubarb!
7. LITTLE FREE ROCK – Dream
8. IRON CLAW – Skullcrusher
9. DARK – Zero Time
10. THE VELVET FROGS – Jehovah
11. THE MOVE – Brontosaurus
12. STACK WADDY – Bring It To Jerome
13. SAMUEL PRODY – Mr Make Believe
14. BARE SOLE – Flash
15. THE PHOENIX – Street Walking Woman
16. SKID ROW – Go, I'm Never Gonna Let You
DISC THREE:
1. THE GUN – Race With The Devil
2. BLONDE ON BLONDE – Heart Without A Home
3. THIRD WORLD WAR – Ascension Day
4. EGOR – Street
5. SAM GOPAL – Escalator
6. URIAH HEEP – Gypsy
7. THE MICKEY FINN – Garden Of My Mind
8. THE YARDBIRDS – Think About It
9. MORNING AFTER – Trying To Find My Way Back Home
10. VELVETT FOGG – Yellow Cave Woman
11. ANDROMEDIA – Too Old
12. FLEETWOOD MAC – The Green Manalishi (With The Two Prong Crown)
13. SWEET SLAG – Twisted Trip Woman
14. IN THE KULT – Occult
15. THE TASTE – Born On The Wrong Side Of Time
16. FUSION FARM – Hollis Brown
How useful was this post?
Click on a thumb to rate it!
Average rating / 5. Vote count: