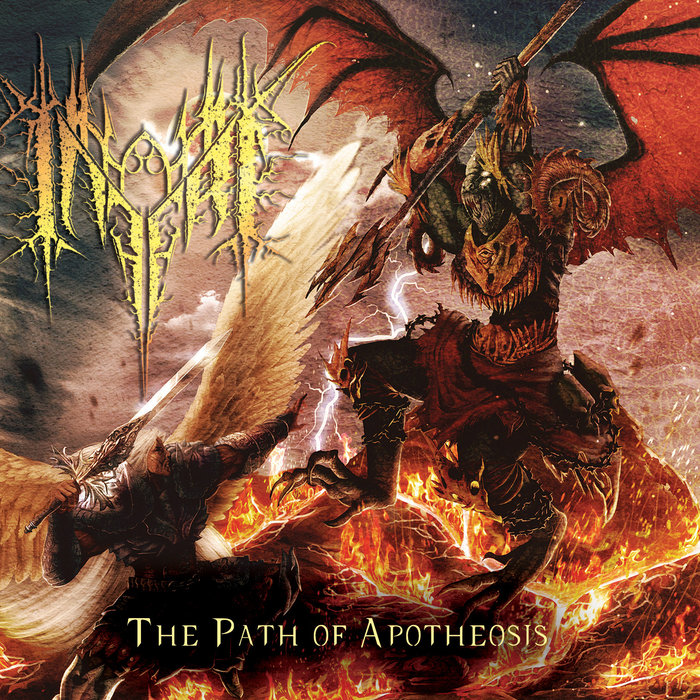 Inferi: Malcolm Pugh Interview
23rd June 2016
0
By
Fraser
There are some albums that just continue to give you that "wow!" feeling, no matter how many times you listen to them. I stumbled upon Nashville's Inferi not long after they released their magnum opus The Path of Apotheosis, and I have been hooked ever since. I reached out to the band a few days ago, and had a chat with one of the geniuses behind the melodic tech-death up and comers, guitarist Malcolm Pugh.
AATR: Hey Malcolm, thanks for taking the time to answer a few questions today! I hope you're doing well?
Malcolm: Doing well! I hope things are going great for you as well.

AATR: Going brilliantly thanks! For our readers who may not be with familiar with Inferi and your music, can you introduce yourselves? 

Malcolm: Well, Inferi has been around for about 10 years now. I have played in a bunch of other bands/projects during Inferi's lifespan. Bands like A Loathing Requiem, Enfold Darkness, Diskreet and Entheos. Mike Low (guitar) and Jack Blackburn (drums) were both in Enfold Darkness before joining Inferi in 2012, right before we started writing material for The Path of Apotheosis. Jack also played with Vital Remains for a bit too.
AATR: It's been two and a half years since The Path of Apotheosis was released – has the last couple of years treated you?
Malcolm: The last few years have been good and hopefully things will keep going that way for us.
AATR: Can you talk us through the concept of The Path of Apotheosis, and the story behind it? 

Malcolm: The Path of Apotheosis is a concept album that touches on the creation of mankind based on the beliefs of the ancient Sumerian civilization. However, we wanted to make it our own, so there is a lot more sci-fi themes entwined within the story. It made for a fun story to write as the story unfolds with every track. The "Aliens" theme that we see often in metal these days can be so much more than a vague idea. I wanted to turn it into a story that explains why humans are "the way they are" by the time you get to the end of the album. It was a fun and complex approach for lyrics that needed to match a very musically complex album.
AATR: Am I right in thinking you've played very few shows since its release? Is getting on the road something you're looking to do soon?
Malcolm: Inferi hasn't played a live show since 2009. There was hiatal period for a us until 2012. Right before the release of Path we had a few members go through some life changes that prevented them from moving on with the band. I would love to play a few live shows, but right now we are reconstructing the band to prepare for new material. Maybe in the future that will be possible for us.

AATR: Have you begun throwing ideas around for a follow-up? If so, how far along is the process?
Malcolm: Mike and I have been writing new material and we plan on releasing something soon. I can't say when, but I will say it will be before Necrophagist releases another album! Haha!

AATR: There is a real classical influence on The Path of Apotheosis, certainly more so than you're previous albums. Is this something you will take forward to the new album?
Malcolm: Those ideas have always been around. The only difference is that the musicianship has grown in the band, so the sound has grown with it. It is a sound that I would like to move forward with, but I like trying to grow with every album to help keep the band's sound fresh with a consistent evolution.

AATR: What lyrical themes and concepts are you looking to explore on the new album?
Malcolm: I have a lot of ideas in mind, but it's too early to discuss just yet. So, once the material is closer to completion musically, I will start trimming the fat from those ideas. It is too early for me to specify at the moment though.

AATR: You also run a label, right? Tell us a little bit about that?
Malcolm: Yes, Mike and I both run The Artisan Era. I created the label in 2010 as a means to release my own music without having to sign my art away to other people. Since, then the label has grown slowly, but steadily.


AATR: Are there any upcoming bands you're looking to sign on the label?
Malcolm: We are still small, but we have other bands in mind for future releases. Keep an eye out for some amazing music to be coming from us. 



AATR: What does the future hold for The Artisan Era?
Malcolm: Continuous growth and sustainability! That's all anyone can ever really ask for, right?

AATR: And what does the future hold for Inferi?
Malcolm: Even though Mike and I have other projects in the works, we are still going to continue to release music as long as we can. With or without a stable live band. 



AATR: Are there any underground bands you are really enjoying at the moment? Either in your local scene, or worldwide?
Malcolm: Definitely! Vale of Pnath, First Fragment, Equipoise, Abhorrent and Oubliette. All great bands that have a really great and unique sound.



AATR: Thanks for your time today! Before you go, have you any parting messages for our readers?
Malcolm: Keep the shred alive and thank you for the support!
How useful was this post?
Click on a thumb to rate it!
Average rating 0 / 5. Vote count: 0
No votes so far! Be the first to rate this post.
Related
About the author
This bearded wildman from North of the wall survives the harsh ever-present winter of Scotland on a healthy diet of thrash, death metal and beer.