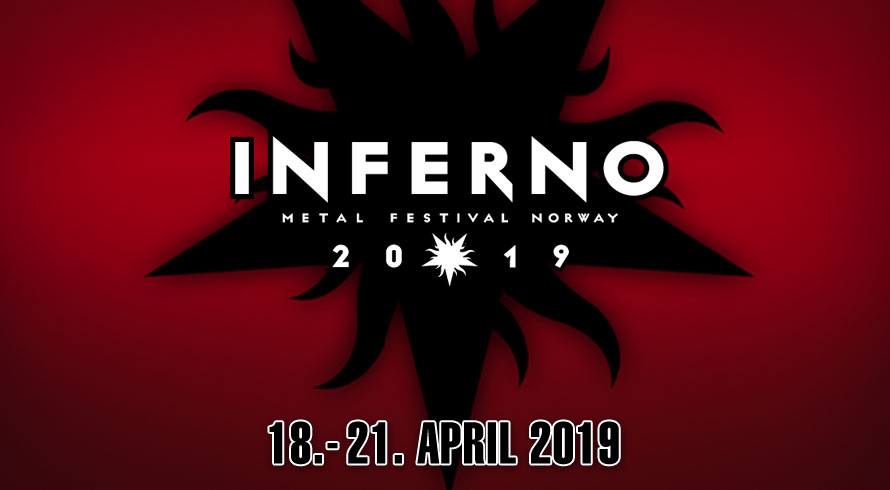 Inferno Metal Festival Norway 2019 – Day 3 Review
30th April 2019
1
By
Queen Nikki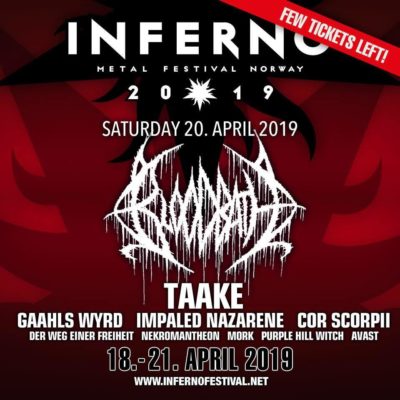 Day three of Inferno Metal festival was going to be big and we were going to need a lot of coffee to get through it. I would like to write in what position or where I woke up, but that would assume I went to sleep, which I didn't. I believe we stumbled back to our own beds with just enough time to change clothes, set the make-up gun to 'whore' and run out into the sunny Norwegian day to get busy.
Two of my 'must see bands of the fest, Purple Hill Witch and Necromantheon, were playing very early afternoon sets at Kniven Bar, which we knew was going to be very hard to get into with the amount of punters that wanted to attend, at such a smaller venue. We were right. After a call with a friend already inside, we were told it was at capacity and to turn back. Absolutely heartbroken beyond repair, we fed our feelings with a Burek which over the years, we have grown fond of calling Vagina Pizza. Swigging some aspirin, we marched back into the venue with heads held high and straight to the Rockefeller stage.
As my first time seeing Finnish Villains, Impaled Nazarene, I wasn't sure what to expect, especially with such a vast history of notoriety behind them.
Front man, Mika Luttinen is a small gremlin of a man, darting around the front of the stage, giving everyone the finger. Not one fuck is given by him. "Who's your Daddy?", Mika screams at us, "That's right Motherfuckers, you know who your Daddy is!" The veins protrude from his shiny, evil forehead, grasping the mic. with both hands as he shrieks into Motorpenised. The Inferno goers are loving it, crowd surfers, a mini moshpit and not to mention throwing the middle finger right back at him.
Taking a walk around the festival this year, there is so much to feast your senses on. The venue has been opened up and now there is an entire separate room packed full of shops and stalls. Patches, T-shirts, metal baby clothes and as many bullet belts you can carry home (or get through customs.) There are Artists selling their work, other festivals promoting theirs and even the guys from The Wacken foundation were having a raffle to win Wacken guitars and tickets. The tattoo hall is literally buzzing and every chair has a butt in it, I think I even saw Frost getting some new ink. Christophe 'Lord of the Logos" Szpajdel, is there showcasing his artwork, he is the best in the business and has created literally tens of thousands of band logo's. He is the mastermind behind the Emperor logo, he is not only humble, but incredibly passionate about art and about metal.
Things suddenly took a wyrd turn as Gaahls Wyrd take to the main stage. He wanders around the place staring at us with his resting 'Gaahl' face, all the while keeping the audience compelled, he is considered black metal royalty, after all. The crowd goes silent when the clean singing of Ghost Invited, premiers for us. It's off their forth coming album Gastir, which is due to come out in May of this year, so this is a first for most to hear live. After watching most of the set, we really needed some air, it was absolutely roasting inside the venue, especially when everyone around you is in typical Norwegian festival attire, it's just sweaty leather rubbing on sweaty leather. Yum!
The rooftop smoking deck is filled with a buzz of laughter and the smell of pulled pork. Inferno DJ's are in the next room, entertaining and keeping the party going for those who are stuck in the Inferno Time Vortex. We spiral down the layers of staircases as we see a sign midway that says, "Satan hates people standing on Stairs, don't be like Jesus, MOVE!!" Oh how I love metal humour at Easter time.
We giggled as we squished in to find ourselves at the foot of the stage for a face full of some True Norwegian Black Metal with Taake. Their set starts ferociously as the pit is shoulder to shoulder, no one is allowed in or out and I'm out of beer, lucky for us, the excited pups on the top balcony share theirs with us, bastards! Hoest is in fine form this evening, ever the contortionist, whipping the microphone stand across the stage while sporting his new corpse paint covered-skinhead and some creepy white contacts. The best thing about Inferno festival is that they always have so many well-known Norwegian musicians at the ready to throw in surprise guest appearances. In this instance, Vrangsinn, former bassist of Carpathian Forest is announced to the stage in his signature wide-brimmed hat. He is here for a cover of the Cure's Cold, in which Hoest declares "We're gonna play a cover, this is Fuck You Nazi lover!" With full view of the stage we're a bit confused as Vrangsinn has no instrument, but rather an old rotary home telephone. When the song gets going, he holds up the hand piece which becomes a microphone and changes his voice into bizarre high-pitched, scratchy vocal tones. I love this cover because when they created it a few years ago, they hadn't listened to the original, so the end result was only tainted by the musical input of Taake and Vrangsinn. Intriguing yet somewhat disturbing they move on. Spit drools from his mouth as Hoest angrily asks the crowd what they want to hear, "Myr", we scream back and when the opening riffs begin ,the crowd finally unfold their arms and all eyes are on guitarist Gjermund, waiting for him to pick up that banjo. Then it happens, the infamous black metal banjo solo which causes the entire floor to erupt into a hill-billy dance party, people are hopping around, flasks of bourbon are flying and Hoest's vocals are nothing but arresting until the end. "Ahoy!"
Onward to the head lining act to tip us off the edge of our Inferno Saturday high were Swedish Death metal all-stars Bloodbath. It was certainly interesting that both other former vocalists for Bloodbath, Mikael Åkerfeldt and Peter Tägtgren were head lining different nights of the same festival this year, oh to be a fly on the wall back stage. Opening with Fleischmann, Vocalist Nick Holmes is dressed sharp for the occasion, suited up with a fresh bullet wound in the middle of his head, poor fellow. Those cheeky South American pit lords (you know the type) are out in force for this one, not only are they complete punishers in the middle, but they even create a very anti-climatic wall of death for Cry My Name. At least Nick Holmes throws some humor into the mix, "It's going to turn into a fucking David Lee Roth gig if we go on like this." His Yorkshire accent is hilarious, "My throats dryer than a nuns crotch, someone get me a beer!" There is also a guy on the barrier flailing around a sign saying he volunteers to sing Eaten, while Nick has seen it and originally says no. When it comes time for the final song of the night, he lets the kid on stage to sing the first verse, but not before threatening that he'll kill him if he fucks it up. But this guy, blew it out of the water, throwing his hoodie out like a rock star and Inferno was loving it! Nick stole the stage back so he could finish the song, but it was still fantastic that he was such a great sport to let him get up in the first place. Who would've thought that a song about a guy's flesh fettish, would make us all so damn happy.
As we escaped the sweat box of the music hall we sprinted up the road to Kniven Bar for a quick beer, before finishing up dancing the night away next to the DJ booth at Rock in.
To catch up with Nikkis Day 1 review, click HERE and day 2, click HERE
How useful was this post?
Click on a thumb to rate it!
Average rating 0 / 5. Vote count: 0
No votes so far! Be the first to rate this post.
Related
About the author
"It does not require a majority, but an irate, tireless minority, keen to set bushfires in people's minds." Hail Satan!