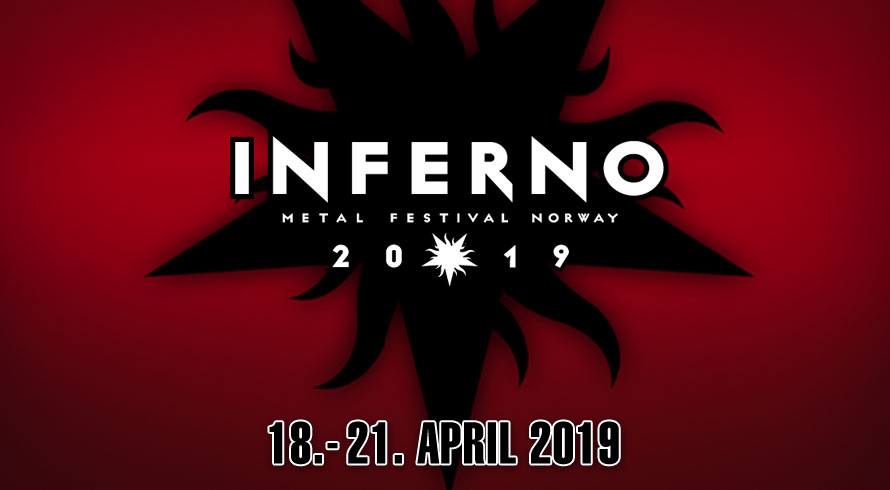 Inferno Metal Festival Norway 2019 – Day 4 Review
2nd May 2019
0
By
Queen Nikki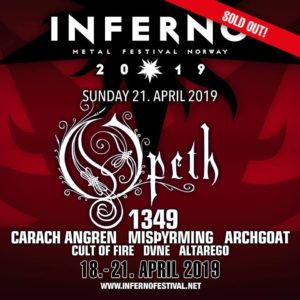 Easter Sunday, while some people celebrate the resurrection of Jesus on this day, we were trying to resurrect our livers for one last day of bedlam at Norway's Inferno Metal festival. There is nothing like a hotel buffet breakfast to get the resurrection off to a good start. There was an endless supply to feast on, the dining room at Clarion hotel the Hub was a sea of black shirts and pale faces, politely moving around the tables, overflowing their plates with eggs and salmon. You'll find yourself sitting next to a guitarist with remnants of corpse paint stuck to his eye lashes, discussing how delicious the omelette is. Then next, you're laughing about how one of the South American pit lords, sat next to you doesn't even need a plate for his breakfast, this weapon eats straight off the table. It sure is a sight to see. Taking back shots of green smoothies, followed by a cheeky nap, we organised our lives for the final battle that was ahead.
Arriving to the Rockefeller music hall, having just missed Cult Of Fire, the scent of their overpowering incense was still lingering throughout the venue. Summoned to the main stage by the creepy whispers of Invocation, we arrive to desecrate this holy day with the extremity's of Finland's Archgoat. Goat Aggressor stands paused, holding his drumsticks invertedly crossed and with no time for pleasantries he leads the band into Jesus Christ father of lies. Providing an absolutely punitive back line, there is heavy confidence and speed behind his blasts, I can barely see his hands move as he chops deep into my hangover. Brothers Grimm, Lord Angelslayer and Ritual Butcherer, stay focussed, they've consistently engaged us with their ruthless sound since the late 80's and their presence is intimidating, without reserve. The squeals of a pig at the slaughter cry into the darkness, although quite disturbing, at least it breaks the uncomfortable silence left between songs. Blood drips down his cheek as Angelslayer's mouth of Lucifer roars into Messiah of Pigs. Archgoat leave us with Hammer of Satan and after a brief but grueling set I'm not only feeling completely violated, but am confident that their black crusade shall indeed, continue against the religion of the weak.
Moving downstairs to watch what I felt was the biggest dark horse of the festival, we have Dutch 90's death fiends, Altar. With a new line-up and a new name, AltarEgo, surprised us on the John Dee stage with a powerful onslaught of old school death metal packed full of energy. Vocalist Janneke de Rooy is an absolute powerhouse. She is fierce centre stage, one foot firmly planted on the fold back and although her band mates tower over her, don't be mislead by her cheeky grin, she is aggressive under the spotlight and the sounds that come out of her are anything but sweet. Sprinting from side to side, Janneke works the crowd, she certainly knows how to hold her stage demeanor strong. She undoubtedly has some of the best female death metal vocals that I've heard live in years, what a range! With their ideology heavily steeped in anti-religious themes, they couldn't have picked a more appropriate day to play The exorcism of Jesus Christ. Long term guitarist Marcel Verdurmen takes to the microphone and announces that his mother had recently passed away and tomorrow was her birthday as he asks the crowd to sing her a happy birthday with him. The full room, understanding his grief sing an awkward, (we are in Norway remember) yet encouraging happy birthday to his mum, who Marcel then dedicates the next song to, Wasted World. They then head bang their way on to Unfinished Business, about child abuse in the church for which they also burn a priest in the film clip for the song. They are committed to the cause completely and Janneke gives us the finger as they thank us and say goodnight, definitely a band to keep your eyes and ears on, go check our their new EP!
Keeping with the Netherlands theme, Carach Angren bring their horror fueled theatrics to the main hall, along with an entire production team, seriously the barriers had to be moved back to get everything on and off the stage. Namtar's drum set is surrounded by a small fence with the looks of a graveyard and his kick drums have been transformed into what seems to be sewer drain pipes made from oil drums. The chaos starts when both the keyboardist and guitarist arise on hydraulic platforms, rising up some 5 meters above the stage in synchronicity. Ardek's moving keyboard twists around like a ghoul while they play Charlie, which I always love swearing the lyrics to.  Meanwhile, when he isn't assaulting that bloody mannequin, animated front man Seregor is causing mayhem, stomping around in his crown of thorns, screeching and spitting words faster than light. The green stage lights glare off of all of their PVC uniforms as they perform a humorous, yet engaging show and by the time they get to Bloodstains on the Captain's Log, those in the moshpit were sweaty and out of breath.
Down below, a band from my neck of the woods, Edinburgh based boys, Dvne prove why their debut album Asheran has been so highly devoured by the metal community. This progressive doom metal four piece, have the atmosphere set to 'stoner' down in John Dee and although I live in the same city as them, I've never actually seen them live. Dvne's stage presence is captivating and their sound is infectious, my eyes are glued to the stage. The dual vocals laminate over each other so smoothly and the ambiance of the keys underneath it all really set the poignant scene. They deserve all credit where its due and its no surprise they are playing at Inferno this year, a fresh sound that we all needed at this time on the last day of the festival.
On the way to a balcony view of the next band, I saw it, my best shirt of the fest. This year the winner is the band Slagmaur, who played last years Inferno and made headlines when they burnt a live witch on stage. The back of the shirt reads, "Your granny sucks cocks in Hell!" Stay classy Oslo.
Oh how I love the smell of kerosene in the evening, enter Norwegian black metal titans, 1349. Ritualistic beacons are lit around the stage and fire-breathing Frost and Archaon open the show with Godslayer. Ravn's vocals are as sharp and as vicious as ever and this performance was something else, the pyro team sure had their work cut out for them. Flame throwers, sparks and smoke plumes shoot up between the band throughout the set. Then suddenly, could it be New Years Eve? There are a series of loud bangs and actual fireworks set off from the stage and soar above the crowd, inside! I nearly shit my pants! A stream of silver confetti floats down onto the moshpit as security frantically try to stop the crowd surfers from burning their feet on the inferno that has become the Rockefeller stage. Archaon has mastered the art of wind milling with such a large circumference of hair, while still managing to shred on guitar. Although I was worried that if he took one step back, one of those burning beacons would have given him an unforgivable hair cut, he proved me wrong, absolute precision. Frosts drum work is flawless, how such a small framed man can create such a hellish sound, I'll never know. Inferno is loving the heat of the flames on their leather and the pit is alive and kicking, not only for Atomic Chapel but their energy is savored right until the bitter end. As we cheer, Frost leaves the drum kit and ascends to the front looking deep into our eyes. As a parting gift, he turns the mass into a swarming sea of piranha's as he throws his drum sticks into the Abyss. After that set, I need a cigarette, I wonder if anyone's got a light?
Final head liners and overall good guys of the festival, progressive Swedes Opeth, send us to bed with their lullabies of sorrow and occultism. Even though there was quite a contrast from the previous band on the same stage, you can always rely on the Inferno line up to be a bit of something for everyone. The backdrop was soft, the lights gleamed off the silk beautifully as The Drapery falls and Mikael Åkerfeldt was his typical charismatic self, joking around between songs. They played a mix of old and new, while having created a niche within the genre, seeing them live only amplified why they are still leading it.
Pepping ourselves up for one last jaunt, we joined the Tamborine playing, dance party silliness in the  rooftop bar, until we were the last ones left getting kicked out by security. Then by a pure stroke of luck, they let us into Rock in, where the rest of the night is a blur of Mintu shots, sad goodbye's, deep conversations and dancing under the light of the moon. Well Norway, you've done it again, another incredible Inferno Metal festival done and dusted. I had to sell a kidney to afford you and I've got bruises on most parts of my body, but the memories made were worth it. Thanks for having me, until next year, Skål!

To catch up with Nikkis Day 1 review, click HERE, day 2, click HERE and day 3, click HERE
How useful was this post?
Click on a thumb to rate it!
Average rating 0 / 5. Vote count: 0
No votes so far! Be the first to rate this post.
Related
About the author
"It does not require a majority, but an irate, tireless minority, keen to set bushfires in people's minds." Hail Satan!