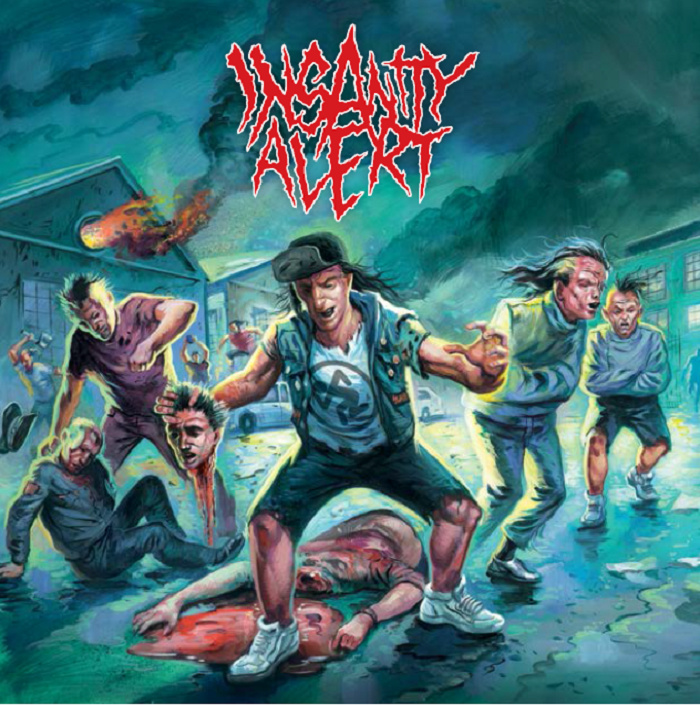 Insanity Alert – Insanity Alert
22nd November 2014
I'm a massive fan of crossover thrash so I'm always thrilled when Craig, head honcho here at All About The Rock, sends me a new album to review that describes itself as "crossover".
Insanity Alert are an Austrian crossover thrash band that's been together since 2011.  They've released a couple of EPs and have now released Insanity Alert, their self titled debut on Empire Records.
Opener "Glorious Thrash" sets the tone nicely and lets you know exactly what to expect for the rest of the album – catchy full speed ahead crossover thrash with blistering guitar work, pounding drums, and rasping vocals.  It's brilliantly done and I had a huge grin on my face from the off – because these guys are clearly all about having fun and enjoying their music.
With song titles like "Macaroni Maniac", "F.U.N.", "Shit For Brains", and "Twist-Off Betrayal" you can tell that these guys aren't taking things too seriously… and yet the quality of musicianship is first class.  Check out the fantastic official video to "The Claw (Of All That Is Evil)" to see what I mean –
There isn't a duff track on this album, and I've had it on repeat play since I first heard it.  It's impossible to pick a favourite, but special mention has to go to final track "Run To The Pit" which is an awesome cover of "Run to The Hills" by Iron Maiden, with altered lyrics about thrashing –
Insanity Alert have created an impressive album of fun-filled metal, and if you're a fan of crossover thrash then this is an album definitely worth checking out – it's fast and furious, with catchy riffs and and a sense of humour running through it – awesome stuff !!   \m/
Score: 9 out of 10
ALBUM INFO
Tracklist
1. Glorious Thrash
2. The Claw (Of All That Is Evil)
3. Zongo Vs. Eyeball
4. Macaroni Maniac
5. F.U.N.
6. Crucified By Zombies
7. Weedgrinder
8. Blunt In-Blunt Out
9. Flamethrower
10. Shit For Brains
11. Twist-Off Betrayal
12. Mankind Eraser (Must Destroy All)
13. Shell-Shocked
14. Arac Attack
15. Run To The Pit
Record Label
Empire Records
Release Date
October 18th 2014
Links
http://insanityalert.bandcamp.com
https://www.facebook.com/insanityalert?fref=ts
How useful was this post?
Click on a thumb to rate it!
Average rating / 5. Vote count: