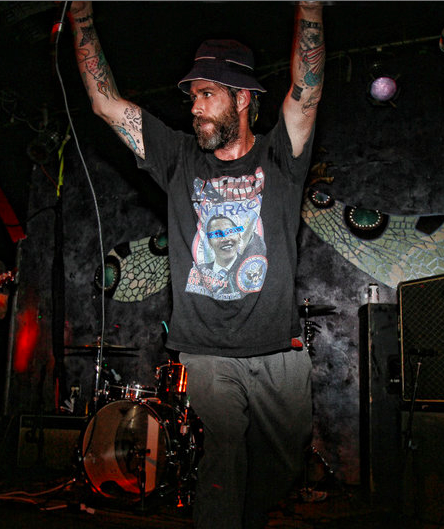 Interview with Crazy Tom from Dead Fucking Last / General Fucking Principle
30th October 2014
Last month I reviewed the new General Fucking Principle / Scheisse Minnelli split 12″ LP, and loved it.  So when the incredibly cool Nicole from Beanie Records got in touch and asked if I'd like to interview Crazy Tom, punk rock legend and vocalist from General Fucking Principle, I jumped at the chance!
Interview with Crazy Tom
By Rich Dodgin, 30th October 2014
Hi Tom.  Firstly, a huge thanks for agreeing to this interview and giving our readers a chance to learn more about you and your music !
You're probably best known for singing in Dead Fucking Last, but more recently you've been involved with General Fucking Principle.
Can you tell our readers about yourself please.  What's your story?
Yeah man, I grew up in Hermosa Beach as a young skater kid.  I had Jim Jim Lindberg from Pennywise in some classes, we were friends back then.  As a young kid we would skate around the Black Flag church and hear them play.  A few years later we started going to punk shows at a club called the "Fleetwood" were we saw The Germs, Adolescents  and Black Flag.  I remember seeing Mike Ness from Social Distortion in a lot of fights back then.
Later my friends and I started and got into bands.  I dedicated a lot of my life to skate boarding – one of my friends who I consider a mentor is Tony Alva, who was a huge part in my backyard and pool skateboard upbringing and I would see him and Jay Adams at all the punk shows and at the skate parks we had mutual friends and we had  developed  a life long friendship though the years.  I lost my father due to cancer at 13 years old and Tony and his friends were like big brothers to me guiding me through life and its many ups and downs we were like a wild pack of wolves.
How did GFP come to be?  What have you guys done so far, and what are the plans for the band?
GFP came when  I saw Tony at an art show he was having at his skateboard  gallery and mentioned I felt like doing music again.  He said call me if you need a bass player so a few days later I rang him up and he agreed.  He was hanging around with some friends, kicking some names around, and heard some wacky audio tape where this lady was yelling at someone  about it being  "the general fucking principle" to answer some stupid question.  I liked that he played me the audio and boom – we had a name for this group.
Plans for the band happen organically if everyone's in town and the show seems right we will jump on the bill.  We have gone to Chile and Costa Rica and done a huge New York show at the Vans Warehouse for the 25th anniversary of the  "half cab" for Stevie Caballero.
I recently reviewed the split LP your band General Fucking Principle did with Scheisse Minnelli, and was blown away by the aggression and anger of the music you guys play – really full-on old school hardcore / punk rock !   How did the split LP came about?  Are you guys good friends with the guys from SM?
We haven't yet met the guys from Scheisse Minnelli but we have ties with them from a friend that drums with them sometimes – Allan from Wasted Youth.  I talked with Dylan and it seem liked a good idea so we did it.
Dead Fucking Last were together from 1991 to 1997, during which time you guys released 3 studio albums and built up quite a following on the hardcore scene.  Can you tell us a bit about those years in DFL?  What are you proudest of during that time with DFL, and what are your best memories from that time?
DFL – fucking crazy times, we shot up so fast it was nuts jumping labels huge tours etc, etc.  I think the Sublime tour we did was huge for me. First time I even heard the band Sublime I was in Japan at a record store.  A couple months later we did their last US national tour that they would ever do with Bradley.  We had some good times with those crazy fucks…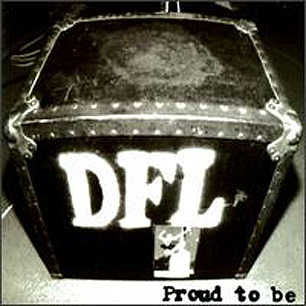 DFL reformed in 2013 – with yourself and Monty Messex from the original lineup.  What was it that led to the band getting back together, and how do things now compare with the early days?  How does the current scene compare to the one back in the 1990's ?
I wanted to reform DFL because I owed it my fans.  I quit on stage in Brazil and had  a bunch of shit that got cancelled – one was a huge Riverside CA. show so i needed to make right what I felt was needed.  We went back to Riverside 18 years later  and played a free skateboard shop party and it was "off the wall".
If fans want to get their hands on stuff by DFL and GFP, what is the best way for them to do that ?  Which DFL album would you recommend people pick up first?
I like all the  DFL records – they seem to have ripened like old wine… pretty fucking good shit / real west coast style skate punx on milk and pop rocks … I can hear my life story and history  when I read between the lines at what I'm screaming about…
Can you tell us a bit about your own personal influences – both musical and otherwise?
I like all music as long as its honest and real … I can see though the bullshit bands… real simple, if you're not sweating and I don't hear any feedback from the guitars then I'm out … Just heard for my first time "egg hunt" on Dischord  Records – something from the guys Minor Threat did its fucking great.  I like the internet you can troll around and hear side projects that you would have never heard  about ……
Again, a huge thank you for doing this interview Tom – I really appreciate it – cheers !!!
General Fucking Principle are –
Crazy Tom – Vocals
Joey Castillo – Drums
T. Alva – Bass Guitar
Greg Hetson – Guitar
https://www.facebook.com/nicole.beaniesrecords?fref=ts
www.facebook.com/pages/GFP-General-Fucking-Principle/159548920773652
https://www.facebook.com/proudtobedfl