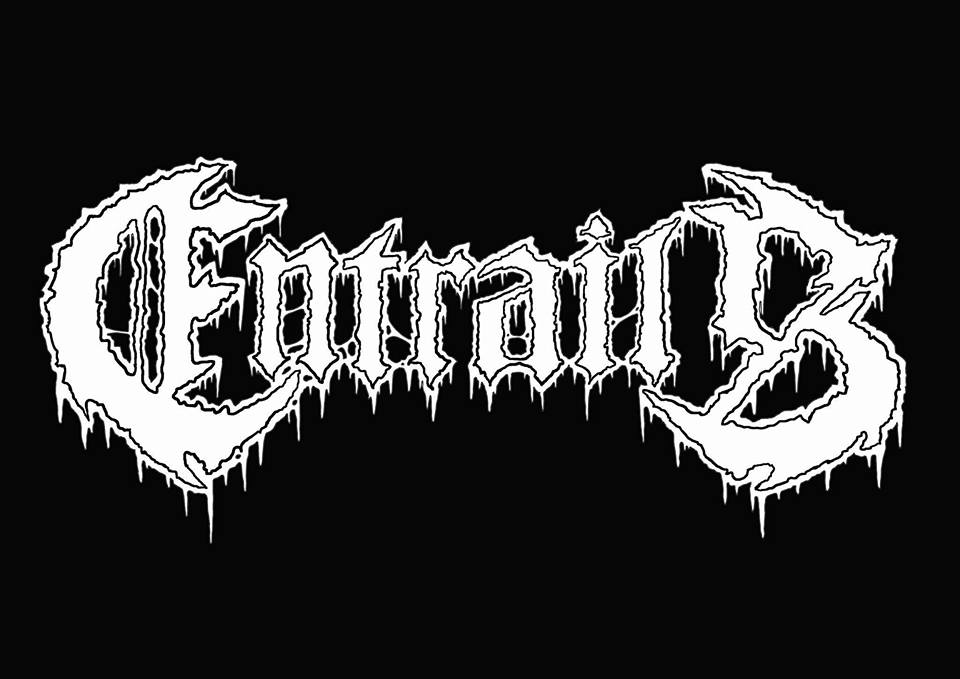 Interview With Jimmy from Entrails
1st June 2017
Hi Jimmy, I'm Sommer from All About The Rock, how are you doing today?
Hello Sommer.. We are doing great here in Sweden.. Awaiting our new release is prior one for the moment.. A lot of interviews and looking for shows is a job that needs to been done as well.. Learning songs for upcoming shows is also what we will be up to doing soon..
We see that you guys have just played Stockholm Slaughter Festival, how did you guys find that?
That was our first show this year and the first one since a long way back so it was a bit nervous but it became better after 2 songs,, then we also had the audience and the sound with us. Then it usually goes by itself.. Otherwise a good and new festival that I believe will be grow even more.. First one is always critical.
Were you able to catch any bands while you were out there and if so which bands stood out for you?
There wasn't much of time doing that unfortunately. And those bands I wanted to see was collide to our schedule but Watain who was headlining always deliver a show worth watching.
When playing festivals you get given a certain limited amount of time for your set, so how do you go about choosing your songs to fill such a short set?
We have this basic of 8-10 songs that pretty much always are being played. Then we add more if needed. After knowing our playing time we set it up to fit every act. Those basic songs have been along with the shows for a long time now and was chosen after the popularity and further on those songs will be exchanged to new ones..
Do you have any particular songs that you enjoy performing at festivals?
Well.. There are some songs that are almost important to be played and that's: "Unleashed Wrath" and "Beyond the flesh". Then "To live is to rot" "Voices" "In pieces" are others that have been played a lot.
You guys have just signed to 'District 19' booking agency how did all that come about?
We had a Dutch company before that declared late last year that they didn't have the time to help us so much anymore so we instantly looked for a new one and when we got a tip about D19 and contacts was made we was signed to them. Unfortunately we was a bit late to sign a booker and by that we will miss a lot of this year in doing shows because all festivals was sort of full when we came with requests..
What does a booking agency offer to further the band, and do you find using a booking agency easier than doing things yourself?
As we are a bit lazy we prefer to have this help even if it cost a few % of the fee but it's worth it. And we have written our demands to booker so they have something to work on. That means we have set the lowest acceptable fee to make the trip doable..
If it works for the band then why not…

Daniel Devilish did the artwork for your last album 'Obliteration'; will he be creating the artwork for the new album?
Yeah. He has been doing all our covers beside the original first one. He is as I a big fan of the horror and zombies but he have the talent in make it on a screen and with 2 freaks with ideas beyond normal the result is always damn cool..
Yea id noticed that his stuff is always of a zombie nature, pretty cool stuff that he works up for bands!
Can you tell us a little about the album and how it's going in the studio?
The album was written into demos by me a while ago and when the new guys came along in march 2016 they got the demos from me to learn as a new album was planned to be (my own ideas) out in early 2016 but when we had been booked to several shows we couldn't focus 100% to the album and was forwarded it to have it recorded in December instead and that was what happened.. And mix was sent to Dan in January and master to label in February.. The recording process was normally done with drums first and vocals last..
When can we get our hands on a physical copy, is there a release date yet?
16th of June is the release date set from the label. First single is already out for listening.

I can't wait to get my hands on a copy of the album, it's going to be killer!
Majority of death metal bands appear to come from Sweden, why do you think that is?
We are the best.. Very simple.. haha.. nah… really cannot tell why.. Maybe because we cannot do anything else sounding good enough as the typical German power metal to compare with something.. That's totally their genre and the heavy metal style is Great Britain´s… Every country have their own genuine style that they do best or better than other. I think it is so.
What is it about this style of music that makes people want to play this type of music?
Talking for my own it's the sound and atmosphere that makes me do this. Feeling, passion and the simplified riffing and all around it is the main thing. Then I can't speak for others but when something is trendy many follows that path.
Before we wrap things up here is there anything you would like to say to your fans and followers?
The word support will never be too much said and that's the most important thing nowadays when all music have become too easy to download or to be stolen.. Only the true fans still collect the CDs and vinyl's but it will never bring back the good old days when bands could sell tons of their music. And support means also to come to concerts where your band is playing. That means a lot.
Many thanks for your time!
Thanks.
Check out Entrails HERE