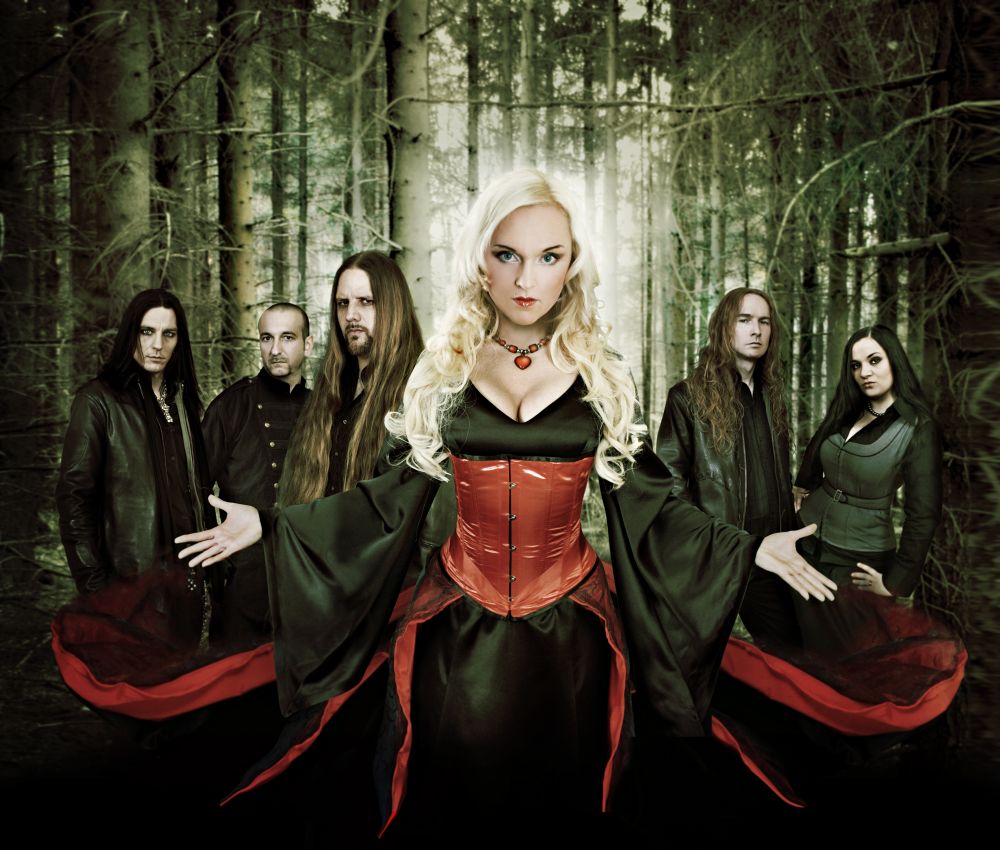 Interview with Liv Kristine from Leaves' Eyes
12th December 2013
Leaves' Eyes first came to my attention when I heard Cradle of Filth's "Nymphetamine" album and song due to Leaves' Eyes frontwoman Liv Kristine providing vocals on the song 'Nymphetamine' as well as other songs on the album.
I had already interviewed Liv's husband and Leaves' Eyes co-vocalist Alexander Krull (also of  Atrocity) when they came over to the UK with Firewind and afyter seeing them play live I was eager to find out some more about Liv, how it is to work  with her husband and wife team and more so when Napalm Records asked me if I wanted to interview her I was more than happy to do so.
So without further ado, here is my interview with Liv Kristine.
AATR: Symphonies of the night is Leaves' Eyes 5th studio album – how does it differ from your previous albums?
Liv: Now ten years have passed, and we have released five albums, including our final release "Sympohonies of the Night". I feel very comfortable where my band and I are standing right now. My members and I have been gathering experience in the studio and on tour for 20 years, some more. Our latest album has its roots in both the "Meredead" and the "Njord" productions, however, it is another impressing and innovative step in the history of Leaves'Eyes. Symphonies of the Night" sounds heavier and more powerful than our post productions. "Hell to the Heavens" for example, is a strong, rough song that really kicks, as well as it draws the attention of the audience that this is a very interesting, solid and innovative album which unites 10 years of a Leaves' Eyes history, dedication to metal and experience.
AATR: What influences did you have during the writing of the songs for this album?
Liv: It is a very powerful album with an incredibly powerful sound as well as fine, amazing details to discover for the lover of gothic and folk-inspired metal. We are lucky to have our own Mastersound studio. Alex, Tosso and myself are a real dream-composing-team. For every Leaves' Eyes production we've just "started somewhere", going with the creative flow. Our teamwork is based on honesty and trust. This is of such a vital importance in a band. Moreover, all my musicians are first-class and highly talented artists, eager to develop and maximize our skills.To be honest, we've let any influence into our music as we felt like it; no external pressure, no "musts". I've always been quite immune towards external pressure. I listen to my artistic heart and focus on my own skills.
AATR: I interviewed your husband Alexander when you came over to the UK with Firewind (he is a cool guy), how do you find working so closely with your husband?
Liv: we are both perfectionists and very stubborn – of course we do discuss sometimes. However, I know that my husband is able to push me a little further towards my limits, which is what I need sometimes when standing in front of the studio microphone. Alex is the best producer I have ever worked with, and I have worked with many. He has an enormous studio and recording knowledge, moreover, he is a perfectionist like nobody else. He never finishes a production before it is 110%! Moreover, he is the best husband and father I could imagine!
AATR: Someone who hasn't heard your music asks you to describe it – what would you say?
Liv: that is a difficult question. I do not see Leaves' Eyes in one certain genre with other current bands. I'd rather say we are a very unique composing and producing team. I have been around since I founded my own genre "gothic metal with female voices" and "the beauty and the beast concept" in the early/mid nineties. Leaves' Eyes is one of its kind rooted in the gothic metal genre. I have been composing and singing for as long as I can remember, but neither studied music nor music theory.
AATR: What do you do in your spare time, do you go to local shows, do you have another job? Is your family supportive about what you do?
Liv: I am really lucky to be able to combine both music and family. It is actually a privilege being a full-time musician and a mother – both of my dreams coming true! I am the godmother of organization, believe me, good planning is of vital importance. Apart from that I do love long-distance running, swimming, yoga…sports in general, nature (I grew up directly by a fjord in Norway…), vegetarian-vegan cooking, I am highly interested in linguistics and language training for kids and grown-ups, moreover, children with special needs and helping projects. I love poetry, painting, going to the sauna once a week, and least but not last "sophisticated wine-drinking" with my girlfriends every now and then…I mean, we are mostly sophisticated 😉
AATR: Who are some of your influences vocally and musically and why?
Liv: Maite Itoiz from Elfenthal is one of my greatest influences – she is fantastic and such a lovely lady and true friend! I also love Anneke van Giersbergens latest album "Drive". She has such a unique voice, and she is really sweet and lovely! Anyway, my main influence since my early childhood is and will always be Black sabbath and Ozzy Osbourne.
AATR: Whats next for Leaves Eyes? Can we see you at any festivals/concerts in 2014?
Liv: The recently played tour for Leaves' Eyes went through Belgium, Bulgaria, Romania, the Netherlands, Germany, Italy, Austria, China, Taiwan, and Thailand. Ahead of us is Russia. Next year begins with a handful of UK shows, followed by 70.000 tons of metal through the Caribbean and a US tour. Solo shows (exclusive ones!) are scheduled for December this year. I hope to see you soon at   one of our gigs!
AATR: Any final comments for our readers?
Liv: Thank you for all your love and support through all these years – I hope you enjoy "Symphonies of the Night"! I hope to see you next year!
Take good care,
Love,
Liv