Interview with Paul Macnamara from Salem
27th January 2018
In advance of the release of Attrition, the latest album from NWOBHM legends Salem, I caught up with guitarist Paul Macnamara for a chat about the new album and how life is treating the band.
First of all, a big thank you for agreeing to this interview and for giving myself and the readers of All About The Rock a chance to learn some more about Salem and your forthcoming album, Attrition!
Hi Rich. Always good to talk with you.
So, your new album, 'Attrition' is due out on 23 Feb. Can you tell me about the album? How does it compare to 2016's 'Dark Days'? Are there any particular themes on it? What was the recording process like?
Sure!
Well, we're very pleased with the album – and we're already getting great comments, which is obviously very pleasing!
The overall mood of Dark Days, compared with the previous more "upbeat" Forgotten Dreams album, was a reflection on life experiences we'd had over the years, particularly some of the more difficult times – false accusations, feelings of incarceration, mental health and other family troubles – as well as general commentary on the times we're living in.
Attrition kind-of develops from those situations . The broad theme being the sort-of "attitude" that we will overcome these pressures – for example, check out "Warning Signs", "Taking Control" and the title track.  Other subjects considered include dementia and domestic abuse, then some nostalgic reflections on youth and our fun trip to Dubai, and you could almost call it a well-wishing/thanksgiving pray to "My Only Son".
The song writing and recording was pretty much the same as the previous albums.  We all contribute in one way or another to the song writing process.  We usually start with the guitar music that is mainly composed by me and Mark and Adrian writes the lyrics with Simon.
The different song writers bring a diversity of song styles and influences; the result is that the albums have a variety of music – some are straight-up hard rock, others with massive heavy metal riffs, some with more complex, almost "proggy" elements, and others that are just heads-down, no nonsense rockers!
All albums have been recorded and produced by Adrian as his "Hairy Monster" studio in Hull.  Sounding good?!!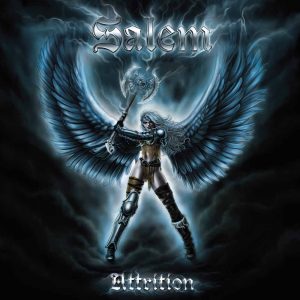 2017 looked like another very busy year for Salem, with appearances at a number of festivals. How would you summarise 2017 for the band? Were there any particular highlights from the shows you played? How did writing and recording the new album fit in with all the gigging?
Yes. 2017 was a good year.  We are getting invited to play bigger events, which is great.  It's cool to meet and get to know the guys from the bands on the road – hanging out with Oliver Dawson Saxon, Demon, Girlschool, Tysondog, Mythra, Tytan, The Deep, Spartan Warrior, Diamond Head, Avenger, Grim Reaper, Holocaust, Gaskin, Tygers of Pan Tang, Gang, Sister Rose, Savage and many others!!
We got to play in Europe again – Barcelona, France and Belgium – which is always good fun.
It's great to play to supporters everywhere – singing along to all the words of our music – whether it's a club in Newcastle or a bigger festival at the O2 in Sheffield or Kubox in Belgium.  There is a really strong metal community – we meet friends at all these gigs.
And for me it's really to meet people at our merch table – get to know them and what is important to them … and maybe sell a CD, t-shirt or patch 😉
The Attrition album took about 18 months to record – it has to fit in around gigs and other commitments.
What are Salem's plans for 2018? Do you have many UK gigs lined up to support the new album?
First is the album release on 23 February.  We are delighted to be working Dissonance Productions.  I saw that Diamond Head and Grimm Reaper were with them so I got in touch and they invited us over.  They have also signed other NWOBHM and up-and-coming "traditional metal" bands like Desolation Angels, Seven Sisters, Toledo Steel, Neuronspoiler, Amulet and Eliminator.  We are pleased that Dissonance's publicity company has really been supporting the Attrition album.  Thanks guys!
We have gigs in May, including a Dissonance Productions "British Steel" festival in Camden.  And we're working others that hopefully we'll be able to announce soon.
Obviously, we are re-shuffling the gig set list to accommodate new songs so there will be some changes.
We are also looking to start recording the next album too.  I certainly have a bunch of songs composed – and I'm sure the others do too.
Finally, is there anything else you'd like to say to our readers?
It's nearly nine years since I had the opportunity to get Salem together again after a 26 year break. 
We have achieved much more then I ever could have imagined – we now have three studio albums, plus In The Beginning with all our 1980s recordings. We've also played all over – Germany, Italy, Greece, Spain, Sweden, Belgium, Netherlands, France, Dubai … even Scotland! 
I'd like to thank everyone who have helped and supported us.
Thanks to all for coming to the gigs and enjoying our music.
Please check out the new Attrition album.
Hope you like it!
Paul
Cheers Paul !!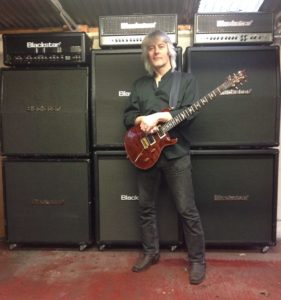 Attrition is released by Dissonance Productions on 23rd February and can be pre-ordered here (physical CD) and here (digital download)
Check out Rich's review of Attrition here
Official band website
Official Band Facebook page