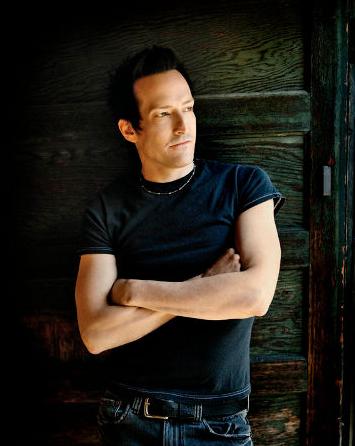 Interview with Richard Patrick of Filter
30th August 2013
Interview with Richard Patrick from Filter
Written by Rich Dodgin and Alan Sneddon, 26th August 2013
Filter have been a big favourite of ours for a number of years now so we were both incredibly excited to be able to interview Richard Patrick, Filter frontman and founder, before their gig at Edinburgh's Liquid Rooms.
Richard was really friendly and down to earth with us, and it felt like a chat rather than an interview as he told us about Filter being back and touring their new album, The Sun Comes Out Tonight.

First of all Richard, a big thank you for agreeing to this interview for All About The Rock, and giving our readers here in the UK a chance to hear about your new album, and your plans for the future.
Cool.
So, how's the tour going ?
Really well.  When was the last time we were here?  10 years ago?  We were meant to be here with P.O.D. five or six years ago, but that fell through.  And there's been a lot of shit to deal with.  I had rehab that took me away from the writing.  And Army of Anyone – which I think is a great record – took time away from Filter.  So yeah, this is about maximising whatever momentum we had 10 years ago.
We're here in Europe for 14 shows and to play and kick ass.  We played in Germany with Papa Roach in small but packed clubs, but now the tour is gaining momentum and people are catching on and we're playing to six or seven hundred people.  I'd love us to get to the point where we can come over to Europe for a couple of months.
We also played at the Leeds and Reading festivals which were a big deal for us.
There were problems at Leeds.  What happened ?
We showed up on top of game, but Leeds wasn't prepared.  Unfortunately someone got fired over it and I feel bad about that.  But we flew ten thousand miles and we're doing 14 shows, so it's not about the money.  We're trying to re-establish ourselves over here and we're bringing out a brand new record in a completely different alien radio world where everything is crazy so it's a big deal.
We managed 3 songs but it was all fucked up and didn't sound right.  It's annoying.  I got pissed off and vented, saying stuff like "Fuck Leeds.  I wish I would've fucking played Leeds right.  Now it's a little late.  Leeds can go fuck themselves."  I was venting.  And I regret that.  But when you're in the moment and you've got a microphone and are pissed off…
But we kicked ass at Reading and got a great response – the audience were extremely happy to see us.  We were there for them and they were there for us.
The new album is another Filter classic with a great mix of dark and light.  It's emotional and from the heart, like all your albums.  What's the reception been like for it ?
It's been good.  Kerrang! gave us 5 k's.  Wow.  And the general reception has been amazing.  The kids back home are getting it.  The album is number 13 in the US rock chart.  And people like the single, 'What Do You Say'.  The kids are drifting to it – it's a bit alternative – and it feels like it could cross over to some other formats and do the same thing that 'Take A Picture' did.
The question is, do we want to leave the rock, the heavy, that we're enjoying the success of, and blend over that that other thing?  You'll see it in the show tonight.  We'll take a detour, deep into the mellow shit.  That really important side of the band is there, and I'd like to go further with it – maybe play 'It's My Time' acoustic live, or something.  But it's cool.  Internally the band feels really grateful to just be rocking out.
Looking at the set lists from the tour we see you've been playing 'Jurassitol' (from The Crow: City of Angels) and '(Can't You) Trip Like I Do' (from Spawn: The Album).  Is there any reason why you've chosen those tracks ?
Because they're both bad ass.  And we want to give you the shit.  We want to play everything we can play.  We want everyone to leave wanting more, but thinking we played everything.  This is going to be great packed place tonight.
Do you prefer studio time or touring ?
I love it all as part of music.  I love to learn and love what we're doing live.  The only thing that fucks touring up is that I have a family – a wife, a 3 year old, and a 5 year old.  They're amazing people and I benefit from hanging out with them.  I get to speak to them every day when we're on tour, but it's the worst part of touring and being in a band.  But they know this is what I do and that I always come back, and that we have an amazing time when I come back.  It's what I have to do.  It's my source of income and it keeps my family in an appropriate lifestyle.  I have to work.
You've been using Indiegogo to help fund the tour.  Is crowd-funding something you think you might use for albums in future?
No.  We want to stay with Wind-Up Records.  They're a real record company.  We need the infrastructure.  We've been using Indiegogo to help get closer to the fans in far parts of the country.  To get out there to people who haven't see us for while.
How are you finding being with Wind-Up Records ?
Great.  It's a marriage made in heaven.  Gregg Wattenberg (label co-owner and Chief Creative Officer) is so supportive and said "go write the heaviest record you can."  And he's open minded to 'Surprise' and 'It's My Time' as well.  The things they've suggested as a label are things I totally agree with.  Like having a hit song to remind people that we wrote 'Hey Man, Nice Shot', but that also says something new.  Something electronic with big rhythms and a hook.
Has having Jonny Radtke (co-writer and guitarist) on board changed much?
There is good and bad with knowing how to do anything on a guitar.  You can do a lot of amazing things.  But you can also do cheesy things.  And we're not heavy metal.  We don't conform to that routine and that thing where there is no room for originality.  Though I can relate to some metal bands like Pantera (who were the last band that really did it for me) or Lamb of God or Deftones.
And Jonny is perfect stylistically and is the sort of person I like to hang out with.  For example, we both love the 'Blade Runner' Vangelis soundtrack.  So we have connections.  Jonny wrote the chord for 'Surprise' in 15 minutes.  When the tune was done I went home with it and wrote the lyrics.  The next day in the studio I closed my eyes and sang it to Jonny and producer Bob Marlette.  When I opened my eyes they were both welling up.  One of those moments when you know this is the shit.  Jonny is a guy who can understand heavy and what that means, but at the same time gets the soft side.
Is that the usual song writing process – Jonny writing the music and you writing the lyrics ?
No.  A lot of the time it was done sitting on the porch with acoustics.  In an organic way.  We'd grab a guitar and start something.  Then someone else would join in.  Collaboration is massive and I knew it would be great with Jonny because we're in the same world.  He understands both heavy and tenderness.  You should check out Jonny's band Polar Moon – they are way out there with some big huge choruses.
Have you had much chance to see anything of Edinburgh ?  Will you be spending any time here tomorrow?
I've seen the castle.  And we ate out.  But the rest of the time has been spent answering emails.  Doing the soundcheck.  Preparing for the gig and getting into the mindset.  We'll be heading off straight after the gig down to London where we've got a day off tomorrow.  But I love Edinburgh.  I'm a Patrick and we were originally from Scotland – our clan was getting exterminated so fled to Ireland and took the name Patrick, but they came after us so we went to the US.  And there are now forty thousand Patrick's in the US.  I need to speak to my brother Robert and find out some more about that.
How would you summarise your approach to life and to music ?
Be honest to yourself.  For me I do gonzo music.  I came to the studio world as an outsider and brought with me a Hunter S Thompson -esq gonzo music process.  Remembering that process and keeping it close to me is the most important thing I do.  For example we used a drum machine for the new album – why bother having a session musician play over the programming anyway?  Saying that, we didn't know Jeff Fridl then.  He's an amazing drummer and will be all over the next record.  But it's an avant-garde approach we use.  When I play the solo to 'Dose' tonight there will not even be a shred of shred.  It will be completely artistic, like Pollock throwing paint at the wall.  That needs to happen in heavy music.  We understand skill and technique and we've got that.  But I want to sneak in to the mainstream and fucking take over my way.
A huge thank you for doing this interview.
Thank you so much. I really appreciate it. We're going to have fun tonight !