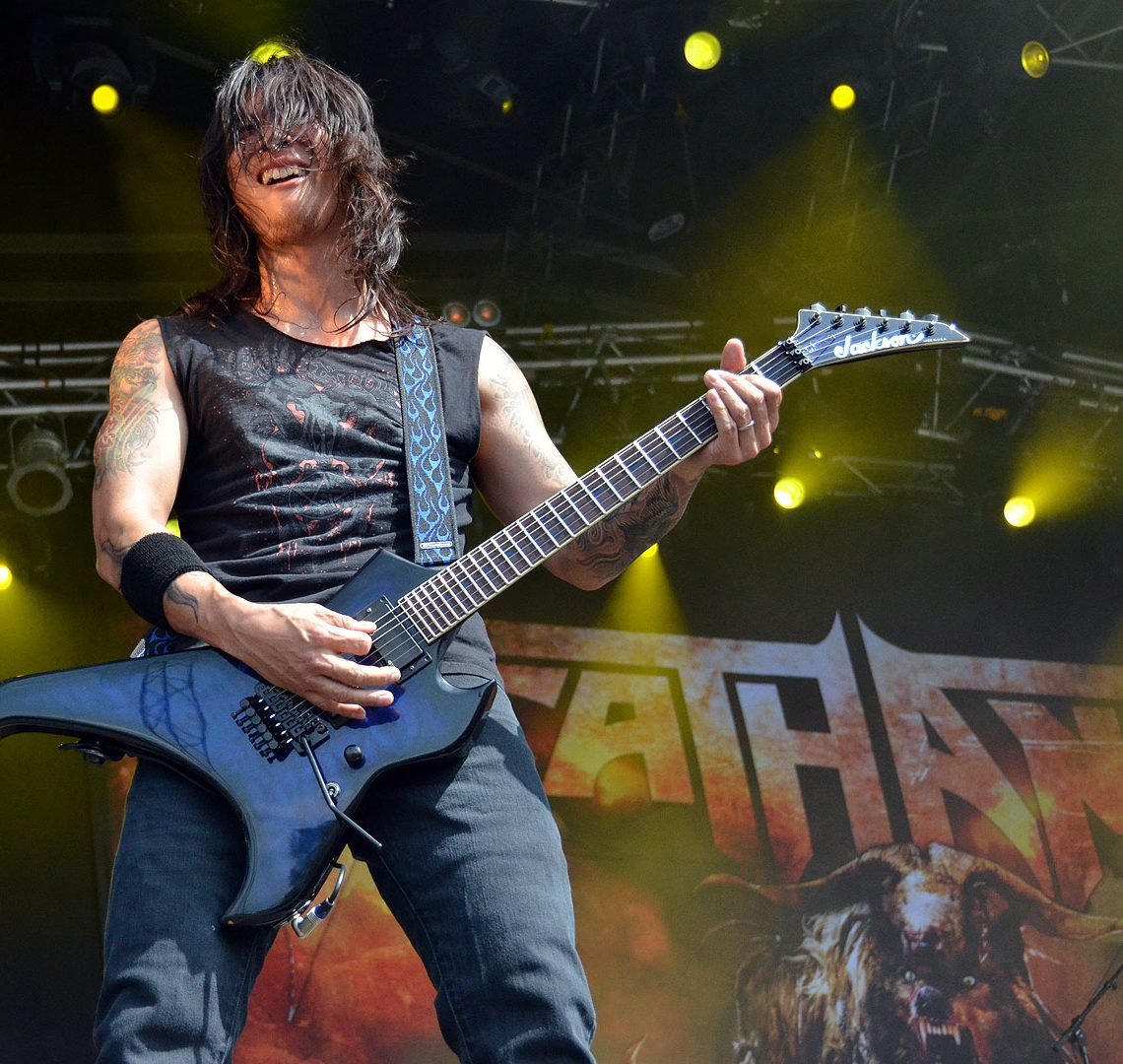 Interview with Rob Cavestany from Death Angel
26th September 2013
I recently reviewed Death Angel's latest album, The Dream Calls For Blood, for All About The Rock and was completely blown away by its relentless speed and heaviness.  The band have taken things to the next level and delivered what is quite possibly the most punishingly brutal thrash album I have heard in years.
I wanted to know more about the creation of this amazing album, so approached the band, requesting an interview.  As a long time Death Angel fan I was thrilled when lead guitarist Rob Cavestany replied to say he'd love to do a skype interview.
Interview with Rob Cavestany from Death Angel
Written by Rich Dodgin, 26th September 2013
Rich !!!  Hey how you doing?
Hi Rob.  Great thanks.  First of all, a huge thank you for agreeing to this interview for All About The Rock, and giving our readers a chance to hear about your new album, and your plans for the future.

Hey man, my pleasure, my pleasure indeed.
I've been a fan of Death Angel since The Ultra-Violence, and you guys seem to have got stronger with each and every album.  But with this new album you've taken things to the next level.  It's all out brutal from start to finsh.

Thank you so much!  That feels amazing to hear.  I agree with you, but it feels so good to hear it from you.
Would you like to tell our readers about the new album?
Sure.   Before I do that I'll throw out the disclaimer of the cliché thing that people say about their own albums.  As some of what I'm gonna say is what everyone says about their new album – as they prob should say if they believe in what they're doing.  But I do say with all truthfulness and honesty that our new album, The Dream Calls For Blood, in my eyes is our heaviest album of all our albums – probably since our debut album, The Ultra-Violence.
I think we took our own selves to another  level that we hoped we'd get to – but weren't sure if we'd get there until we actually heard the album and saw what it is that we had attempted to create.
For me, this is my favourite of our albums, especially from the guitar point of view.  I took a lot of time and spent a lot of focus on my solos on this album – which is something I haven't been able to put as much focus on or spend as many hours working on and getting that deep into previously.  It was a very intense experience for us to make this album.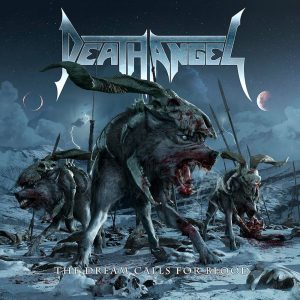 I agree.  It's brutal, and definitely your heaviest album from a listeners point of view.  So was it a really conscious thing, that you went into recording studio and said "hey guys, we want to take this to next level", or was it just the way it happened as part of natural recording process?
It was actually a conscious thing – our plan and goal.  We accepted the challange ourselves, knowing it would have to happen naturally but that was where we wanted to go.  And how we directed it, to see if the material worked out and if we were able to express ourselves and if the songs came out sounding right.  And it ended up that way.  We dug in deep.  There were a lot of circumstances that meant things ended up this way.  But it was always our intention.
Can you tell us about those circumstance?
Sure.  It's a long answer.  There were a lot of circumstances, but when you add them up you can see it would result in this album.
The first thing is that we were touring Relentless Retribution for 3 years.  Which was the longest we have ever toured for one album in one cycle.  But we did that because we wanted to push ourselves and takes things as far as we could.
And we had great fun.  We had a great tour with some great bands.  But it went on for so long that I needed to start writing, or it would take too long to get to the next album.
So I got ino the discipline of writing on tour.  Which is a challenge because of all the circumstances of being on tour.  It's not the normal comfortable zone of a studio where you can focus.  I set up shop I wherever could – at the back of th bus, in the hotel room, in the dressing room, in the hallway between Anthrax and Testament's room.  Whatever it was.  I started trying to tune everything else out and focus on writing, and when I got used to it it got easier and I enjoyed the focus.  It was an escape from being on tour.
I was mentally escaping into creativity and music and productivity.  Which was exciting.  I was touring for one album and writing for the new one in the same day.  And that influences you and your musical style and motivation.  There is a different vibe on tour.  It's not the same as finishing a tour and having time to clear your head before you start writing again.
On the road there are emotional things going on, and there are ups and downs.  The  road rules, but sometimes it is a like a fucking psychological torturous experiment.  There is a lot going on, and it's weird keeping your head together and keeping reality and keeping your feet on ground when all that's happening to you.  And at the same time you're missing family back home.  Missing them terribly but enjoying performing at night and being with my bro's on tour.  A very heavy emotional experience.  To express yourself into the music while things happen is heavy experience that leads to some heavy music you're writing.
Couple with that the fact that we were playing The Ultra-Violence live on the 25th anniversary tour – the album we re-released ourselves earlier this year.  What happened to our set had an effect on the music I was writing.  And the energy of the crowd added something too.
Add to that being surrounded by other amazing bands and musicians – including Sepultura, Anthrax, Testament, Exodus, and Kreator… many great bands we were playing and touring with, and seeing their sets live.  Knowing these guys were going to hear our new album – I wanted to impress my peers with our songs and my guitar playing.
Put all that together, as well as some other deeper personal things – especially for me and Mark (Osegueda) – who do the writing – I write the music and he writes most of the lyrics.  We were experiencing things together and in our individual lives. Some good things, but also some intensely painful things – relationships being severed, people drifting away from our lives, others drifting in.  To maintain all that.  To be on the road, and raising a family, while all this is happening, was very heavy for me.
We tapped into that – into all intense things we were feeling – and put it into music.  All the positive vibe is in there, and also the heavy shit is in there, and it comes out our in our music.  It works.
Yeah, it's an uplifting album in places, but it's also got angry pissed off pieces – everything that a thrash fan would want.  So it's been hard, but it's worked well.  Would you do this again in future?  Or will you see how you feel when you're ready to write?
I don't think it will be possible to get into the same headspace.  This was a one of a kind.  I'm glad we we made something positive out of it.  Between now and creating the next album I'm sure we'll have enough happy and heavy inspiration.  But different heavy.  With this album we came through dark times, but we were able to take a positive spin.  The songs are brutal but are presented with positive spin.  We got through it and come out on top.  The album is about being victorious.  That you can over come things that are thrown at you.  It's an empowering album.  I hope we don't have to go through those things again for the next album.  But we'll see what happens when we get there.
What's the general feedback been like for the album?  Has it been getting a good reaction?
Yes.  It has.  It's fucking brilliant.  It's been pumping me up for the rehersals for the upcoming tour.  With modern technology you can see instant results online – on our website and Facebook.  On our site we're streaming the songs and fans can chime in in real time to say what they think.
It's really been fucking great to hear the comments from our fans and what the journalists are saying. The feedback has been really good, and really strong.  It feels like people are getting it.  And it's the greatest feeling when you put something out as an artist – as someone who creates and puts out records –put your work on the line for people to judge.  It's making me and the band feel all warm and fuzzy that people getting it.
So you guys are going to be touring the new album very soon?
Yes.  We will be touring the States after the record is released. The album is out in the US on October 15th (October 11th in Europe) and we start the tour on the 17th.  We're starting with 2 home shows in San Francisco – where we haven't played for a while as headliners.  Then we're touring the north US for a month with 3 Inches of Blood, Battlecross, Revocation, and Diamond Plate.  It's an exciting bill.  Then we tour Europe in November, with support from Dew Scented.  We're really excited and looking forwward to headlining.
Will you be playing the UK ?
Yes, we're playing Underworld in London on 10th Decemeber.  It's going to be a shorter tour in Europe this time, but you can bet your "sweet arse" that we will come back.
That would be great as I really want to see this new album live – the mosh pit will be insane!
Agree – we're looking forward to playing it live!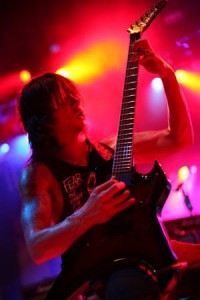 Rob, can you tell us about your own musical influences?
They are vast.  And a lot of it is not necessarily metal.  You need something else in there guys! Keep it varied and the ears fresh.  A lot of my musical influences are not guitar based.  I like to hear something else.  Music that is not necessarily drowning in guitar.  But I do like it sometimes.  I'm a fan of big well written songs with good hooks that make you feel a certain way.  I like a lot of early 70's music.
The obvious ones are there – I love Zeppelin to Sabbath to Rush to Iron Maiden to Judas Priest, and stuff  like Metallica and  Slayer – the standard bad ass bands – all the normal stuff, yeah.  Ozzy and everybody.  But going outside the box I like stuff like early Elton John, Fleetwood Mac, Journey, early U2, Janis Joplin, Queen.  The last 3 Muse albums.  I love Bjork, Stevie Wonder, Earth Wind and Fire, Bob Marley.
Lead guitar wise, Randy Rhoads was my original influence, and I love Eddie Van Halen and Micheal Schenker.
Rhythm guitar wise, James Hetfield, and Rudolf Schenker.
I listen to weird stuff – lots of music types – depending on my mood.  I like a variety.  There's a lot out there.  I like to find good stuff even in music styles I'm not usually a huge fan of.  It's worth checking stuff out.  I respect there is lots of variety.
How would you summarise your approach to life and living?
It's evolved through the years.  Now I'm mainly influenced by having a kid.  that's a major life changer.  It makes you live for your kid.  Most things I do, I do with the inspiration of doing it for the best to raise my kid the best way.  And to be role for him and other kids.  And also for my friends and family who support me with all the demands of being in this band.  It's a huge sacrifice for me and people who want to be in my life.  I respect them.  They give me the strength and power to do this.
Thanks for the interview and your time today Rob.  Is there anything else you'd like to say to the fans?

Thank you.  Thank you from me and the rest of the guys in the band.  We very much appreciate your support.  If it wasn't for you we would not be able continue doing what we love doing so much.  We respect and appreciate you.  We will always do our best and give you nothing but 100% of all we've got with our music on stage and in the studio.  We appreciate your energy and your attention.  Thank you for checking us out.  Thank you.  We love you.
Cheers Rob.  Really appreciate your time today.
Thank you too Rich.  We appreciate your support for the scene and for Death Angel.  And thank you for the 10/10 – that's fucking awesome!
No worries.  Take care.
Alright.  Later!