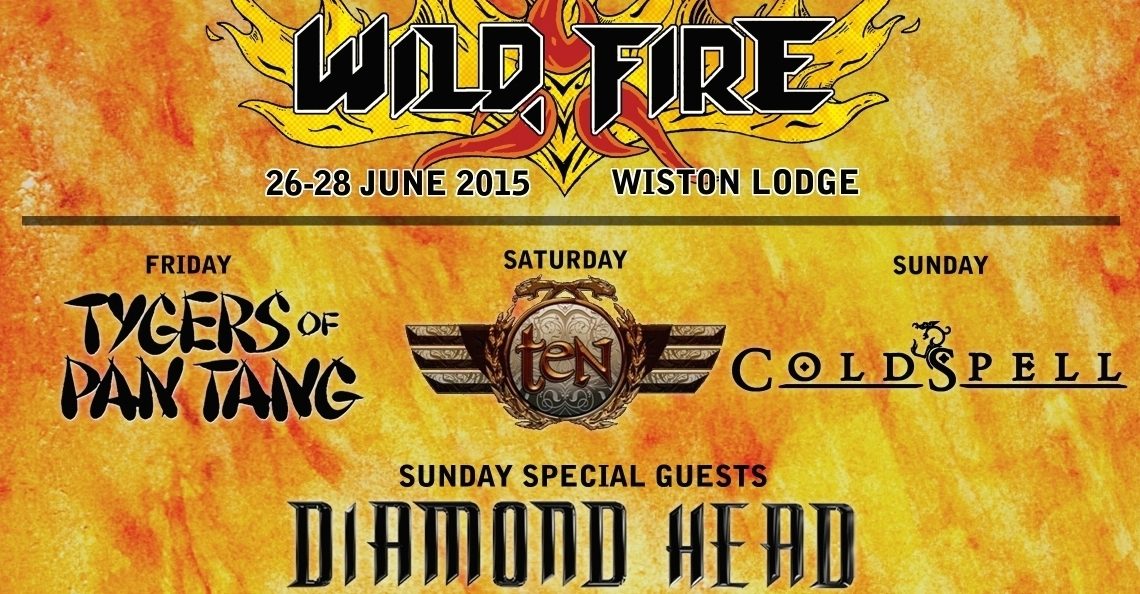 Interview with Dave Ritchie – Director of Wildfire Festival
2nd June 2015
Wildfire Festival 2015 will be the largest rock and metal gathering Scotland has ever seen, and with less than 4 weeks to go, All About The Rock caught up with festival Director, Dave Ritchie.
How you doing Dave?
Yeah good thanks.
Cool. First of all thanks for this – we at All About The Rock are really looking forward to Wildfire, so it's great to have this opportunity to talk to you and find out a bit more about the festival.
No problem at all.
So, do you want to tell us a little about the history of the festival?  I know that it's been running for a few years, previously under the name of Les-Fest, but how did you come up with the idea, and how did it all start ?
It started in 2012.  I'd been going to Sonisphere with my son, since it started a couple of years earlier – he would have been about 14 or 15 then – and we'd started to go to festivals and music events together, and a few gigs.  And I can remember the date, I think it was Friday 29th March, when they cancelled Sonisphere in 2012.  Well, I'd had a couple of drinks, and I said, never mind, we'll organise something ourselves for that weekend, in the village, and we'll put on a gig with some local bands.  That was the plan.
The next day, I actually woke up and decided I would carry on with my idea.  I bought a domain name on the Saturday – Les-Fest (for the Lesmahagow Music Festival) and started to plan it.  It was meant to be on the Sonisphere weekend, but trying to deal with the local council was really difficult.  And so, long story short, we managed to find a venue outside of Lesmahagow.  It didn't have availability on that weekend but did have availability in the last weekend of June.  So we went ahead and planned it.  I asked a few bands, and it just sort of snowballed.  We booked a few bands who were primarily Scottish, but I also asked a few others like Praying Mantis and  Kerb Grinder.
And it worked out really fine.  We had a venue, we had a couple of hundred people turn up each day  – they camped out because there were facilities there, they had a few beers, and they watched the bands and it was all really good.
So you organised all of that in 3 months ?
Yeah, we did it in 3 months – put on a 2 day music festival.  In retrospect, that was good thing, because knowing what I know now I don't know if I would have gone ahead with it (laughs).  The time  went very quickly, and I didn't have to over think it.  We had a great venue to use – one used for weddings and functions.  So we had a building, a field, a licence, all the insurance and so on.  So it was basically venue hire, but one that allowed camping.  So it all worked really nicely and it was pretty successful – we even had some people come up from England which was good.  Word got around, and we used social media to get in touch with people and spread the word and got about 300 people.
And because it went well I had the confidence to do it again the year after and that went quite well too.  But then the venue we used went into administration in February / March 2014.  So at that point I had a festival partly organised and no where to put it.  We had to find a new venue.  And that's how we've ended up at Wiston Lodge.  It's a completely different setup, because it's not a venue, it's a big country house and estate.  It was a completely new project because it had no infrastructure like stages and so on – just a field.  But because of that it's developed into a proper festival, I suppose you could say, as now everything is brought in to make it function.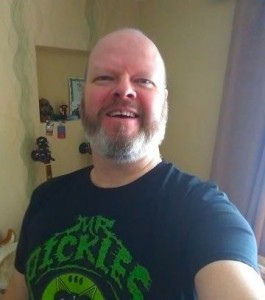 So in terms of festival goers has it been a gradual increase each year?
Yeah, it's grown year on year, but not dramatically.  We don't have a huge budget, to advertise and so on – and a lot of the mainstream rock / metal press aren't interested – so we've pretty much decided to just do it ourselves.
So do you want to tell us a bit about Wildfire 2015 ?  How would you describe it?  What's it going to be and what would you hope for it to be?
Well, there are other festivals and music events in Scotland, but Wildfire is unique in that it's a proper camping festival – a 3 day event – and we're proud that we're very family friendly, so that people can bring their kids.   There is a lot of space and plenty of room for people to find their own space.  They can bring their kids and not feel under any pressure from crowds.  So  if you're a rocker, but you can't get out as much as you used to because of the kids, bring the kids with you.
And there's a community feel about what we do.  People keep coming back, and they bring their friends .  So it's grown organically.  It's a rock festival – it's a metal festival – it's outdoors… though we do put the stages inside marquees, simply because of the Scottish weather (laughs), and that works because we're not one of the massive festivals.
We've got very good facilities and we don't do things like other festivals..  There's parking on site – you can park next to your tent if you want.  Our prices aren't ripping you off and the vendors are all good.  Last year, for example, you could come down to the Lodge and have a bacon roll and a coffee for 2 quid.  We want to keep things reasonable for people.
We've got a great range of music.  There's the NWOBHM stuff, there are quite a few new good young bands, there's some classic rock, some very heavy stuff, a bit of prog – so there's stuff for everyone.
We've plenty of people on site to look after everyone, and the staff at Wiston are good as well.  And it's a fantastic setting.  We've got accommodation on site too, which again gives us something a little bit different – people can stay in the Lodge, there are log cabins, and a teepee village.  There are free showers and there is clean free drinking water across the site.
So how many people are you hoping / expecting ?
We're hoping for 500 or 600 per day.  There are some tickets left, but we're almost sold out, so we'd definitely encourage people to buy their tickets sooner rather than later.  And it's good because we're selling tickets to people who haven't come before.  Today we sold tickets to a group from Chester which shows how the word is spreading.  Sunday is going to be very busy – I think a lot of people want to see Diamond Head.
It's amazing how things have grown.  When this all started in 2012 I never would have thought the likes of Diamond Head would be involved. But we've grown and we do our best to make it an enjoyable experience for the bands too.  All the feedback we've received from bands who've appeared before has been very complementary.  We do what we can to look after them – as we do with the fans – and that all helps make it a big friendly gathering
Yeah, it's refreshing to hear you have such a non-corporate approach to it all.
We want people to have a good time, because we're music fans ourselves.  Wildfire is like a big family party.  Everyone has a great time, fans and bands.  Its not about making money, and never has been.  And in fact, we do things on each of the days to raise money for charity to help put something back into the community.
And unlike the larger festivals, we don't just pay the headliners.  We make sure each band gets something to cover their expenses – which can make a big difference if you're a young band travelling up from Norwich or somewhere.  Apparently that's not the way it should be done, but we think it's only fair.
Fantastic stuff Dave.  We at All About The Rock are really looking forward to coming along to Wildfire to experience it for ourselves !
Thanks again for your time today Dave.  Hopefully see you at the Wildfire bar.  Cheers !!
Thank you.  Take care.  Bye.
With 56 artists and acts, playing over 3 separate stages, and a venue set in stunning scenery and with great facilities, Wildfire Festival is going to be one of the festivals of 2015 !!
Tickets, which are selling fast, are available for the day, the weekend, or with camping and can be purchased now from www.wildfirefestival.co.uk
MAIN STAGE:
ANIHILATED, BAD TOUCH, BENEDICTUM, COLDSPELL, CRIMES OF PASSION, DEATH VALLEY KNIGHTS, DIAMOND HEAD, EMPEROR CHUNG, EMPIRE, ESTRELLA, EXILE FAHRAN, HELLION RISING, HOLOCAUST, KAINE, KNOCK OUT KAINE, LAWLESS, LAWNMOWER DETH, LIBERTY LIES, LINE OF FIRE, LORD VOLTURE, MAX RAPTOR, PRESS TO MECO, RE-ANIMATOR, RONIN, SALEM, SCORDATURA, SILVERJET, SOLITARY, SPIRYTUS, THE BURNING CROWS, THE IDOL DEAD, TEN, TYGERS OF PAN TANG, TYSONDOG, UNCLE RUST
CACK/RACPA STAGE:
ANIMATOR, BIGFOOT, CORRUPT THE SYSTEM, DAKESIS, DIE NO MORE, DISPOSABLE, DOG TIRED, EXILE THE TRAITOR, I.C.O.N., MASON HILL, PROMETHIUM, PTEROGLYPH, RANK BERRY, SOUL REMOVER, THE PARALLAX METHOD, THIRTEEN STARS
ACOUSTIC LOUNGE:
ADRIANA SPINA, DAVE KERR, JAMIE BREWER, THE RISING SOULS