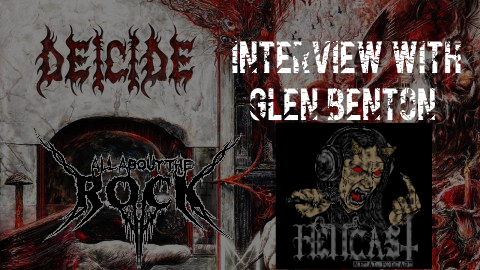 Interview with Glen Benton from Deicide
14th September 2018
Off
By
Thomas Haywood Jr.
Deicide frontman Glen Benton is interviewed by a collaboration of Tommy from All About The Rock / Redefining Darkness Records and Reaper Metal Productions podcast Hellcast Metal Podcast!
Glen is currently promoting the new amazing Deicide album Overtures of Blasphemy. Glen gives a funny and insightful interview which includes a top 5 reactions to his inverted cross scar, he speaks about censorship of the Once Upon The Cross album cover, a day in the life of Glen and more!
Check out the video below! A massive thank you to Tommy and Hellcast Metal Podcast for the collaboration! Check out www.hellcast.net for more great podcast episodes!
How useful was this post?
Click on a thumb to rate it!
Average rating 0 / 5. Vote count: 0
No votes so far! Be the first to rate this post.
Related
About the author
Thomas Haywood Jr. owner of Redefining Darkness Records and Seeing Red Records is an American, multi-instrumentalist, musician who's musical resume includes Abigail Williams (Candlelight Records), Born of Fire (Roadrunner Records), System Divide (Metal Blade Records), Aborted (Century Media Records), as well as a slew of various musical projects with signed and unsigned talent alike.
Thomas is a 2004 graduate of Musicians Institute's PIT (Percussion Institute of Technology) program in Los Angeles, and taught percussion for 8 years at a local music collective in Cleveland, Ohio. In 2009, Thomas started a program called For Those About to Rock, designed to teach students how to interact with one another in a classroom type environment, which is still operating today.
In addition, Thomas worked as a live sound engineer at the infamous, now defunct, Peabody's Downunder (Cleveland, OH) from 2009-2011. Always busy and keeping a proverbial "foot in the door" when it comes to the music business, Thomas is always looking to the next thing and has an array of projects in the works, soon to be released upon the masses.
"Music is passion; passion is life." -Thomas Haywood Jr.