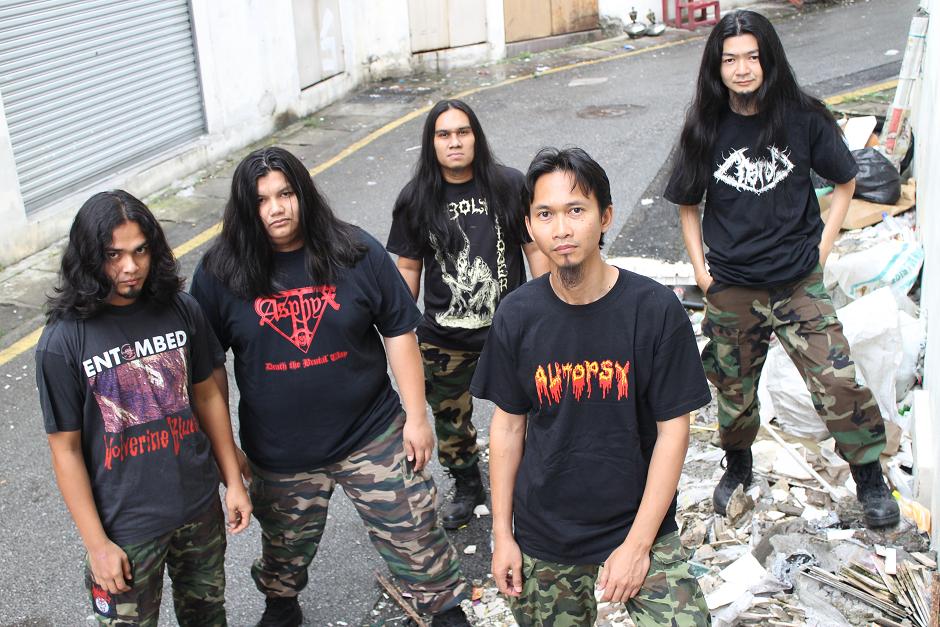 Interview with Humiliation singer Bear Bee
9th May 2013
0
By
Rich Dodgin
I recently reviewed the Decrepitaph / Humiliation split 7" for All About The Rock, and was so impressed with the Humiliation track, Enemy's Perimeter, that I promptly ordered myself copies of their first EP and their 3 full length releases.
Humiliation's music is fantastically brutal old school death metal, in the vein of Bolt Thrower but with their own unique sound, and I've had their albums on repeat play ever since I got my hands on them (I've got their excellent 2012 release 'From Strength To Strength' blasting away in the background as I type this).
I wanted to know more about this impressive Malaysian death metal band, so I contacted them requesting an interview.  Vocalist Bear Bee was kind enough to reply, and agreed to answer my questions for All About The Rock…
Interview with Humiliation vocalist Bear Bee
By Rich Dodgin
Tell our readers a little bit about Humiliation – how would you describe your music?
Hello Rich & All About The Rock. Greetings from Malaysia. Humiliation is about military death metal in simple way. Lyrically, we are into historical war & tragedies of humanity. Our major influences are Bolt Thrower, Asphyx, Autopsy, Hail Of Bullets, Obituary & Benediction. We started in mid 2009.
We have 6 releases at the moment:
1- "Face the disaster", ep CD 2009
2- "Dawn of warfare", first album 2010
3- "Brink of defeat", 7" ep 2011
4- "Seek to survive", second album 2011
5- "From strength to strength", third album 2012
6- "Decrepitaph/Humiliation", split 7" ep 2013
To hear tracks from these, visit our media page on our website: http://humiliation.my/online/?page_id=71
Eldritch Lunar Miasma Records (UK) & Dybbuk Records (Mexico) recently released a 7″ split (Humiliation and Decrepitaph). Is this helping to get more exposure for Humiliation outside of Malaysia? What's the feedback been like for the Humiliation track, Enemy's Perimeter?
Most of the reviews are positive. We feel great on how this split represent us in the form of death metal. By the way, Eldritch Lunar Miasma Records & Dybbuk Records are the first label outside from Malaysia that we have worked with. Both of these labels are great. Good promotion done by these labels really spread our music globally. It helps a lot in exposing our name.
Tell us a bit about each band member – their musical influences, personality, what they do when not playing in Humiliation.
Mudon (drummer) is into Massacre, Bolt Thrower, and Grave.  He is a very quiet person. Most of his time he dedicates to Humiliation & we don't see his hobby other than playing death metal music.
Afe (bassist) is into Morbid Angel & Bolt Thrower. He is great in printing activities. I mean printing t-shirt.
Matt (guitar) is into Hail of Bullets, Gorefest, and Asphyx. He is a happy go lucky person. He spent a lot of time in car racing (legal & illegal).
Asraf (guitar) is into Morbid Angel, Sadistic Intent, Possessed, Vader. He spends most of his wasted time is in car activities.
Bear Bee (vocals) is into Autopsy, Impaler (UK), and Bolt Thrower.  Most of his time spent for selling & trading the Humiliation stuffs.
All of us work to survive our daily life. Job is needed for us to have money….to eat, drink, sleep well & making music!
You recently played at KL Metalcamp VI (Kuala Lumpur, Malaysia) with some local acts and German thrash legends Destruction. How was that? What is the metal scene like in Malaysia?
KL Metalcamp is an annual metal event in Kuala Lumpur. Its been 6 now. For this year, Humiliation was invited to perform with Destruction & it was really amazing! About 800 people attended this show & it was really good show. We played 3 new songs (from the upcoming 4th full length album) & 5 old songs from every release. Last year, DRI & Hate Eternal played in this KL Metalcamp. This event started out in 2008 & it is organised by metalhead who's really into Malaysia metal scene.
We have small scene here.  The scene started in late 80's but we are progressing very slow. We have many bands here from grindcore to black metal. Almost all of the metal bands here is upholding underground spirit which means we didn't appear in television but we are happy with that. Some more, the government didn't support our music.
Almost every month we have show/gig around the cities.  Death Angel, Napalm Death, Kreator, Misery Index, Warbringer, Arch Enemy (to name a few) ever played here. The scene is also growing in positive way now. We can see lot of new bands releasing new materials.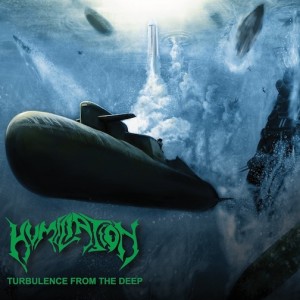 Can you tell us about your forthcoming 4th album?
We recorded 11 tracks in early January 2013 & mastered in the USA in March 2013. The album title is "Turbulence From The Deep". Deepsend Records (USA) will release in 28th May 2013 at Maryland Death Fest 2013 . This album is totally groovy death metal. What can we say is that, this is the best album ever released from Humiliation thus far.
What next for you guys? I understand you have another 7″ split due to be released, and are playing some European dates?
We will have another 7″ split with Holland death metal squad Warmaster.  This split will be unleashed by collaboration of DeadBeat Media (Malaysia) & Slaughterhouse (USA). They plan to release the split around May 2013. For this release, we recorded 2 new & exclusive tracks. We recorded these tracks only for this release.
We will play in In Flammen Festival, Germany (www.in-flammen.com) in July 2013 & now we are engaged with promoter from Holland to get mini tour during our visit to Europe this year. Hope we can play at different venues from our previous Europe tour in December 2012.
What is the best way for metal-heads in the UK to get hold of your albums?
You can get Humiliation albums directly from us, just write to humiliationband[at]gmail.com & we will reply as soon as possible. For the new album "Turbulence From The Deep" you can pre-order now at www.deepsend.com
Finally, anything else you'd like to say before we wrap up this interview ?
Thanks for the interview. Grab our new album "Turbulence From The Deep" from Deepsend Records which is going to be released very soon.
For more details about Humiliation, please visit our official website at www.humiliation.my and you can also email us at humiliationband[at]gmail.com
Thanks again & greetings from Malaysia!
How useful was this post?
Click on a thumb to rate it!
Average rating 0 / 5. Vote count: 0
No votes so far! Be the first to rate this post.
Related
About the author
I'm an Edinburgh based fiction writer, cat lover, and metal fan. My favourite genre is thrash metal – in particular those bands from the late 80's early 90's Venice Beach thrash / crossover scene, such as Suicidal Tendencies, Excel, Beowulf, No Mercy, and Uncle Slam. I'm also a huge fan of the Indian metal scene, which is producing some incredible bands and albums.