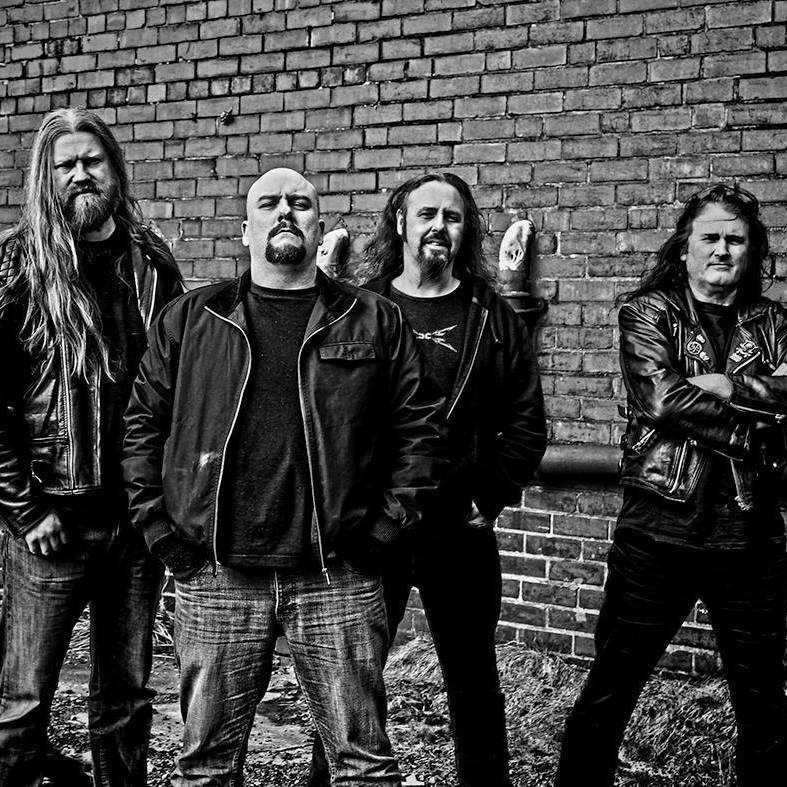 Interview with I.C.O.N
1st July 2015
Before their blinding set as headliners on the second stage on the Saturday of Wildfire Festival 2015, we were thrilled to be able to meet up with the guys from UK metallers I.C.O.N to find out more about the band…
First of all, thanks a lot for this guys. I checked out the video to 'Welcome To My War' – and I love it – really aggressive full-on metal – so it's great to have this chance to talk to you.
Mark (Sagar, vocals): No problem, you're welcome.
So, would you mind giving our readers a little history of the band?
Scott (Knowles, guitar): Well, the band started about 15 years ago with me on guitar and Mark on vocals, and we had a bass player who was a friend – which is quite often how these things start in small towns. And we didn't have a drummer, so we had a drum machine as we had no other option. We were in this East Lancashire town and couldn't find a drummer. But we still went out toured the country and though it was a struggle we kept at it because we felt like we had something.
Mark: Yeah, we persevered with everything. And it was difficult sometimes. But sometimes it wasn't .
Scott: We wanted to make a go at it, so yeah, we persevered. And we've had to deal with a lot of shit. It's been a long haul. We've been through a few other bands members, because when people join the band they don't realise what's involved – we always give 100%, we try and play as many gigs as we can, and it's a big commitment, both personally and financially. And unfortunately people would join the band, and then realise what was involved and leave.
Reece joined us from a band called Nightmare Visions. We'd known him from doing gigs together. And we played with Larry a few years ago when he was playing with someone else, and then he sat in for us a couple of times when we were short of a drummer.
And then finally, last year, things came to a point where it was shit or bust really, and we phoned Larry and said, look we know you live in London but we can do this, let's make this work.
Larry (Paterson, drums): It gets to the point where you realise half the difficulty is finding the right people. And if you do find the right people…
Mark: … they live on the other side of the country (laughs)
Larry: Yeah, they may live on the other side of the bloody country, but it's worth it, you know what I mean?
Well, it's a huge commitment to be in a band, and you need to be working with people who share the vision and passion that you do.
Scott: And the personality thing is a big deal.
Larry: You can be in a band with a lot of creativity, but people don't want to work. And you can be in the opposite, with people who want to work but are bollocks. It's got to feel like everyone wants the same thing and it fits, and then it's worth its weight in gold.
So have you relocated now Larry, or do you guys just kind of meet up…?
Larry: No, we drive backwards and forwards.
Scott: We work out a schedule. Rehearsals we do in a block. So Larry would come and stay with one of us for a few days, and we'd hammer it out over a period of days. And then we just hit the road.
Mark: And it seems to work very well.
Scott: And if we've gigs down south we stay with Larry, and if there are gigs up north he stays at ours.
Larry: And we've got new management now which has helped streamline the whole thing.
Scott: We had representation before, and it was great to a point. But the band has always wanted to push as hard as it can and be as big as it can, so a lot of changes and sacrifices have had to be made in the last twelve months, but it's all been worth it and it's got us to where we are now.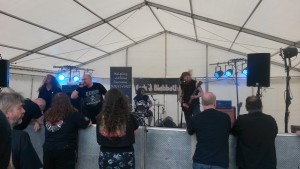 Well, you guys are getting great reviews, and you're here headlining the second stage, so things look like they're happening for you.
Larry: It's great to be in Scotland again.
Scott: We supported Warrior Soul in 2013 in their Scottish leg, but we would like to come back more often.
But I guess it's a long trek from London…
Scott: But it's not that bad. And bands sometimes have to do that. You have to work hard.
Mark: You have to be prepared to get off your arse and play in places.
You guys really seem to have a healthy attitude about everything. You're clearly prepared to work hard.
Reece (Bevan, bass): We are. And I'm sure all the big successful bands are too.
Larry: I don't understand why bands don't like playing live. That's the whole point. Doing an album is cool and everything, but really it's just an excuse to hit the road. And you've got to put in the hard work if you want your band to be big.
Well, things seem to be going the right way for you guys.
Scott: Yeah, and today's a good start. We played in Dumfries last night. We didn't just come up to play today, we had a gig last night and introduced ourselves to a new bunch of people and gave them the same set, which was great.
And now it's fantastic to be here at such a great festival, with so many bands we're friends with.
And actually, the last couple of weeks have been really good for us. Last weekend we played the Garage in London, supporting Dendera, and got a fantastic reception, and it was launch week for our album. And then we played a couple of gigs up north.
And we've a whole bunch of tour dates coming up, so we will be back in Scotland soon!
Awesome news!  I'll be at the Edinburgh gig for sure !
Well, thanks again for your time today guys, it's been great to chat and find out more about the band – cheers !
The band: Cheers Rich!
I.C.O.N's new album, 'The Blacklist', is out now on out on Metalbox Recordings, and available from the band's website (link below), the Metalbox Recordings online store (link below) and iTunes. Watch out for a review on All About The Rock soon !!
Check out the dates for the UK tour on the flier below !
Links
www.iconukonline.com
http://metalboxrecordings.com/shop/index.php?route=product/category&path=59
https://www.facebook.com/icon.uk?fref=ts