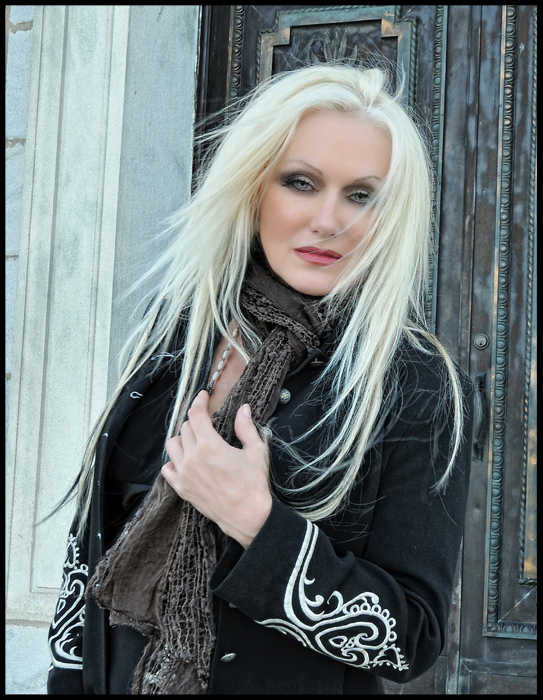 Interview with Pamela Moore
6th July 2013
Pamela Moore is probably best known for singing on Queensryche's  'Operation Mindcrime', but she's also released a number of excellent solo albums over the years that show what an amazing artist she is in her own right.
Her latest album, 'Resurrect Me', is an album of hard rock with elements of power metal and the most amazing vocals which are soft and sultry in places, and powerful and emotion filled in others.  I've had the album on repeat play since I got it and when I recently reviewed it for All About The Rock I gave it a score of 9 out of 10 and the AATR stamp of Approval.
Interview with Pamela Moore
By Rich Dodgin   6th July 2013

First of all Pamela, a huge thank you for agreeing to this interview for All About The Rock, and giving our readers here in the UK a chance to hear about your new album, and your plans for the future.
It is my pleasure as always!  Thank you!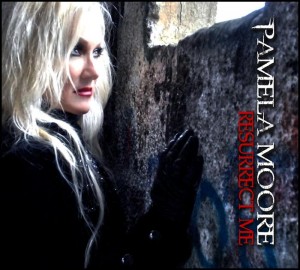 I picked up my own copy of Resurrect Me last week and have been totally blown away by its mix of hard rock, power metal, and more ambient soundscapes… and by the hauntingly beautiful and emotive vocals.  Could you tell us a bit about the album – musically, how would you describe it ?
Thank you… I am thrilled you like it!   I would describe Resurrect Me as a power, melodic metal album with some industrial influences to it.  It has a lot of passion and emotion.  It's the album I've always wanted to write.  I love heavy guitar riffs and grooves and that is definitely the case in this body of work!

On your website you say that Resurrect Me took 4 years to make while your personal life went through a great amount of transformation.  Can you tell us about that ?  Do you think the transformation your life was going through had a positive impact on this album ?
Resurrect Me was definitely a transformation.  It took longer than expected to finish for various 'life' reasons but it oozes a lot of emotion and personal growth that I was experiencing at the time.  Posch's musical riffs and arrangements really spoke to my heart and provided a wonderful platform for my lyric and melody ideas.  I can be a tortured soul at times and I tend to process my heart thru my song writing.  It's funny, but at the end of the day when I listen back to a finished song, I'm able to receive a personal message to myself, as if it was written outside of myself to reflect pain and healing and the outcome.  Kinda weird….   Hopefully, others receive some kind of connection they can attach themselves to as well…  the music is so heartfelt.
This is your first album with guitarist Michael Posch.  How did you guys end up working together ?  Was Michael a big part of helping you to make this a heavier album compared with your previous releases ?
I specifically decided to reach out to metal guitar players in order to procure that heavy sound I was craving.   Michael Posch was one of my guitar players in a band I put together in the Chicago area.    Michael composed a beautiful intro piece for the show.    I fell in love with the composition and his sensibility in composition and style so I immediately asked him if he'd consider writing with me on my next solo record.  Happily, he accepted and Resurrect Me is the outcome! I couldn't be happier!  (smile)

This is your first album with Rat Pak Records.  How have you found working with them ?
Yes!  This is my first experience with Rat Pak Records and I couldn't be happier.  Joe and his team of mighty are amazing!  They care about the artists they work for and go at it 24/7.

What are some of your personal / musical influences ?
I have so many influences…. From music to people and personalities.  This has always been a tough question for me because so many artists, Celebrity or not, have a positive impact on how I see the world.   So, I guess you could say…. life is my personal and musical influence.  (smile)

How would you describe your approach to life, and to making music ?
Be honest with yourself in everything you do.  If you make mistakes, learn from them, make amends, forgive, especially yourself… then move on.  Life is too short.  This holds true, especially when making music.   For me, the writing process has to come from the heart.  Its important to find a connection with the listener.  Music is feeling, emotion.  That's why we connect to it as humans.  No matter what kind of music we are drawn to… we connect, and that's what it should be all about.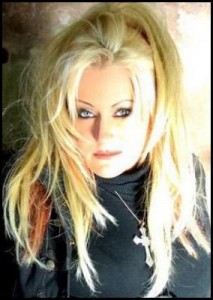 There are a lot of fans here in the UK who would love to see you live.  Do you have any plans to tour this album and, if so, do you think you'll make it across to Europe ?
That is the plan!  I love Europe and the UK!  At this time, I am rehearsing the band for a debut show here in Seattle, WA on July 13.  After that, we hope to move forward booking many more dates not only in the states but across the pond as well!!!

Finally, is there anything else you'd like to say before we wrap up this interview ?
I'd like to thank All About The Rock for your support and interest.  It so very valuable to all artists to have an opportunity to spread the word about our works.  I'd also like to thank my UK friends and fans for your love, as well.  It's what moves me.  You make me smile.
If you are interested please pop over to my website www.pamelamoore.net for news, reviews and interviews and pick yourself up a copy of Resurrect Me!
Hope to see you all soon!
Pamela Moore's new album, Resurrect Me, is available now on iTunes, Amazon, or directly from Rat Pak Records (http://www.ratpakrecordsamerica.com/)