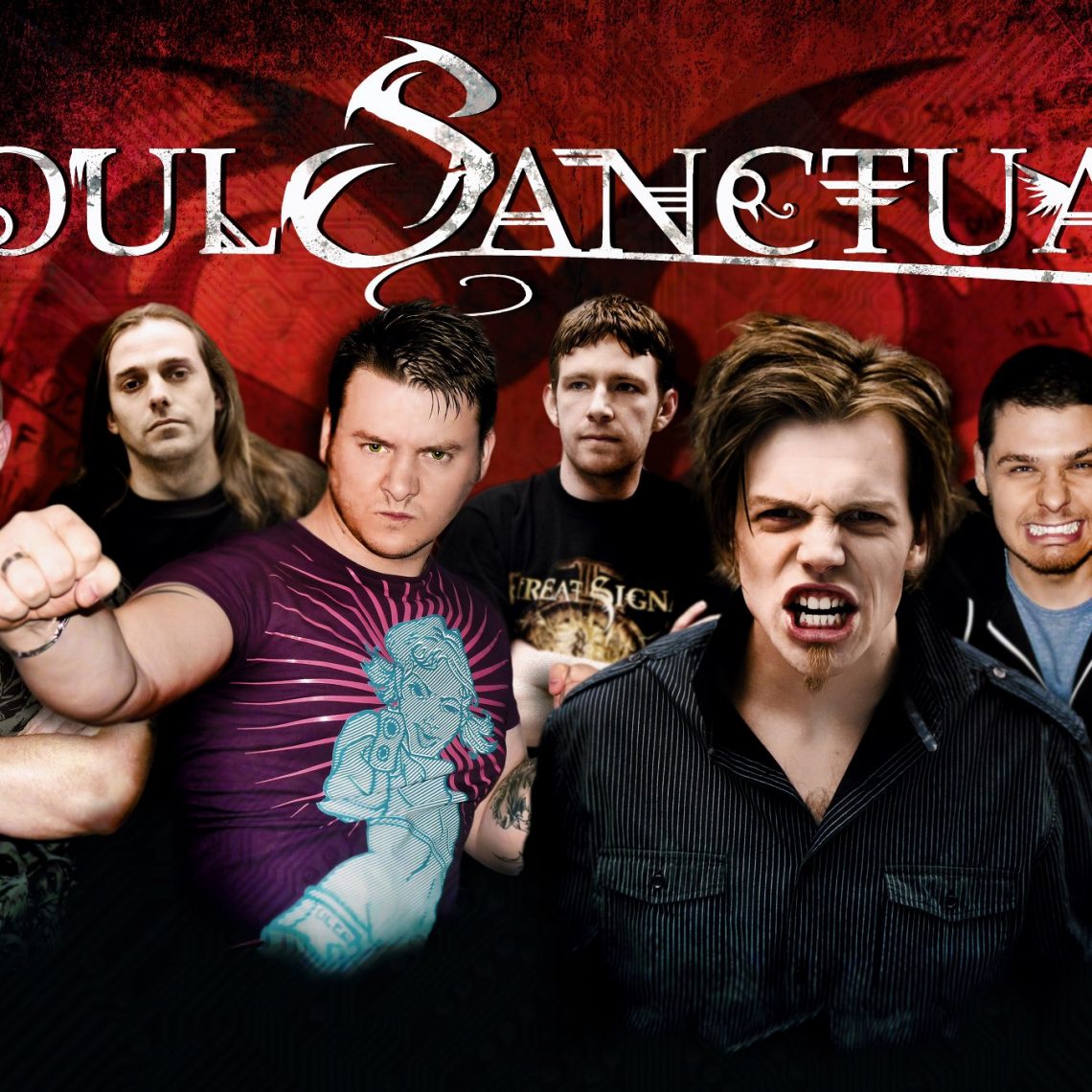 Interview with Soul Sanctuary
12th June 2013
0
By
Craig
Soul Sanctuary are a 6 piece Heavy Metal/Metalcore band from the UK, heavily influenced by bands like Pantera, Slipknot, Metallica, Iron Maiden, Megadeth, Linkin Park, Killswitch Engage, Bullet For My Valentine, A Day To Remember and many more.Reigning in from the south coast of the UK comes Soul Sanctuary. A hard hitting 6 piece Heavy Metal, Metalcore, Alternative Hard Rock hybrid. Their music boasts creative song writing with catchy melodies and technical musicianship rolled up into a well oiled metal machine. I stumbled across them after seeing a post on their website (http://www.soulsanctuarymusic.com) about the religious pricks in America that were claiming to make a nuisance out of themselves at Jeff Hannemans funeral. I contacted the band asking if i could use their wording on this site because i loved how it was written. They said yes, the next thing I was emailing them interview questions. Here are their answers:
1) First of all, can you introduce yourself and tell us what you do in the band?
Ed Stevens: I'm Ed Stevens, I play guitar.
Anthony (Monty) Montague: Hi, my name is Monty, and I am one of the guitarists/vocalists in Soul Sanctuary.
Luke Jon Gibson: I'm Luke I'm one of the vocalists and the bands producer. I also sell the souls of small children on the black-market.
2) Can you give us a little history surrounding the band? How it all came together, where the name came from etc?

Ed: A long Time ago, in a galaxy far, far away…
Luke: Soul Sanctuary started in the summer of 2006, if I remember correctly. Our early history is a little confusing, so it's hard to pinpoint an exact date. At least from my perspective. I didn't join until April 2007, and Mike our other vocalist didn't enter the picture until we pinched Ed and Jay from his former band in 2008. [Laughs]
That's an over simplification, but I don't want to bore anyone with the details. Eventually Ed and Jay convinced me to share vocal parts with Mike, because simply put, he's just a much better singer than I am. I will admit, we were all very sceptical about it, including Mike.
Having two vocalists back then was very unusual, we had certainly not seen it before, but we wanted to give it a shot. I became the screamer dude, and left more of the melodic stuff to him, although we do exchange during certain parts of songs to mix it up.
The band was founded by our bassist Paul Gooding and guitarist Monty. Before I joined, the band played a very different style of music. I've heard other musicians say the singers voice tends to dictate the style of music you play. In our case in think that ended up being very true.
As for the name, I couldn't tell you, Paul came up with it. I think it had origins in the fact that the band originally played a sort of funk and Soul influenced style of rock music. That is until I showed up and ruined everything. Monty once told me it was some kind of euphemism for vagina, but I'm fairly sure he was just joking.
Monty: Haha, maybe I was joking, maybe I wasn't [Winks]. As Luke already said, Soul Sanctuary was founded in 2006, initially starting out as a jam between four school friends, two of whom have moved on to other projects. Our major influences back then were Incubus, Bush, Red Hot Chilli Peppers and Rage Against The Machine.
Then we made the big mistake in 2007 of hiring the semi-insane Luke. Who we are now fairly certain is an escapee from a maximum security nuthouse. In the early days he couldn't resist adding death-roars over any passage we hadn't forced him to sing proper lyrics over. I'm partly sure it's why our first drummer rage quit shortly thereafter. But for better or for worse, Soul Sanctuary made the transition into more aggressive territory musically.
Luke: Fucker!
Monty: You know we all love you really Luke.
Anyway, Paul came up with the name Soul Sanctuary; you would have to ask him where it came from. To me it means a safe haven to express my creativity and emotion.
3) What is currently happening with Soul Sanctuary? Are you writing/recording a new album?
Monty: We are concentrating our focus on writing/recording our second studio album, which is very exciting as there are so many great ideas to choose from.
Ed: I just finished writing some guitar licks for a computer game called Atomic Gringo; an online computer game created by my friends company, Megadev, in collaboration with Adult Swim.
As for my contributions to SS, I'm currently waiting for Luke to stop being a beating around the bush and give me stuff to write my guitar solos over.
Luke: The second Album is on its way, maybe even some material/ideas for the third is being put down. A lot of recording has been going on, and some amazing things I wish I could share with you. Let's just say, big things are on the horizon.
4) Someone who has never heard Soul Sanctuary comes up to you and asks you to define Soul Sanctuary's music. You tell them…
Ed: Brutal riffs and bone-crushing beats, bound together by thunderous bass, iced with a dual layer of razor-sweet vocals, with a tasty topping of face-melting guitar solos.
Monty: Six nutcases that play energetic, fast paced, melodic metal.
Luke: I think Ed and Monty Summed it up pretty well.
5) The band all hail from Southern England, can you tell us what the rock/metal scene is like down there?
Ed: Always amazed by the concentration of high level musicians in the local area. For such a small town, there is some amazing players, and some fairly notable ones too. I think the dead-end lifestyle here, breeds the kind of people that need to escape it.
Monty: The local music scene is very humble and there are plenty of decent venues to play.
6) In 2011, you released the single 'Lest We Forget' in an effort to raise funds to the victims of the horrific Earthquake that struck Japan. How did that go? Was it a success?
Ed: One for you, Luke.
Luke: It was fairly successful, of course, I would have liked it to have been a much bigger success. But who wouldn't want any charity event they run, to be bigger than it was? More success is more success. As cliché as it sounds, if the contribution we made helped even one life, that wouldn't have been affected otherwise, it was worth it.
Monty: It went really well and we raised lots of money for the cause.
7) Can you tell us some of the highlights or something funny that has happened while on tour?
Ed: While on tour in London I reversed the rental van into a concrete bollard, unleashing a thunderous crunch. Completely buckled the side, was not happy. Cost me an arm and a leg!
Monty: Luke never ceases to amaze me! I remember one small festival that we played, where Luke fell off the stage mid song and cracked the back of his head on a step. I was ready to throw my guitar down and call an ambulance, but he just got back up and carried on, like nothing had happened.
Luke: I'm notorious for hitting my head on stage. I've lost count of how many times I've gotten bumps and bruises while in Soul Sanctuary. Although not strictly on tour, during rehearsal I like to move around a lot. Exactly like I do on stage.
One rehearsal, a couple of years ago. I tripped on a drum case, that had been left in an awkward position behind me. I stumbled forward and slammed the microphone into my upper left front tooth, half of which disintegrated into a white powder, which was left smeared across the top of the microphone grill. It was quite disturbing. Didn't stop the rehearsal though.
8) What bands are you listening to now would you recommend to our readers?
Ed: Karnivool, good shit that Paul got me into.
Luke: Karnivool gets a plus one from me, I'm also listening to Threat Signal, I Am Abomination, Any Given Day, Aliases, Breaking Benjamin, Paramore, Dimmu Borgir, Crossfade, Deftones, Godsmack, The Divided, Centralia DC, Green Day, NOFX, Cypress Hill, Ready Set Fall, Ravenface, Deaf Havana, Gojira, Rings Of Saturn, Guthrie Govan, Lamb Of God, Linkin Park, Beethoven, Offspring, Saosin, Taproot, Twelve Foot Ninja, A Day To Remember.
I could probably fill pages with the bands I listen to. I'm always looking for new music, I'm discovering new bands all the time and I have an extremely eclectic taste in music. Our friends Vulgate and get a special Mention too.
Monty: Deftones, Killswitch Engage, Skyharbor, Sylosis, Architects, Periphery, Porcupine Tree, and many more.
9) What do you do outside the band – free time and job etc?
Monty: In my day job I slave away behind a hot stove all day working as a head chef, I'm also a keen archer.
Ed: Haha, don't fuck with Monty or he'll shoot you in the arse with an arrow, As for me, I Run a grocery shop lol, in my free time I play guitar, drink Stella and spend time with the wife.
Luke: I work as a graphic designer, web designer and audio engineer/producer. I also love photography, art, gaming, video editing and writing. I'd love to try my hand at game programming and 3D graphics, but my already insane schedule wouldn't allow for it.
Although saying that, I have started the pre-production on a Soul Sanctuary computer game, but as I don't know how to program games, I'm getting help with that part. I'm just writing the story and over all game design.
Frankly I'm a workaholic, and I just loving being creative. It's in my blood! Any free time I have, I spend with my family. I have a beautiful little boy, an amazing girlfriend and recently adopted a 7 week old kitten we named Scarlet.
10) What does the rest of 2013 and 2014 hold for Soul Sanctuary?
Monty: Finish the Album and go on tour.
Ed: Fuck bitches, get money! [laughs]
Luke: Many beautiful things.
11) Any last thoughts or comments for our readers?
Ed: Thank you for having us. We hope to see some, if not all of you at our future shows when we get the album out and start touring.
Luke: It's been a pleasure. Thank you to Craig of All About The Rock for getting in contact and giving us this interview. Ed gets a plus one from me about seeing all of you at some future shows. Stay Awesome, Stay Metal!
Monty: Thank you for reading, take care x
http://www.soulsanctuarymusic.com
http://www.reverbnation.com/soulsanctuary
http://www.youtube.com/soulsanctuarymusic1
http://soulsanctuary.spreadshirt.co.uk/
http://www.twitter.com/soulsanctuaryww
How useful was this post?
Click on a thumb to rate it!
Average rating 0 / 5. Vote count: 0
No votes so far! Be the first to rate this post.
Related
About the author
Owner of All About The Rock and just a generally really nice guy...honest!...Ask anyone ;)