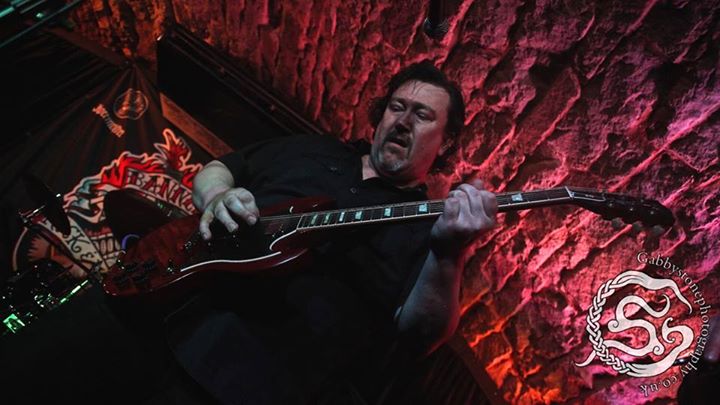 Interview with Steve Ramsey from Skyclad and Satan
26th March 2015
I've been a huge fan of folk metal pioneers Skyclad since their first album, and was fortunate enough to see them play a fantastic live show in Edinburgh in January this year. Afterwards I had a quick chat with the band and guitarist Steve Ramsey kindly agreed to do a Skype interview for All About The Rock.
Interview with Steve Ramsey from Skyclad and Satan
Sunday 22nd March 2015
Hi Steve, how're you doing?
Very good, thank you.
Cool. First of all, thanks very much for your time today – I'm a massive Skyclad and Satan fan, and I really appreciate you giving me and our readers a chance to learn some more about yourself and the bands.
No problem.
I was lucky enough to see you guys play in Edinburgh back in January at what was an amazing gig. How was it for you guys?
Yeah, it was great. I think we tend to think that the fans aren't out there for us to play to. And of course it was the guys from the Argentinean band, Skilton, that persuaded us to do the gig. Emilio from the band is a big of Skyclad and wanted us to do a show together. So we agreed to do it with them and were really surprised at the turnout. It was great, and the atmosphere was fantastic. We'll definitely be coming up and doing that again. But we wouldn't have thought of doing that ourselves. Partly because nobody asked us, and partly because we wouldn't be sure it would be worth our while. So we were very surprised. And we approached by a guy from another club in Glasgow who wants to put on a show the next time we come up. I think the problem with the band at the moment is that people like us but they're not thinking about us because we're not in the press or anything. But I think we still have a lot of fans out there. We played Hellfest last year and there was like ten thousand people going insane. Bloodstock was a fantastic show as well. So the fans are still out there, it's just we're not getting the same offers and stuff that we used to get.
Well, the Edinburgh gig was amazing. Everyone who was there was clearly having a fantastic time – the place was rocking from start to finish. So, yeah, you've definitely still got a great fan base.
What are the plans for Skyclad at the moment? Have you guys got plans for another album or a tour?
We really need to sort out a new label. And do some new material. We've written a lot of new music together, but Kevin hasn't come up with any lyrics yet. It's got to the stage where we're going to have to put him to task about it. Or maybe think of another way of doing it, maybe Graeme and myself, or even Dave who's back in the band now.
Dave is officially back in the band now?
Yeah, he's been writing some stuff as well which I'm interested in doing, to spice things up a bit. But yeah, it's basically down to getting the lyrics done. Kevin's personal life is really busy with a stressful job, and he just got married last year, and they're having a baby this year… and all that sort of thing.
We were going to start sorting things out now, because we're recording a new Satan album at the minute and as soon as that's finished – we finish it in May – we're off to South America. In June I wanted to start work on the new Skyclad album. At least get a four track demo done that we can get a deal with. I mean there's plenty of people interested but of course we still have to do a demo to say "this is what we're going to do next".
So that was the plan. But Arron had a couple of strokes a few weeks ago. He's the youngest in the band, so it's not age related or anything, just one of those ones where he got a blood clot in his neck. He lost some ability down one side of his body. But he's young so he's recovering really well. But we had to cancel a couple of shows in September because he won't get the all clear until August and we didn't want him flying or anything like that.
So we're not doing anything now until September, but I'm still hoping to get together in the school holidays – as we're all teachers the school holidays are a good time to get together. So come what may, that'll be what happens. Something will happen this summer. We're definitely going to make it happen.
And everyone thinks that the Satan thing has been interfering, but it hasn't. Because I've had music ready for about five years now. It's just the lyrics haven't been coming.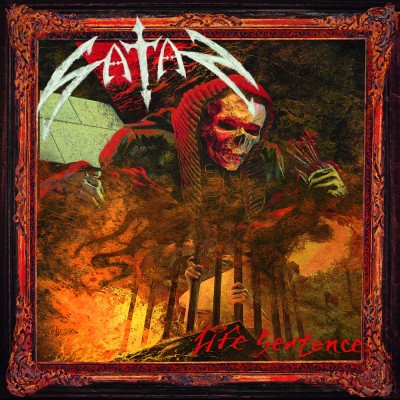 Well, let's talk about Satan. I recently got myself a copy of the 2013 album, Life Sentence, and I've really been enjoying it. And I was looking at the website a couple of days ago and it sounds like work on the new album is going well?
Yeah. We're about halfway through. The deadline we've set ourselves is the middle of May. It's like the last album we did, it wasn't done in a block, it was done over a few months. We started it in January. And what we do is go into the studio and do a couple of tracks then have a few days off. We've been pretty relaxed about it. And as we finish each track we send it over to Italy to be mixed by Dario Mollo, who did such a great job on the last album. And actually we're doing everything the same as the last album – same artist and everything.
Cool. What can you tell us about the new album?
Well, we actually had more tracks than we needed. We had fifteen tracks. But unfortunately the studio we record in is booked out so we had to choose out of the fifteen. We're recording twelve tracks, and ten of them will go onto the album. But we really like all the tracks so the ones we don't use will go on the next album.
And how does the new stuff compare with Life Sentence? Is it similar?
Yeah. Again, we're trying to put ourselves back in the shoes we were in when we were kids. Life Sentence was supposed to be a follow on from 1983's Court In The Act. We tried to dumb our playing down a bit, because obviously we were more experienced. So we didn't use any odd time signatures, and we made rules to follow because we wanted it to sound like it would've done when we were kids. And this one, our playing we will be stepped up a bit because in the gap between albums we would have got more skilled and so on.
So for the readers who don't know, Satan was the band you and Graeme were in before Skyclad. How did Satan getting back together happen?
Wacken asked us to play in 2004. We did it as a one off and hadn't planned to do anything else but we were hounded by the guy from the Keep It True festival, Oliver, who kept saying "please get Satan back together, please get Satan back together". And then Sean rang us all up out of the blue and said "I've been practising and I think I can play all the stuff again." So we went down and had a rehearsal and it sounded like the old days. And that's when we decided to keep it true, and that went so well that booked another couple of gigs. And then inevitably we went to rehearsal, and we started coming up with a couple of riffs… and we started writing some songs. And they sounded like the old days and that was when we made the decision to do an album, but said let's make it sound like it was when we were kids. Not do stuff we'd have done now, you know. So it has that youthful vibe to it when you listen to it. Which is what we were aiming to capture.
That's an amazing approach. It keeps the band true to what it was.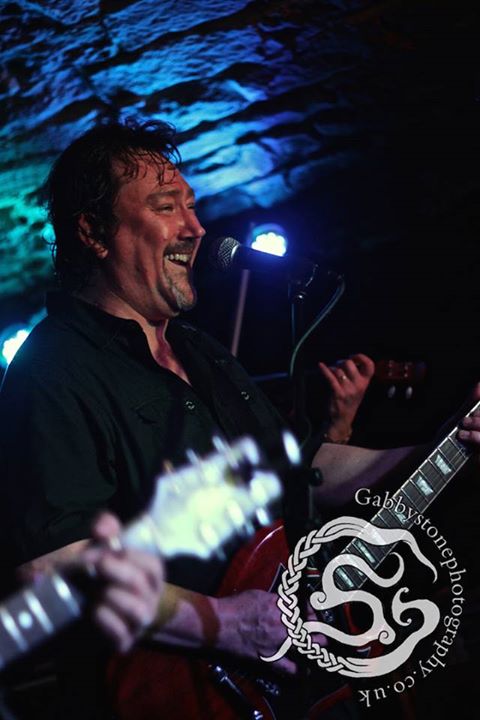 Am I right in thinking Satan's been playing in Europe recently?
Yeah, we've done a lot of festivals in Europe. And we toured the States twice last year – we played the East Coast and then the West Coast. Which was fantastic. We did some shows like the Whiskey a Go Go in LA, which we'd heard about when we were kids, and now we've actually been there and played there. And now we're doing a South American tour. Everyone thought we were crazy last year when we went over to Chile for one show, but now we're playing some headline shows in Colombia, Peru, Chile and Argentina – and a festival in Brazil – so that's worked for us. And we'll be playing in Birmingham in November.
Cool. Was the Chile gig a festival?
Yeah. So this guy we know has a label – Evil Confrontation Records – and he sent us a message asking if we'd play their festival. And I looked online at the festival and the venue held 500 people. So I said to him there's no way you can afford to pay us to do this, for the flights and the fee that we would charge you. And he said, yes I can. And he sent us the money in advance – almost a year in advance, so that we believed it was true. And then he asked us to make a video saying we were playing the festival, because people didn't believe we were going to. By the time he advertised it, it sold out instantly and the venue was changed to one that held over a thousand. And it was packed. So he took a risk, and it paid off for him.
And we did the same thing in Finland. A guy booked a show for us in Finland and did the same thing, paying for our flights and so on. And the gig sold out – they were queuing down the street. So he also took a risk and it paid off.
And we had a friend in New York, again who has a label, and he said he could book us a gig in New York and I already had some contacts requesting shows, so we put them together and sorted it out, and we went over there and it paid off. And we recorded the live album from it – 2014's Trail of Fire: Live In North America. The gigs didn't pay for us to do the tour, but the live album covered all the money. And then because that had gone so well the West Coast wanted us to play as well.
Wow. It must be amazing to have so many people interested in a band that was originally active so long ago.
It is. At the Keep It True festival, we thought it was going to be all the old people who used to like us back in the day, but it was all young kids really getting into what we are doing. And the crowds are all young so there's plenty of life left in it yet. It's great.
We have no management, or infrastructure or anything. I sort everything out. So if anyone offers me something, it's done. But this year things have been getting out of my control a bit so I decided the new album is going to be out sometime in September, and that we needed to do some headline shows rather than festivals. So we'll be playing some headline shows in Europe, and in Germany especially, in October / November – because we've only done festivals over there before.
But yeah, we've been doing all of this just off people emailing me. The internet is such a fantastic thing. With Skyclad it feels like the internet's fucked things up for us, because we don't sell any records because everyone downloads our music for free… but for Satan it's been great – Satan wouldn't exist without it. For all those years with Skyclad I never got a chance to go anywhere in South America or North America, and we hardly played any shows in Scandinavia either. But we have with Satan. And last year we went to Japan with Satan, which we never did with Skyclad. And it's all down to the internet.
So, I'd like to ask a little about yourself Steve, if that's ok. You mentioned earlier that you're a teacher – where do you teach, and what is it you teach?
I work for Newcastle Music Service. So I go round the schools in the Newcastle area. I teach guitar, I do rock band workshops, samba drumming, and various things like that. I love it.
Martin and me had been living off the money from Skyclad – for ten years we were making enough to live off.  But then the publishing deal Skyclad had with Warner Bros ended, and there was no advance, which would have been our wages.  Then it was like, life's serious now. It's ok bumming around in your 20's, but I've got a daughter to look after, and stuff like that. So I thought I'd better get a job. And I really wouldn't have applied for the job as I'm completely self taught but I was told to try for it because they thought I would be good at it. And then when I got the job I went to university and learned all the music theory and stuff I didn't know.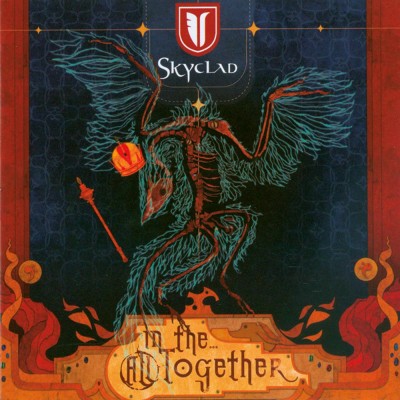 Well, as a fan I'm really glad the band didn't fold. Especially when the last album (2009's 'In the… All Together') is one of the strongest albums you guys have ever done.
Yeah, I'm convinced of that. And as long as we're enjoying it, that's all that matters. People say it's not the same, but the song of ours that's got the most hits on the internet is 'Parliament of Fools' – it's by far the most listened to track, and the one we've made the most money out of.
So what's the process for creating the music in both Skyclad and Satan?
It's different in both bands. In Satan, Russ is the leader and he's the main writer, although I do have some input to the music, and I also write some of the lyrics. We all love it. We get together and rehearse and so on. In Skyclad, for the last two albums, it was mainly me who wrote the music, though Kev wrote a couple of songs. And for the new album I've probably written enough music for two albums. But then I never stop, I always have ideas. I'm just that sort of person.
And people ask how the folk metal thing came about. Well, when we were writing The Widdershins Jig, we realised the music needed to be in a different style, and that's how it came about. And it took off. But I've always liked the freedom in Skyclad to be able to take a different style of music and make it sound like metal. And I think I've been influenced by bands like Queen who like to experiment, and I love doing that.
As a fan that's one of the things I've always liked about Skyclad. And you're not churning out the same stuff album after album.
Yeah, you don't know what to expect. People call us a folk metal band, but we're not – it's only half that.
And how about recording and mixing the albums?
The last Satan album is the cheapest album we've ever recorded. To put it into perspective, it cost a sixth of what 'The Answer Machine?' cost. And I think it sounds better.
Why the huge difference in cost?
Because the more money you have, the more people tell you what to do with it. With Satan we recorded that album in the rehearsal rooms we go to rehearse in. They have a tiny studio upstairs, but the guy in there is fantastic. And the equipment isn't fancy or anything. Whereas with some of the old Skyclad albums, it was over engineered and people were telling us "you need to do this, you need to do that". Whereas the last Satan album is exactly how we want it to sound, and the band sounds like that when we play live.
And do you think you might use that approach with the new Skyclad album?
I think so. We'll certainly be using Dario Mollo to do the mixing again. As well as working on the last Satan album, he worked on the last two Skyclad albums. He really gets the idea of the band and helped give us that modern edge on the last album.
I like people who contribute, rather than destroy, what we're doing. But they're difficult to find.
You mentioned Queen earlier. Who else are your musical influences?
In the early days, I used to listen to a lot of Beatles and Queen – up until the age of about thirteen. Then I got into puck for a year or so. And then into metal. And the main influence for playing the guitar was anything in the 1970's by Judas Priest. Scorpions. UFO. All that sort of stuff. Then Rush, when we started listening to more complicated music because we could play it (laughs). Then after that it changed and I got into some of the old thrash bands like Slayer, Megadeth and stuff like that.
Russ got a guitar, and me and a couple of friends went round to his house and was playing some Motorhead riffs and stuff. And we formed the band Stan then. And I came up with the logo before I had the guitar (laughs). I got my first guitar when I was fifteen. We did a gig at school and played some Ramones, some Motorhead, some Dead Kennedys, and some UFO. So we were crossing over from the punk to the metal stuff. And I think that's what people like about Satan, it's got that tense punky feel to it, but it's clever. It's precise but organic and edgy.
So how have things changed in the music industry since you guys started out?
It's much harder to make money now. And the record companies are now a promotion tool rather than a selling tool. When you learn about the numbers of what some of the big bands are actually selling, it's crazy. But the money we're making playing shows, especially with Satan, is very good. So it balances itself out.
And you do have more freedom these days. With digital technology anyone can record in their bedroom if you've got good ears and know how to use the equipment. So anyone's got the chance to do that now. Whereas before, you had to study, go and get a job as a tea boy in a recording studio and learn how to use all the studio equipment. You don't need to do that now. You can get software on your computer, teach yourself how to use it, and record some great stuff.
In terms of making money, do you think Skyclad will be able to make some money from touring the new album after it's released?
The last tour we did we broke even and were doing it more for the fun.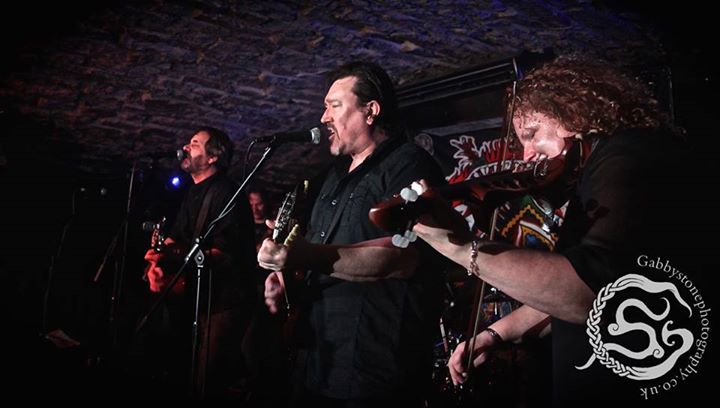 So how's that different between Skyclad and Satan?
I think it's the mentality of it. Because with Satan, some of us play at the weekend for a living. And that's a good part of our living. So when we were offered the festival slots I told them how much we wanted to be paid, and that if they couldn't pay that we wouldn't play. With Skyclad we never really did that, but with Satan we stuck to our guns. But we're all musicians who want to play – it's not about how much money we make, but you at the end of the day you do have a line to draw. For me personally, I'm happy as long as any money I get from playing shows covers what I lose from being able to do my day job.
That's very cool.
Is there anything else you'd like to say before we end the interview, Steve?
Just that I want people to know that it's nothing to do with Satan why Skyclad haven't been doing anything, it's not the case. We're very privileged to be able to come up and do a show like we did in Edinburgh and to get a really good turnout like that when we've got no new album out or anything, it's great.
Well, it was an amazing show, and I hope you guys will be touring the new material when it does come out.
Well Steve, thanks again for your time today – I really do appreciate it.
Yeah no problem, Rich.
Take care. Cheers
See you man.
https://www.facebook.com/officialskycladpage?ref=ts&fref=ts
https://www.facebook.com/officialsatanpage?ref=ts&fref=ts
Photos of Steve Ramsey and Skyclad taken at Bannermans Bar on 17th January 2015 by Gabby Stone Photography – https://www.facebook.com/gabbystonephoto