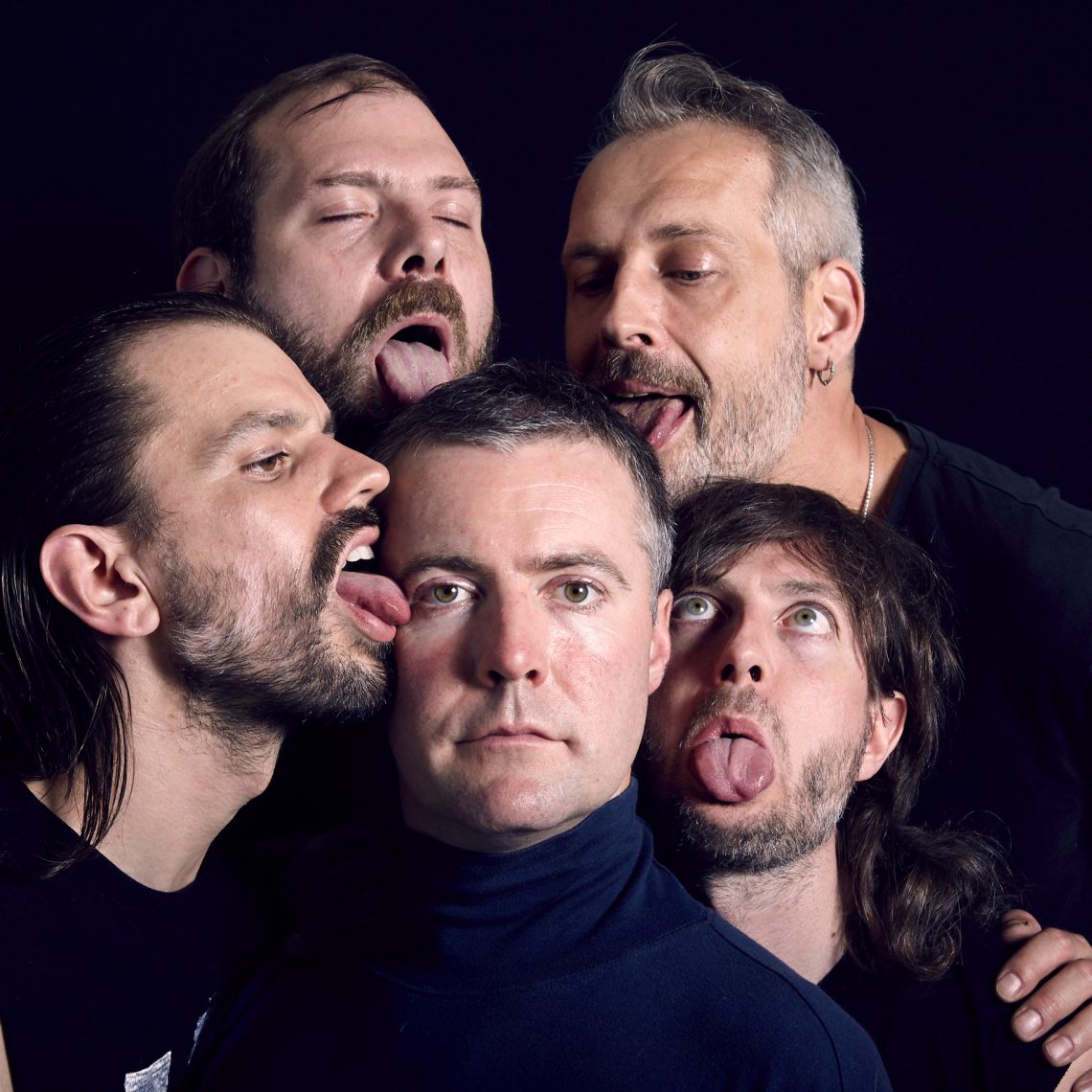 Introducing……Michael!
21st January 2020
Michael are a merry band of poets and psychedelic sages, with a rock-solid metal spine and a golden shell-like for melody.  Straight up masters at wreaking havoc and destruction in the most magnificent ways, they will hurl you headlong and screaming into the bowels of the beast with their musical trebuchet.
Michael is Tamas Kiss (Notorious Hi Fi Killers, Bad Guys, Hag), PJ Mountford (Princess Headbutt, Bad Guys), Milo Brennan (Lucozade), Dave Silver (Bad Guys) and Andrew Cleaver (Black Shape).
Tell Your Friends is their debut album.
It is the sound of stone whales and mechanical crows, their bodies infused with soulful tales of suburban shipwrecks and lovers scorned. So, prepare your diving bell and pick a tendril to plunge, as we voyage deep into the depths of the human psyche.
Taking its cues from grizzly synth steaks tossed on a flaming guitar skillet, before a rampant raccoon seizes them and sets light to your back wood camp with its blazing tail, Michael's music hauls residents from their pebble-dashed homes and bludgeons them under dual carriageway flyovers as orphaned kids wheelie towards a sunset made from sherbet and bullion.
Their songs are drenched in tribal drum patterns, a soundtrack to the Australian bush, a marauding horde of hooched-up heathens hunting down hapless gap year students to chuck on the barbie after conducting a sensual courtship ritual with them in the shadows of the ghost gums and under the voyeuristic gaze of a kookaburra.
'Mario,' is about an unscripted encounter between our storyteller and what one suspects, a degenerate pervert.  The person in question driven to confess some hushed and heinous crime to our narrator – who promptly tells him…his life is over. 
Turbo charged psalms 'Stabba' and 'The Road' are delivered with such vigour and violence that each band member's head already commands a sizeable bounty.  Cold war murders and death without trial, are a universal story explored by a group who issue stark warnings about being turned over by malevolent and omnipresent forces keen to march its citizens towards a snowy grave.
Then there's the aspirational anthem, 'Sole Trader' recalling a lowly entrepreneur trying to make it big in a nondescript small town, most likely yours.  You know the type; you know those Velcro slides.  But be careful, if you're too fortunate you're likely to get chibbed, your rotting corpse condemned to an eternal f*ck thing for all and sundry, including passing pigeons.
In 'Success' we are invited to track boy racers of a dubious nature through a telescopic sight as they charge a twitching nightscape, cruising for sleaze, road ragers behind tinted windows, black as Satan's waistcoat, tailing innocents guzzling on tailpipes which ooze a mind warping elixir.
With 'Tunisia' we are regaled with a withering critique of Brits abroad in the republic in question, nether regions clipped and thumbing their way through glossy bibles, a burning desire to be someone else's effigy.
'Leaf Blower Tragedy,' takes us on a jolly jaunt to one of my favourite golfing destinations, Palm Springs, complete in all its rainbow making sprinkler glory and sadly, godforsaken leaf blowing hell – Michael announcing a call to arms to burn these damned contraptions alive and replace them with the humble rake.
The band, although predominantly complex in both their word play and arrangements can also be devastatingly simple when it comes to issuing omens.  This is exemplified in 'Machine Stops' where we are asked to question our own identities and the real character beneath those meaty masks we wear.
All this wonderful music is augmented with occasional yelps, barks and whispers from a front man, who's 100% intent on breaking his way out of an ice cave that's lay dormant under your home for years and joining you and your gran for tea.
Michael and Tell Your Friends are a more than worthy addition to modern music's fold. It's rare for a group to commandeer a position at rock's head table from their opening bar, but Michael achieve this and then some. 
A maverick force majeure, they are a band of wolves who'll happily seek refuge in the company of humans rewarding their hosts with untold aural treats and treasures as well as a little heavy petting.
As listeners, we are constantly reminded that all is not what it seems and for this we should be truly grateful. 
Tell Your Friends is the sort of record the babysitter listens to before turning on the kids in her keep and will come to be as important a document as the late Samuel Pepy's diary, long after we've all departed this mortal coil.
All this aside, Michael's debut album is bloody good fun.
Find Michael online at: