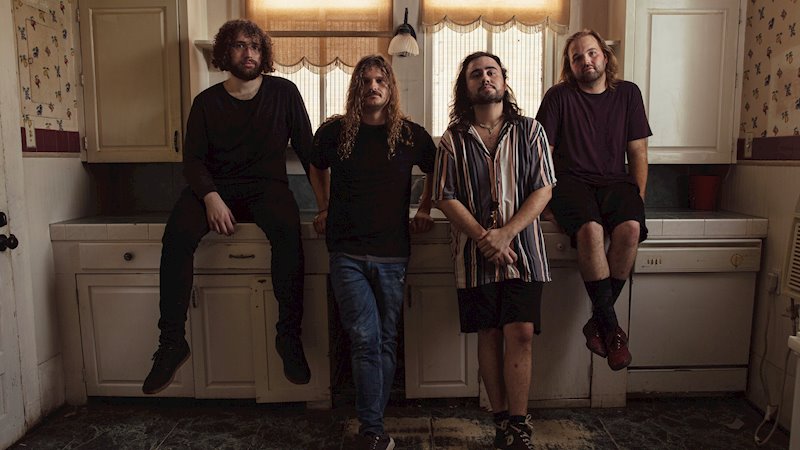 Jestr Vocalist Brett Bradley Talks About His Goober
9th December 2021
0
By
John Deaux
Alternative rock quartet JESTR draws inspiration from mythology, the paranormal along with any curious manifestations or bizarre tales.  We caught up with Brett for a brief chat.
I have one dog! His name is Xerces which is named after my favourite Deftones song, he's been my boy now for about 4 years and he's the sweetest little guy you'd ever met. Half husky, half black mouth Cur, I'd actually found him at a Petsmart on my way up north during an adoption event, he was like a little deer and had trouble walking. Xerces stole my heart almost immediately. 
He is a gorgeous looking boy too. Has he any weird quirks?
Xerces is all around a bit of an oddball, he's extremely nervous but I think as far as the weirdest thing I've had to do is try and teach him to sit down comfortably. He had a tendency to sit down and rest his upper half on his belly, in the moment it looked funny but a vet pointed out that could cause digestion issues, it's been on ongoing venture to get him to sit a little more normally since then haha. 
What about tricks or is he a bit to much of dope to even learn?
Xerces is VERY smart, comes across as a bit of a goober but anything I've tried to teach him he picks up extremely quickly. The best (and sometimes most aggravating) trick he can do however is to wake me up in the morning, without fail almost every morning he gets up, stretches and then steps on my face; now that I think about it, he's probably over do for a nail trim. 
It would be a bit remiss not to discuss the elephant in the room (not the dog. Although he's a decent size) but the current pandemic. Has having Xerces around helped at all?
My boy has been wonderful, he's my best friend and is really good about kind of doing his own thing. We give each other space but when it's movie time or bedtime he's right up next to me. I think I've helped him a ton too, he's a very anxious dog and having me around more has definitely helped him ease up a bit. 
That's amazing to hear that you've helped each other through this tough time. Amazing how just having the companion of a different species helps.
Have you always had pets?
I have always been an animal lover!! My grandfather used to have a few horses when I was real young kid. I definitely brought a few lizards and frogs into the house growing up, not sure my dad would have called them pets but I sure did.
Have you managed to get Xerces into a costume?
The only vest Xerces has ever worn is a thunder vest haha. He's a tad too anxious for costumes although on a few special occasions I've got him to sport a reindeer outfit. 
He would rock the heck out of a reindeer outfit too. How does Xerces react to you writing or playing music in general?
Xerces seems pretty indifferent no matter what's going on, however I've noticed when doing certain vocal exercises he gets an itch to howl. As far as genre goes I think acoustic is his jam, the heavy stuff doesn't bother him but he's fallen asleep to my acoustic diddles more than a few times. 
Are you sure he's howling and not just trying to harmonise with you so you'll use him as a back up singer on the next record? Maybe try to duet with him on a cover of Pink Floyds Seamus

Who looks after your pet whilst you're away on tour/holiday?
I take him with me as much as I POSSIBLY can but during the times I can't usually my dad and sister will hang with him and make sure he doesn't tear the house up too much. 
Speaking of practising, what's in the pipeline for Jestr?
Yeah! We have a new song releasing on December 10th called Ghost of You. Expect CRUNCH, GROOVE & MELODY. It's one of my favourites songs from the upcoming Album "The Dead & Riches" which will be coming on February 11th of 2022! 
Have you anything you'd like to say to your fans/followers?
I love you and also all of your pets. 
Thank you for your time today Brett, stay safe, wel and we hope to see you on the road in 2022 if all is good in the world
Thanks for having us! 
JESTR aren't afraid to explore the unfavourable aspects of life, but make sure to come out the other side laughing. The energetic outfit have aptly portrayed some hauntingly dark themes with a humorous, light-hearted twist. The Dead and Riches is an unexpected and highly enjoyable album to experience.
For all things Jestr, click HERE