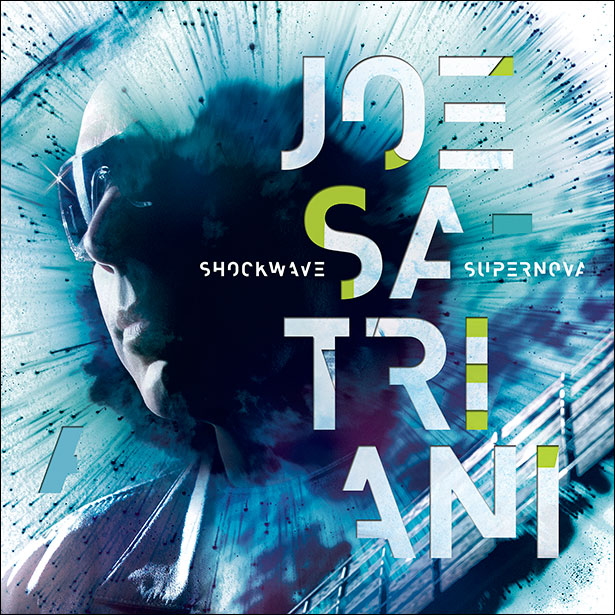 JOE SATRIANI TO RELEASE 15th STUDIO ALBUM, TOUR & MOVIE
12th May 2015
Legendary guitarist, JOE SATRIANI, announces plans to release his 15th solo studio album, "SHOCKWAVE SUPERNOVA", on Friday 24th July, making him one of the first to utilize the new "Friday, Global Release Day" for music.
The album will be released on CD, download and 2 LP vinyl. Satriani's World Tour begins 17th September in Europe (US Tour planned early 2016). The UK leg of the European tour starts November 1st at the O2 Apollo Manchester with special guest Dan Patlansky.
It would be easy to call Shockwave Supernova a "masterpiece" or "the last word on guitar" from the world's most commercially successful solo guitar performer. Satch, however, sees it much more personally. He has consistently advanced the artistry of the instrument; an effort he dedicated himself to on 18th September, 1970, the day his idol Jimi Hendrix died.
Recorded late last year at Skywalker Sound in Lucas Valley, California, Satriani assembled the dynamic trio of world-class musicians who had recently been part of his global tour; renowned keyboardist and guitarist Mike Keneally, a veteran of several Satch outings and recordings; along with drumming whiz Marco Minnemann and bass extraordinaire Bryan Beller.
"I couldn't have asked for a better band to help bring these songs to life," says Satriani.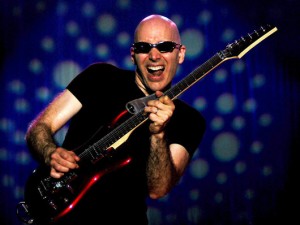 The album also sees Satriani once again joining forces co-producer and engineer John Cuniberti. Satch and Cuniberti share production on Shockwave Supernova, as they have on numerous albums – their shared history dates back to the guitar star's 1986 debut album, Not Of This Earth and its follow-up, the platinum-selling, critically acclaimed, Surfing with the Alien.
Minnemann and Beller handle the bulk of Shockwave Supernova's rhythmic duties, with the exception of four cuts – the driving "Keep On Movin'," full of wondrous Satch guitar wizardry and Keneally's playful piano, "In My Pocket," a deliciously greasy, souped-up take on Swing, along with "Crazy Joey" (a deliriously effervescent romp) and "Scarborough Stomp" (a relentless upbeat rocker) – find Satriani joined by another powerhouse rhythm section: the esteemed drummer Vinnie Colaiuta (whose work includes the likes of Frank Zappa, Sting, Paul Simon, among others) and Jane's Addiction bassist Chris Chaney (whose resume includes Alanis Morrisette, Celine Dion and Rob Zombie, to name a few).
Recently, during the final performance of his two-year Unstoppable Momentum tour, Satriani had an epiphany; he found himself, "playing the guitar with my teeth an awful lot. I thought, 'Why are you doing this?' It's as if something else, or somebody else, was driving me to do it." Satriani seized upon this moment of self-realisation as the springboard and creative centre for his alter ego "Shockwave Supernova," the outlandish and extroverted 'performance side' of the normally shy and reserved guitar virtuoso. With this new persona as partner, Satriani launched his wildly ambitious 15th solo album, Shockwave Supernova.
Album Tracklist
1. Shockwave Supernova
2. Lost In A Memory
3. Crazy Joey
4. In My Pocket
5 On Peregrine Wings
6. Cataclysmic
7. San Francisco Blue
8. Keep On Movin'
9. All of My Life
10. A Phase I'm Going Through
11. Scarborough Stomp
12. Butterfly and Zebra
13. If There Is No Heaven
14. Stars Race Across The Sky
15. Goodbye Supernova
In a creative and engaging alternative venture, Satriani, a lifelong science fiction fan, has reached out to the future, through the medium of animation. Finally recognizing the on-stage symmetry with his alter ego allowed Satriani to also take a risk on this particular style of storytelling. He says, "Guitarist Ned Evett and I have created an animated series called Crystal Planet. The actual Crystal Planet is our very own Earth, set billions of years in the future. The hero of the show uses music generated by a unique electric guitar to travel through time while the show's characters struggle to preserve the future and past of humankind."  More information on Crystal Planet and how and where fans will view the series will be coming shortly.
Fans are now able to pre-order the new album with an exclusive signed poster only at satriani.com. Joe will be selecting art for the poster from fan submitted art – check Joe's Facebook page for more details. The album is available for pre-order on Amazon and iTunes and will also be available to order as 2 LP 120 gram vinyl.
As was previously announced, Satriani and Steve Vai, will perform at a third benefit concert in support of music industry veteran and their good friend, Cliff Cultreri. "A Benefit for Cliff III" is set for Friday, June 12th at 8pm at Wiltern Theatre in Los Angeles. This event will feature performances by Satriani and Vai, as well as special guests, Animals As Leaders. In addition, Satriani and Vai, along with other artists, have graciously donated various items to be auctioned at the event. Among these items are autographed guitars as well as a chance to join Satriani's "G4 Camp" taking place June 28 – July 2 in Cambria, CA.
PLUS SPECIAL GUEST

24 HOUR TICKET HOTLINE: 0844 888 9991
BOOK ONLINE: WWW.TICKETLINE.CO.UK
ALL TICKETS PRICED £38.00 AND £34.50
START TIME ON ALL SHOWS: 7:30 PM
MANCHESTER O2 APOLLO
Sunday 1st November 2015
Box Office: 08444 777 677
Tickets: £38.00 / £34.50
www.02apollomanchester.co.uk
Stockport Road, Higher Ardwick, Manchester, M12 6AP
BIRMINGHAM SYMPHONY HALL
Monday 2nd November 2015
Box Office: 0121 780 3333 / 0121 357 0000
Tickets: £38.00 / £34.50
www.thsh.co.uk
Broad Street, Birmingham, West Midlands, B1 2EA
GLASGOW ROYAL CONCERT HALL
Tuesday 3rd November 2015
Box Office: 0141 353 8000
Tickets: £38.00 / £34.50
www.glasgowconcerthalls.com
2 Sauciehall Street, Glasgow, G2 3NY
SHEFFIELD CITY HALL
Wednesday 4th November 2015
Box Office: 01142 789 789
Tickets: £38.00 / £34.50
www.sheffieldcityhall.co.uk
Sheffield City Hall, Barkers Pool, Sheffield, S1 2JA
CARDIFF ST. DAVID'S HALL
Thursday 5th November 2015
Box Office: 029 2087 8444
Tickets: £38.00 / £34.50
Email: SDHboxoffice@cardiff.gov.uk
www.stdavidshallcardiff.co.uk
The Hayes, Cardiff, CF10 1AH
SOUTHEND CLIFFS PAVILION
Saturday 7th November 2015
Box Office: 01702 351 135
Tickets: £38.00 / £34.50
https://southendtheatres.org.uk
Southend Cliffs Pavilion, Station Road
Southend-on-Sea, Essex, SS0 7RA
BRISTOL COLSTON HALL
Sunday 8th November 2015
Box Office: 0117 922 3686
Tickets: £38.00 / £34.50
www.colstonhall.org
Colston Street, Bristol, BS1 5AR
PORTSMOUTH GUILDHALL
Monday 9th November 2015
Box Office: 02392 824 355
Tickets: £38.00 / £34.50
www.portsmouthguildhall.org.uk
Portsmouth Guildhall, Guildhall Square,
Portsmouth, Hampshire, PO1 2AB
LONDON EVENTIM HAMMERSMITH APOLLO
Tuesday 10th November 2015
Box Office: 0844 249 4300
Tickets: £38.00 / £34.50
www.eventimapollo.com
London Eventim Hammersmith Apollo
45 Queen Caroline Street, London, W6 9QH
"CRYSTAL PLANET" – Satriani's Sci-Fi Animation Series Also in the Works
How useful was this post?
Click on a thumb to rate it!
Average rating / 5. Vote count: