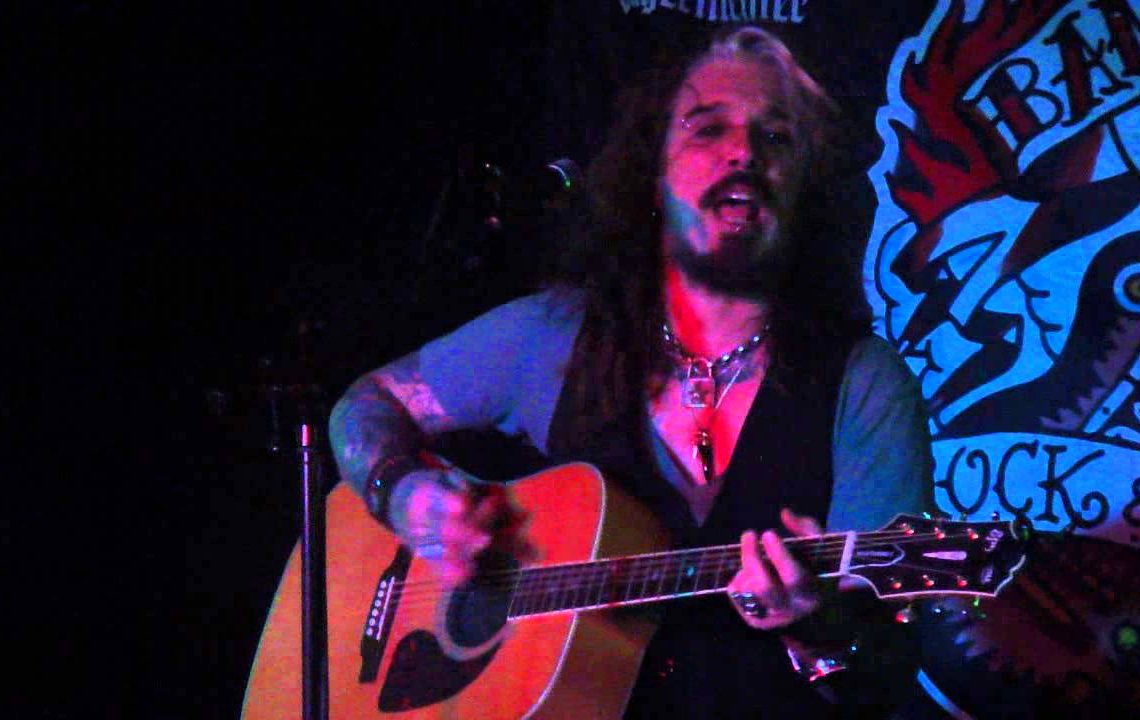 John Corabi – Dead Daisies interview
19th May 2015
Hi John & thank you for taking time out of your busy schedule to talk to me.
JC – No problem man. Always a pleasure to talk to you.
How did you get involved with The Dead Dasies?
JC – I've known Dizzy (Reed), Brian (Tichy) & Marco (Mendoza) for ages. They basically had another singer before me Jon Stevens. I have no idea if he had other commitments, solo records or whatever he was doing but he wasn't able to continue with the band anymore. So I guess my name was in a hat & they asked me to come on down & check everyone out. So I flew to LA, met with the guys had a great chat & a great weekend. The next thing is I'm in Cuba planning on going to Australia to record an album.
How was it recording in Australia?
JC – The cool thing was there was no distractions. We went down there & knocked it out. We literally wrote & recorded 16 tracks in about 32 days. It was really refreshing & awesome.
You're going to be on the road supporting Kiss in June of this year. How excited are you to be playing Download?
JC – Here in America we'd always read about the Donington Monsters of Rock shows or Download as it's now called. I'd gotten the Motley gig & recorded that record. I was asked if I was ready to play some big shows. Our first big show was to be with Aerosmith, Motley Crue, Pantera and somebody else. We were supposed to play Donington. It did fall through though. Something happened. Some of the other bands that were added Nikki (Sixx) didn't care for so he said he wasn't doing it so Motley pulled out as did Pantera. So it was this clusterfuck where nobody could make up their mind if they wanted to do it or not & you know what I was pissed. But I'm finally going to get to go to Download although I'm still going to call it Donington although it'll be under my breath (laughs)
With all the touring that I've done with many bands there's always new things. But with this tour with the Daisies I'm finally getting to do Download. Also in the 20 years I've been touring I've never played in France. But again with this tour I'm getting to play in Paris which I'm also really excited about.
You've got a very busy year ahead. Not only are you touring with Kiss but you also have the tour with Whitesnake starting in November right?
JC – It never rains but it pours. I'd put out the solo acoustic record back in 2012 and toured for the best part of a year with that. I'd just got my band together & we were staring to do the Motley '94 shows which were picking up a lot of steam & we're doing festivals here in the US & then I get a call to do the Dead Daisies. So I'm bouncing around all over the place.
It's like, OK I'm going to rehearse this week & do the run with Kiss, come home, do some shows with my band, come home, go back out with the Daisies & Whitesnake, come home & then go back out with my band. My wife meets me at the door, she takes my luggage on the way in & then hands me luggage on the way back out again (laughs). It's all good I'm not complaining at all. I love what I do.
Are you going to come over to the UK with your own band?
JC – I have to get the scheduling together etc but we are talking about it. I know my own personal manager is fielding calls from Germany & other places for me to come over & do the Motley '94 thing but we shall see. It's all down to scheduling right now.
Right now all the focus is on the Dead Daisies.
You've had a long & illustrious career not just with your solo material but also with The Scream, Union & Motley to mention but a few.
JC – Go ahead my friend you can say it. I play with just about everybody apart from Justin Bieber (laughs) & I'm not going to do it.
Talking of playing with other people I have to mention Motley Crue. They're on their final tour. Have you been approached by them to collaborate?
JC- That will never happen. A lot of people are saying that I'm going to be doing the last show & I can say that it's never going to happen. I think at this point, I don't know if I'm a blemish or what the deal is but I think they're trying to forget about those 4 or 5 years that I was with the band.
It's fine. The thing that amazes me is that it's been 17 years or 18 years. I was only in the band a little over 5 years & still to this day the debating that goes on between who's better. Myself or Vince. The scary thing of it is Vince & I get on really well . I've been in his presence well over 100 times & he's always been nothing but cool to me. It amazes me that some of the fans still get into this debate about who is better. You know what? It's apples & oranges. It's not either guy is better. I was a kid who got offered a gig of a lifetime & I took it. But it still rages on & it's weird.
You did the acoustic shows & I've gotten to see you twice in Edinburgh. It would be great to have you back in Scotland.
JC – Well I have friends there now. Christian (Kimmett)of Bannermans has been nothing but very supportive and has had me at his venue a couple of times & the shows have always been great. I met Chris Glen (Sensational Alex Harvey Band & Michael Schenker group bass player)who is a great guy & funny as hell . We've gone out a few times had some haggis & scotch. He's told me stories about his days with Alex Harvey, Michael Schenker & all this other kind of stuff. He's just a great guy. I love coming to Scotland.
Let's talk about the acoustic record for a second
JC – The acoustic record was very cool. I wanted to do something different & not come out & pigeon hole myself to this is what John Corabi has done in the past & he's still doing it. But I wanted my first record to be drastically different so that it would kind of leave doors open for me to do what I want to do afterwards.
Last time you were in Edinburgh you mentioned the possibility of coming over with Frank Hannon of Tesla. Is that something that still maybe on the cards?
JC – There was talk about it but again it was down to scheduling. I love Frank, all the guys in his solo band & all the guys in Tesla. It would've been a lot of fun, a great time & a great bill. But again it comes down to scheduling.
You've mentioned in the past about getting The Scream material re-released.
JC – I've been trying to get that material re-released for years. For some reason the record company is being incredibly stubborn & adamant that they won't do it. For the life of me I don't understand that concept at all.
What about Union re uniting?
JC – Bruce (Kulick) & I along with Brent (Fitz) about mainly doing some shows. Bruce has approached me about possibly recording & I'm saying that we have no idea what kind of an audience we have out there. Obviously we never split up we've taken a break.
If I can be honest & completely blunt? We were bringing people into the clubs. When we would play a lot of the clubs would be packed and we had a great crowd but it wasn't translating into record sales. So I'm happy to go out when we all have time, rehearse, do some shows & see what kind of response we get.
The Dead Daisies record hasn't even dropped yet. I've definitely got a full year ahead of me with touring, writing and all this other stuff. But I do want to do a solo electric record & hopefully we can do some Union shows but I don't want to record a record right now.
Is there a particular track you're looking forward to playing from the Daises album?
JC- In all honesty I am so pumped about this album. Without sounding like every musician who comes out with a new record proclaiming that it's their best album ever. I think this album is so good because we didn't take a lot of time over it. We didn't give ourselves time to over-think it. So we just wrote these riffs, melodies & lyrics so everything we did with gut instinct. So I'm pretty excited to do anything we do off this record live.
When we play Scotland we definitely have to do Midnight Moses (The Sensational Alex Harvey Band) I've always been an Alex Harvey fan & when I met Chris Glenn obviously we talked about Alex Harvey & his days back then. One of the highlights so far is that while we were in Cuba we did a video for Midnight Moses & we put it up on the internet. The guitar player from the band put it up on his Facebook page & gave it a thumbs up. So I wrote to him & introduced myself & explained I was friends with Chris & I would really love to sit down & pick your brain just because I thought he was a genius with his unbelievable guitar playing, song writing the whole package really. So I was like I would love to sit down & have a cocktail with you someday. He was very kind & said absolutely. It's always great when you meet some-one that you look upto & they're really very cool with you. That song Midnight Moses goes over so fucking well live too . Even in Cuba, it just takes one time around of the HEY refrain & the audience has it & it's a done deal.
Just to touch on briefly is there anyone left that you would really like to meet?
JC – Honestly, I think if I ever met Paul McCartney & Jimmy Page I would lose my mind. I've met Robert Plant he was very cool & we jammed together in Vancouver when he had his solo band right before he got back together with Jimmy Page. Paul McCartney is probably the reason I am doing what I'm doing. Of course Jimmy Page & Led Zeppelin were the next big thing to kick me in the ass. Somehow I've always wanted to somehow emulate Zeppelin & The Beatles. Take those 2 bands & throw them together. That would be my ultimate band
So when was the last time you were starstruck?
JC – I would have to say, when I was in Motley. The guys didn't tell me that when we went to Little Mount studios in Vancouver to record the album. There's 2 studios A & B. We're in studio A & Tommy (Lee) & Nikki (Sixx) decided to take me to studio B to introduce me to the band who was next door. I walk into this room & there's Joe Perry & Steven Tyler just sitting there. I'm a massive Aerosmith fan which of course Tommy & Nikki knew. Aerosmith are just finishing up the Get a Grip record. Before I could even think about what was going on, Steven ran across the room screaming his infamous scat, gave me a massive hug & said "so you're the one who's getting ready to be shot out of the canon." I just looked at him as I had no idea what to say to him. As I said I'm a massive Aerosmith fan and I'm stood there dumbfounded.
Later the guys talked to me about it & basically said here's the deal, you're in Motley Crue you can't be fanboy. You're in a band that's as big as Aerosmith. They're your peers now & I'm like fuck you that's Steven Tyler dude (laughs). I paid money to see that motherfucker when I was like 15 years old & I was right in the front row. I was in an Aerosmith tribute band for fucks sake. So it was an awkward week but but after a while I warmed up & I'd say hi how ya doing etc. We'd sit down & talk about our kids but for the first few days it was kinda awkward. Looking back on it now it's actually quite funny.
When I was in The Scream we're playing in a club called The Station in Orlando Florida. We were supporting the Bullet Boys. So it must've been around 1990/1991. We did our show, I get back to the bus & my tour manager comes in & tells me that there's some-one who really wants to meet me. So I'm like well give me a minute I'm drying off & I'll be there in a minute. My tour managers getting pretty insistent telling me that I have to go NOW kinda thing. So this goes back & forth for a minute or so as I really just want to dry off etc. My tour manager then says "JOHN CORABI. YOU NEED TO COME, NOW!" So I'm now a little pissy. "Fuck it I'm coming." As I'm walking back to the club & he leads me to the back bar. I'm sitting there I look over & he says here's John, Ritchie, Ian & Roger. I'm like that's fucking Deep Purple minus Ian Gillan. So I'm sitting there & Roger turns to me & he goes "hey, love the way you sing would you wanna come down as Ian has quit again & audition. So of course I reply "uh.. Yes." Ritchie Blackmore just sat there & I'm wanting to ask him 3000 questions. All the other guys were super cool, super nice. Again it was a very awkward situation.
I've been really lucky & very blessed as everyone that I've looked up-to or bought records by that I've met has been really nice & very cool to me. There's been no ego or bullshit at all.
You have been blessed with a long & fruitful career. What do attribute that to?
JC – In my humble opinion? It's only because I'm extremely good-looking, extremely talented, one of the best singers to ever walk the face of the earth. That's my humble opinion (laughs). My honest & truthful opinion? I think with any musician or any artist you're trying to make yourself better. I really don't have an ego & I'm still a fan of music. My wife laughs at me because some-one will ask me a question about music & she says I'm like a fucking encyclopedia. I might not be spot on with the answers but I'm usually close & I know that I'll talk about Humble Pie & how they got back together then I'll be like "did you hear about the incident with Badfinger? That's a tragic story." So I'm like a huge fan of music & that kinda relates to people. They think I'm kinda talented. I'm not the best vocalist in the world, or the greatest guitar player on earth but I can hold my own. But the biggest equation of it all is luck. I have been stupidly lucky.
Being a fan of music. Is there a song that you here & wish you'd written?
JC – There's many my friend (laughs). I'll still sit down & listen to Bohemian Rhapsody by Queen & I'll go "how the fuck?" & I've got nothing. Queen did some things that were so genius & then to piss me off some more I saw a documentary on the making of that record & Brian May goes " We were in the studio & Freddie came back to the studio after the weekend with the song finished." I'm like "FUCK YOU" (laughs) are you kidding me he wrote Bohemian Rhapsody over a weekend. How the fuck does somebody do that? There's tons of songs like that. Stairway to Heaven is another one as well as Kashmir there's just moments of genius that will never be replicated again & for me that's a couple of them.
Thanks John. It's been an absolute pleasure to talk to you as always & I hope to see you very soon.
Pleasure to talk to you buddy & hope to see you soon too & tell Christian I said Hi alright. Take care buddy.
The Dead Daisies album is due for release August 13, 2013