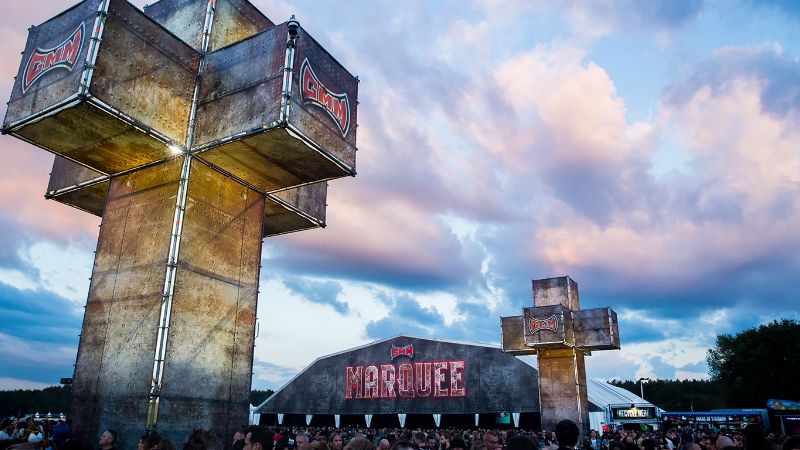 Judas Priest reconfirmed as headliners on Saturday 18 June!
7th April 2021
Now that Judas Priest have postponed their 2021 tour to 2022 Graspop Metal Meeting can announce its first headliner for next year. The legendary godfathers of heavy metal are celebrating their 50th anniversary at the 25th edition of GMM and they're promising a scorching headline show for Saturday 18 June 2022.
Judas Priest have set up a special anniversary tour that will take them to the world's biggest stages. Over the last half century Judas Priest have built a track record that is second to none, packed with highlights that few of their genre peers have been able to emulate. Even after all this time, the band remains one of the driving forces behind the heavy metal genre they have helped define.
Earlier we announced that GMM2021 has been postponed to next year but we are looking forward to bringing GMM back better and stronger than ever in 2022! We will do our utmost to roll over as many bands as possible from the GMM2021 line-up to our 2022 edition. The full line-up will be announced at a later time.
Those of you who already had a ticket for GMM 2020 OR 2021 can download their ticket for GMM 2022 from 1 September 2021 via their Ticketmaster profile.From the same date, ticket holders also have the option of exchanging their ticket(s) for a voucher. The amount of this voucher is the price of your ticket(s), accommodations and tokens, including service costs. The resulting amount can be spent on tickets for GMM2022. For instance, you can exchange your Friday ticket for a Saturday or combi ticket. ATTENTION: This offer is only valid while stocks last and if you opt for a more expensive ticket you will obviously have to pay the difference. If you go for a cheaper ticket the balance can be used later. You can use the balance of your voucher to purchase GMM tokens or other tickets for GMM2022.
Would you like to buy additional tickets? Or would you like to book your GMM accommodations for next year? No problem! GMM2021 ticket holders will have priority when tickets for GMM2022 go on sale. Subsequently the remaining tickets will be offered to those who don't have a ticket yet for next year's edition.We're looking forward to seeing you all in Dessel on 16, 17, 18 and 19 June 2022 for the 25th edition of Graspop Metal Meeting. 
Stay metal, stay safe & take care!
GMMMore info: www.graspop.be – www.ticketmaster.be