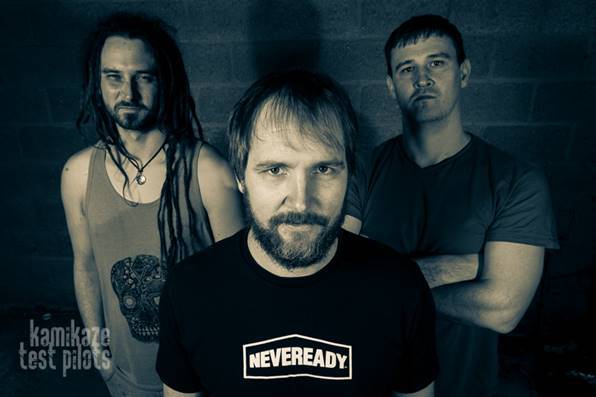 Kamikaze Test Pilots announce their exciting new album
21st June 2017
Kamikaze Test Pilots announce their exciting new album 'Stealing Chameleons' and share the raucous new video for the single 'Betty Ford'
 
Kamikaze Test Pilots are sharing their raucous new video for their single 'Betty Ford', to be released on 23rd June. The track is taken from their cranked to the max new album 'Stealing Chameleons', which will be released on Friday 22nd September.
"It's a cheeky record," say the band, "It's like receiving a beating from a person who's small in stature. You're punched in the nuts, kicked in the teeth, and left wondering how that could have happened." 
KTP's latest unexpectedly nut-punching opus was recorded at Henwood Studios, Wantage, Oxfordshire between October and November 2016. It was recorded and mixed by Enrico Tiberi, who also produced the album with the band. 'Stealing Chameleons' was mastered by Pete Maher, who has mastered for the likes of U2 and The Pixies.
The band was started in 2005 by brothers Ryan and Wes Niemandt, who hail from southern Africa, with Simon Buckett joining as bassist in 2009. The band's name Kamikaze Test Pilots itself suggests contradiction and mind-wrangling paradoxes, and labelling the band's sound also proves nigh-on impossible.
One reason KTP's sound can't be easily labelled is that the band works hard to create a unique sound for each of their tunes. What's usually present is a heady brew of raw alternative rock vocals, laced with mesmeric riffs and gritty backbone. Sometimes melodic; sometimes not. Drawing influence from a wide range of influences, the band infuses edgy rock with metal and punk, adding a dash of African groove to spice things up in places. However, the band never stands still and works hard to keep their music fresh, varied, as well as aggressive and loud.
Betty Ford highlights the band's brash, rowdy oomph and vim, as does the video. Full of energy from the opening vocals and powerful licks, the video brings alive a powerful sense of disorientation and in-your-face energy.
"If you crave something different and unique, music that goes to the outer limits yet still retains some sonic quality then Kamikaze Test Pilots may be just what you need to quench that thirst," said Metal Temple, "These guys can go from the weird to funk to something that reminds me of PRIMUS to flat out rock in the blink of an eye."
Kamikaze Test Pilots are proving they are a force to be reckoned with in the emerging music scene. They've supported Nick Oliveri (Queens of the Stone Age), played gigs, festivals and toured Europe & Africa. They've also earned airtime on international and independent stations, as well as the mighty BBC, not mention being featured on various music blogs and 'zines.
With live show bookings across the UK & Europe, 2017 looks set to be a big year for this exciting band.
UK DATES
23/06/2017         RISC and Global Café, Reading (single launch)
18/08/2017         The Railway, Winchester
19/08/2017         The Tap and Spile/Monument, Newbury
02/09/2017         The Hobbit, Southampton
22/09/2017         RISC and Global Café, Reading (album launch for locals)
14/10/2017         Purple Turtle, Reading (Oxjam)
16/12/2017         The Hobbit, Southampton