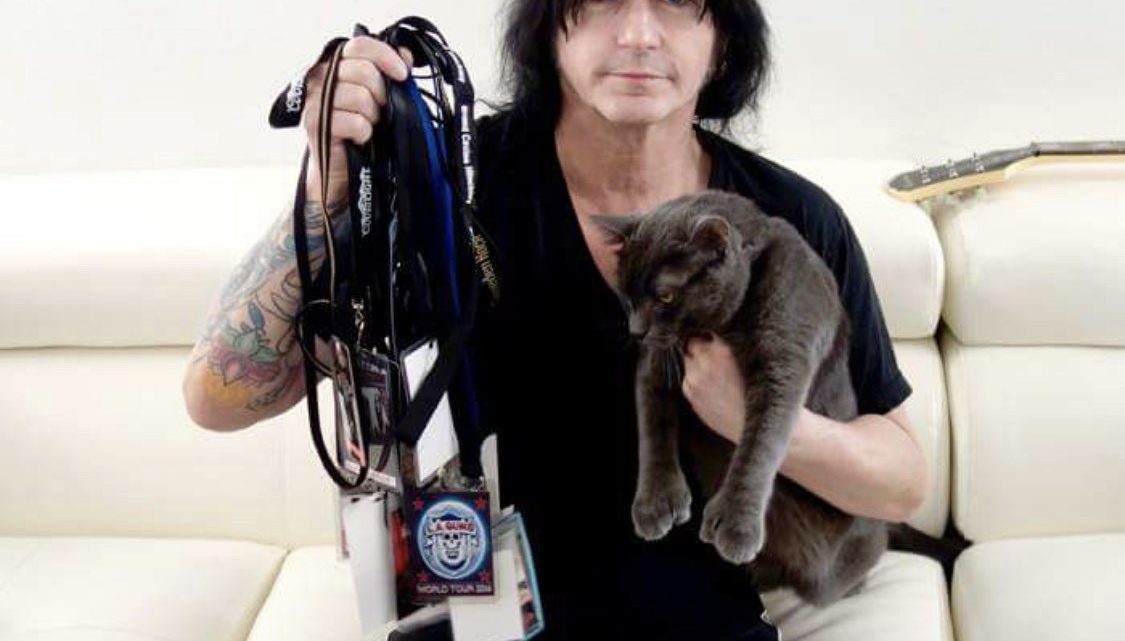 Kevin McCallum's AATR Zoom Meeting with Phil Lewis 27th October 2021
1st November 2021
Kevin McCallum caught up with Phil Lewis of LA Guns fame for a chat
Well, good evening. Kevin McCallum, from All About The Rock and I'm absolutely delighted to be talking to on the other side of the Atlantic, Phil Lewis from LA Guns. How you doing Phil?
I'm doing good. Kevin. Thanks for having me. How are you mate?
All good, the rain has been belting it down here from the minute I opened my eyes until now, so it's typical Scottish weather!!
Thats why I left the UK.
Thanks for taking the time. I know you're busy guy.
We'll talk as we go on. But so we're coming through COVID and Lockdown and you guys have managed to pull together a new studio album!
Yeah, well, thank God we did because you know that lockdown. It didn't sit well with me.
I was you know, I've been touring I've been out playing gigs since was a teenager, so, you know all of sudden not to have that in my life, the big part of my life. It was it was I just didn't know what do with myself.
So it was great to have this record to focus on.
You know, to be honest with you, my equipment that I recorded, with all the vocals at home and I didn't use it as anything fancy. It's just a basic Dell laptop an entry-level Focusrite two channel interface and a decent condenser microphone.
Nothing Fancy, no brand name no Neumann or Sennheiser, its just a decent large dynamic microphone and it was it so good.
To have this this albums music to immerse myself into and not get flipped out about being stuck at home and not making any money and not, you know, not knowing and
it's like I'm no spring chicken. It's about how many more years have I got, you know, it's like, come on let's go.
I just immersed myself and in the recording and the music and and putting it together and I think I would actually would have gone nuts if I hadn't had this record to work on, and have it as a distraction.
'Let you down', was the first song that we wrote on the record and we wrote that one and recorded that a good year before we finished the last song before we handed it in during March.
The process took about year.
It was once we heard what we could do remotely. 'Let you down' has great atmosphere. It's sonically good, drums sound good and it it was a kind of a proof of concept.
To do this remotely and make it sound good and it was after that song and the overwhelming response that we got, from that song that it gave us confidence!
You know, it's put some wind in our sails. Yeah, we can do this and it was nice!
It was an interesting Journey. It's like solo journey in a way. It's you know, like sailing across the Atlantic. Studios are so traditional you know. It's all about the Studio, a band gets together, write some songs go into the Studio.
We record the song we're all together doing it, we're tweaking, changing stuff along the way by the time you record a song, you've done it a hundred times!
I've never sung 'Cannibal' like that. I've only done 'Let you down' live and that was weird. It's just really weird having a finished album of songs that I've never sung live !!
Like I'll be going into rehearse with them and I've no doubt that, you know, they'll sound great and I can do because I've done it here recording, it's just a strange arse backwards way of going about things nowadays, but we made it work, and I didn't hate it and I might not have ever have to go back in the studio again.
So I've got the set up I want going here and it sounds good. And yeah, yeah, it definitely helped with a very difficult year
I think, there's many bands have done exactly as yourselves. That you've you've had to find that different way of doing things and using the internet and send a emails with attachments with files and pulling all together.
That's it It's not difficult, you know, it was a bit of learning curve to me to, you know, like use the big file transfers like drop boxes and like that, you know, in the old days, they send a song and I just play it over the phone speaker into one channel of my mixer and take it from there.
So, so, yeah, I had bit catching up to do, but, know, I enjoyed that and had good guidance, you know, we were zooming alot, you know. I met Tracii, you know, if was specifically working on something so, you know, it was, it was available.
But for the most part, it was a solitary thing.
Sure. I mean, it's a good example, you said I 'let you down' when think about earlier.
LA Guns and I think of Renegades album, 'You can't walk away'. That's a great ballad song and then going back to 'Cocked and loaded', and 'The Ballad to Jayne', which is one of my favourite songs and you're thinking that was that was 32 or 33 years ago.
And there you guys have come up with a great couple of ballads. 'Let you down' and 'If it's over now', on your new album, you've got a recipe that you always bring in a couple of good ballads on every release that you've done and I'm glad that you mentioned 'Let you down' a great song.
Great song, isn't it? Yeah, it's got that ballad vibe to it. And what I like about it is it's just got that atmospheric guitar at the beginning and you're like, wait, it catches your attention, so what's this?
And it goes on and goes longer than the new traditional guitar intros and normally it would be jangly you know, for two bars, but it's not its, its what's going on here? And then when the verse kicks in and the first beat, it's like, you know, it it's such a drop, it's, you know what I mean, like a techno drop. Yeah, with the start of the song, it reminds me of ' fuck'
I love that.
Yeah, and then we've got another one deeper in the album, which we just made a video for called 'Get along'.
And when I first heard that, it made me think of Led Zeppelin III like 'Hangman', 'Gallows pole', around that.
And, you know, almost could hear like, you know, Sandy Denny coming in singing it with me!!!
Walking across the stage in bare feet type of thing?
Exactly. Yeah, and you know, it sounds like Mandolin in it, but it's just a 12 string played high up the neck, a great atmosphere to it. And we've never done that before. People say that "Ballad of Jayne' was country, but this is more folk than country, you know 'Jayne ' is definitely country.
Very folky you know, like Lindisfarne or Fairport Convention, you know, and then when he kicks in with the electric solo in the middle looks like fuck just too good.
Then brings you right back to the LA Guns sound?
Yes we've got another version where he doesn't do that big gorgeous lead solo, and just noodles along but nothing sounds as good as that, you just go along and boom!
So you've got your ballads, others you're tipping your cap to Led Zep but you're bringing your own styling. And then you've got the song I would sort of classes are as a real heads down and praise the lord song and plays lot song 'Better than you'. It's real heavy power?
Yeah. Yeah, !!!
'Much better than that, Roman Candle, you're off the handle'. Yeah, bit of an Oasis vibe to it.
It's in the way vocals sit in the verse that occurred to me while was doing it.
It's good that you bought that track up
You know, there were so many good ones in there. You know, people tend to talk about the singles but yeah, that is that's a phenomenal track.
And when I heard the music to it, I knew I how powerful and how driving it is. and yeah, good call on that one, thankyou!!
And you can you can feel right through the album. I've listened to many LA Guns albums over the years and you can feel the chemistry between you and Tracii.
Definitely!
You know, we're Cain and Abel, you know, we're Soul Brothers, we're both only children with no Brothers, Sisters, you strange, dysfunctional, families, so we both got that in common and and that's
That I think that's a big part of our bonding.
Lovely guy I don't always like him!
Its OK, we're only going to put this on the Internet, he'll never see it.
When I listened to the last few albums that you did like 'The Missing Peace' and 'The Devil you Know', and then 'Renegades' and then this one takes you back to the 'The Missing Peace' style'?
You mentioned 'Renegades'.That's not us. That's a version called Steve Riley's LA Guns.
The old drummer pulled his version together and there was a little confusion because when that record came out, that Renegades record came out. It was called LA Guns and that's bullshit. So we had to straighten that out. FYI and that's not us.
I haven't really heard much on it.
I think I may have heard like one of the songs but you know, it was a pain to deal with but it's sorted out.
Wish him all the best
But no bad feelings. No hard feelings, you know? and it's, we got that sorted out, but just one of these things with this business.
You know, it's not just about about waltzing into the Whiskey with a chick on each arm or a roadie carrying a couple of guitars.
A bit more involved, As far as I'm concerned. I'm talking about us. There's LA Guns Mark 1. It says the 'Sex action' and all the 'Electric Gypsy' 'Never Enough' and then there's the Mark 2, which is post reunions.
And we moved on musically, you develop skills and our appreciation and there's no way we were going to try and write a song that 'I'm
a six gun lover In the Heat the Night….I've got you in my sights..'
No, no, we couldn't have that it would be embarrassing. A 60 year old guy doing that.
It's I feel you know, that we've reached the point, we're like a fine wine an acquired taste!!
But matures with age
Yeah, that's right, and it certainly has its matured and I like the way it's matured. It never got stale, I never got bored.
Good stuff. So the line-up on on the 'Checkered Past' record Phil?
Well, yeah, okay here we go, Tracii, you know, over in Denmark putting the songs together. We've Johnny Martin playing bass in LA and Hollywood.
We got Ace Van Johnson in Nashville playing guitar.
And then, there's the issue with the drums and the big news is that, you know, like two weeks ago, three weeks ago, our touring drummer Scott Coogan decided toleave the band and the reason he's leaving is because he didn't play on the record.
Adam Hamilton did and compiled and produced it.
So Adam is a producer and he's got a recording setup. He's got a drum set up.
He knows the music. He was receiving files with drum machine on them from Traci and so it was just a no-brainer that he would play drums because he's such an excellent drummer.
He did a good job on it. So consequently Scott Coogan has decided he'd rather not come out and tour a record that he didn't play on, we understand and respect that. He's got other stuff he plays with Ace Frehley with Stephen Pearcy, you know, There's no hard feelings at all.
Sure, little bit sad to see him go and I would love to have him play on the record because he's a great drummer and so yeah, unfortunately a casualty of this record.
I'm glad to say that we've Shane back who played on the 'Missing peace' and 'Devil, you know', going to help us out until we get the right person and you know, it's far as you know replacements go. I can't think of a better one.
Shane is great on the road. He's just, you know an easy guy to be around, and, you know, I am so fond him from the first reunion record that it'd be great have him back.
He left because he got he deal of a lifetime, Kanye West basically uses him as his personal recording engineer. So anytime Kanye wants to put something down, Shanes about getting the studio ready, 'I'm coming in' and what a gig to get.
But you know, Shane's agreed to help out until we find someone. And I've got to say even Kanye's been very fair because he's up for letting us have Shane and is also offering his warehouse facility for rehearsing.
So yeh good gig he got there with Kanye and Kanye actually being cool letting us use his facilities. So it's a small world.
It is indeed a small world.
You're talking about tours. And I know you've got some dates planned in the US in the next month or so?
Yeah, we got and when record drops we got some local shows in the LA area.
We got a couple shows in Vegas at a venue we play called VAMP and we do two nights there and then on New Year's Eve will play The Whiskey on Sunset.
And that's kind like traditional for us. We've obviously, we didn't do it last year
But yeah, it'll be good to get back there. So, yeah, you half dozen shows to promote record.
Let people know that with that we're back, we haven't played in so long.
I didn't want to start with a world tour or have to do shows in Russia or something crazy logistically. Just local stuff easing into it.
And next year we've got Monsters of Rock Cruise, I think Alice Cooper's headlining this one.
And then we've got a tour being put together now, dates coming in with Tom Keifer from Cinderella and Faster Pussycat.
That's going to be a good fun summer bill that's going to be going around the States and shows will come in for Europe and UK.
We did have some really good stuff, you know like to we had this year HRH that we were booked to headline in England, it was gutting.
You know, we're going to play Wacken that got cancelled, just to see it all
go down so quickly right in front of your eyes, you know, I hope we get through this.
and I hope don't have to ever go back to that. That was, that was really bleak, you know, people standing in line outside supermarkets with masks on. It was like something from a science fiction movie. But yeah, hopefully if things are back normal, well, we can't wait to get back to normal and travel opening up again between US and England in November.
Do you find that venues across the states are beginning to open up again?
Yes, bands are getting out there playing again you know, Vince Neil, Slaughter, Warrant, all those guys doing it, Kiss went out and played a stadium tour. But yeah, it seems to be working and hopefully it will continue to do.
So, its everyone gets there sharp, behaves yourselves and you know wear masks and we'll get through it.
I've got to go now mate, great talking to you.
And just to summarise on the 11th of November on Frontiers Records we have the release of the new album from LA Guns 'Checkered Past', eleven great songs, get out there and buy it, on behalf of All About The Rock, many thanks Phil.
Thank you Kevin. It's been a pleasure talking to you, appreciate your support.

For all things L.A. GUNS click HERE
To read Phil discuss his pet, click HERE