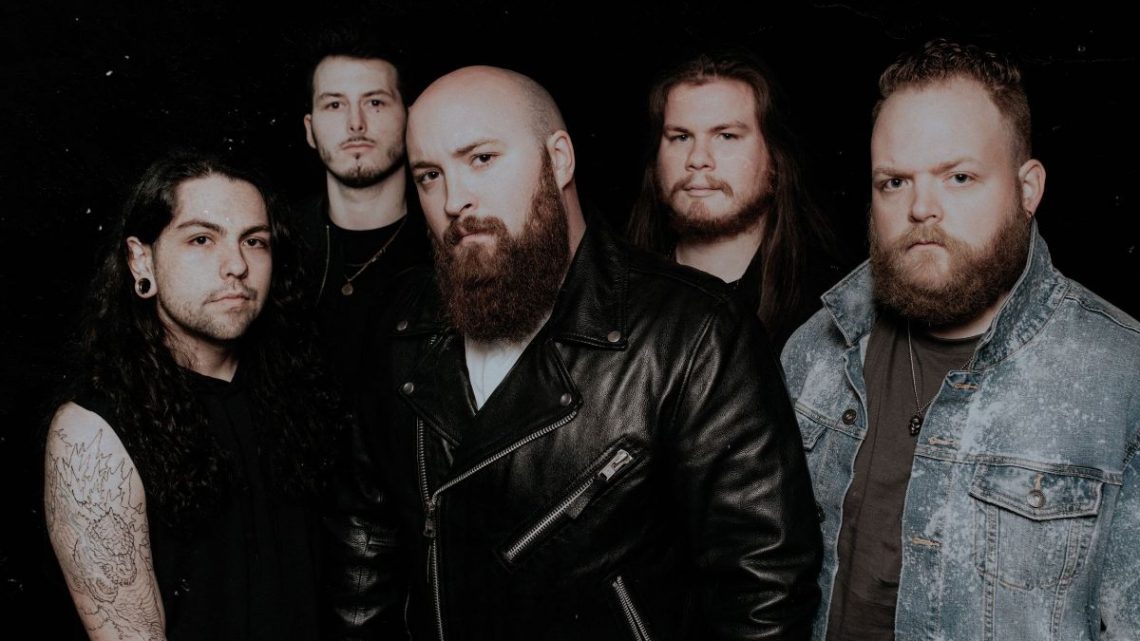 Kingsmen – Pay Tribute To 30th Anniversary Of Metallica's 'Black Album' With Cover Of 'Sad But True'
12th August 2021
0
By
John Deaux
Rhode Island metalheads KINGSMEN are paying homage today to the 30th anniversary of METALLICA's seminal self-titled masterpiece the "Black Album" with a faithful rendition of the classic song "Sad But True." Their hard-hitting cover is streaming now and a music video can be viewed at KnotFest.com. The band will take part in a live discussion about Metallica, the cover and upcoming tour at 1:45PM PT/4:45PM ET today at https://www.twitch.tv/knotfestofficial.
Commenting on the track, the band states: 
"Metallica's black album was monumental to our growth as musicians. Their presence as a band is unmatched, uplifting and inspiring. As an aggressive band, we decided it was best to honor them by recording a true to the roots cover of their heaviest track, "Sad But True". Everything from the equipment to the recording techniques are 'to a T' the same as Metallica did in 1991. We wanted to show patronage to them by covering the song in a similar way to how they recorded it… but with an extra aggressive edge." 
"SAD BUT TRUE" AUDIO STREAM:
https://bit.ly/kingsmensbt
KINGSMEN will return to the stage for the first time this fall, opening for VOLUMES, in support of their 2020 debut full-length album, "Revenge. Forgiveness. Recovery," which is available for purchase/stream now from SharpTone Records: https://shrptn.co/kingsmen. Tickets are on sale now!
More from "Revenge. Forgiveness. Recovery":
"Waste Away" Single – https://youtu.be/MR3ivpYTI-k
"Nightmare" Music Video – https://youtu.be/w2tMdlrJt7U
"Nightmare" Guitar Playthrough – https://youtu.be/CkviDvG9M50
"World On Fire" Visualizer – https://youtu.be/VzBlNroLi9E
"Until I've Departed" Music Video – https://youtu.be/98Uwm5BEOhQ
KINGSMEN Tour Dates (w/VOLUMES):
10/19 Mesa, AZ – Nile Basement
10/20 Albuquerque, NM – Launchpad 
10/22 Dallas, TX – Club Dada 
10/23 Houston, TX – White Oak Music Hall
10/24 Austin, TX – Come and Take it Live 
10/26 Birmingham, AL – Zydeco
10/27 Jacksonville, FL – 1904 Music Hall
10/28 Jacksonville, NC – Hooligans Music Hall
10/29 Richmond, VA – Canal Club
10/30 Poughkeepsie, NY – The Chance 
10/31 Reading, PA – Reverb 
11/02 Kent, OH – The Outpost 
11/03 Fort Wayne, IN – Pierre's
11/04 Louisville, KY – Diamond Pub
11/05 Memphis, TN – Growlers 
11/06 Nashville, TN – The End 
11/07 St. Louis, MO – Red Flag
11/09 Milwaukee, WI – Miramar Theater 
11/10 Minneapolis, MN – Cabooze 
11/11 Des Moines, IA – XbX Live 
11/12 Omaha, NE – Reverb Lounge 
11/13 Kansas City, KS – Riot Room 
11/14 Oklahoma City, OK – 89th Street 
11/16 Colorado Springs, CO – Black Sheep 
11/17 Grand Junction, CO – Mesa Theater 
11/19 Santa Cruz, CA – The Catalyst 
11/20 Anaheim, CA – Chain Reaction 
For More Information:
https://www.facebook.com/Kingsmenbandri/
https://www.instagram.com/kingsmenri
https://twitter.com/kingsmenri
http://sharptonerecords.co/
https://www.facebook.com/sharptonerecs
https://twitter.com/sharptonerecs
https://www.instagram.com/sharptonerecs/
How useful was this post?
Click on a thumb to rate it!
Average rating 0 / 5. Vote count: 0
No votes so far! Be the first to rate this post.
Related
About the author
Some say Yank My Doodle, It's A Dandy! is a biographical movie based on John. Some have even said that his favorite artist is Chesney Hawke! All we really know is he sleeps inside out and his hair tastes like candy floss.