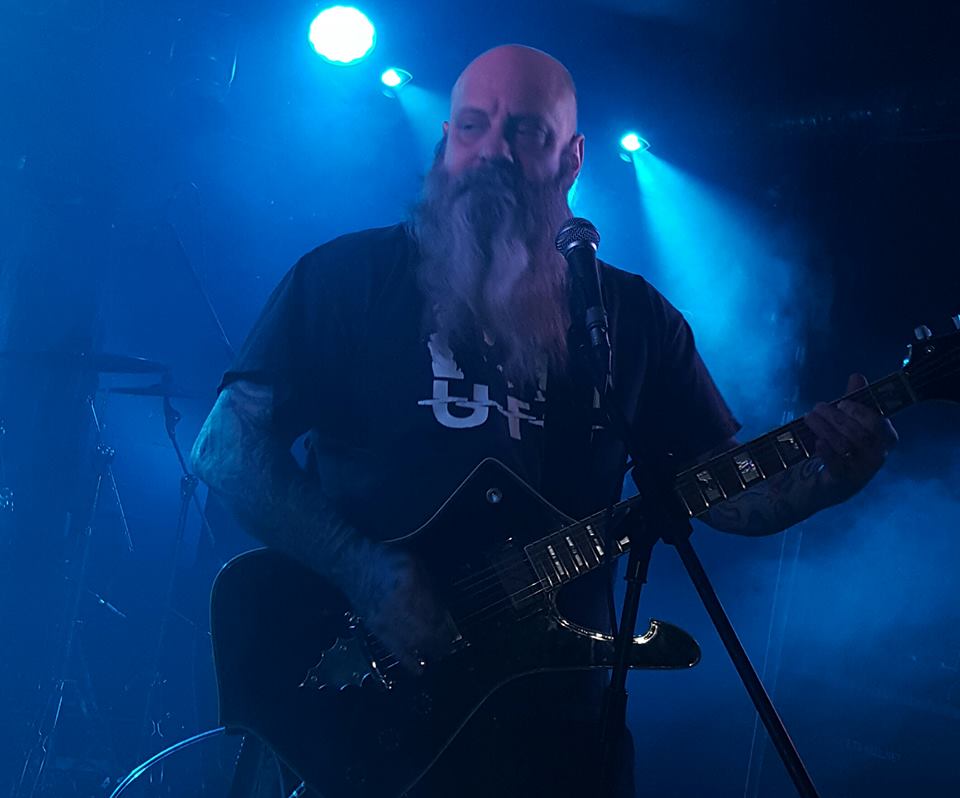 KIRK WINDSTEIN OF CROWBAR – INTERVIEW
3rd May 2017
New Orleans, heavy weight legends, Crowbar recently completed a crushing run of UK dates. David Malpass had an opportunity to sit down with main man; Kirk Windstein, in Bristol, to talk about their latest album, The Serpent Only Lies, touring with original bass player; Todd Strange, the band's approach to cover songs and dirty dishes. 
Firstly, congratulations on The Serpent Only Lies, it's and incredible album, with such depth. 
We love it man, we're very pleased with the outcome. 
It sound like an album from a band that have really got their shit together.
To me, I don't know if it's wishful thinking or something but I really feel we're as good or better than we've ever been, at this stage with this line up, man. A lot of bands that get older maybe aren't still hungry or still going for it but we're never satisfied. We always try to outdo ourselves and we pride ourselves on giving 110% to everything we do. 
Did you approach this album any differently to your previous albums, or is there a Crowbar formula? 
We kind of have a formula now, it works. Matt and I usually put the riffs and arrangements together loosely, then as the vocalist I'll arrange everything around where I know I'm going to sing. We normally do some kind of audio or video demo shit, just so we can remember it. Once a song is written and complete, and we have some kind of demo of it, we move on to the next one. When it's time to go into the studio, we rehearse the tracks and maybe rearrange them. I never want to get married to an arrangement because we're always open to change and in the studio improvisation is a big part of what we do. It's not unusual for a song to change. 
So how are the new tracks going across live? 
We've only been doing Plasmic and Pure, because when Todd came back into the fold, he didn't actually play on the new record so we were like "Don't bother with any fucking new songs. Go back re-learn the old ones and then the shit that you didn't play on, that you're going to play, we'll rehearse those when we can" We didn't have a lot of time to rehearse before we went out supporting Carcass in The States and then Suicidal Tendencies but now things have settled in and we've got around 18 songs tight with Todd, we're starting to work on the newer shit. Plasmic and Pure goes down great, man! It's heavy as fuck. It's classic Crowbar, it really is.
How are the fans responding to Todd being back? 
They love it. It's great, man. It's a huge fucking difference, not just playing wise, his bass tone or his stage presence but the Comradery, the whole thing. We were great friends when we started jamming together, then we played together for ten years and kind of lost touch. There was never any hard feelings or anything, Todd just wanted to move on with his life and do different things or what ever and we were all cool with that. He came back into our lives about a year and a half ago and we just started hanging out. He'd started playing bass again and getting his gear together and just missed playing. It just so happened that when things didn't work out with Jeff (Golden), our previous bassist, the stars aligned correctly with Todd. 
It feels like things have really come full circle. 
Yeah, I was here in this venue with Todd in 1994, supporting Paradise Lost and it's like "Woah! 23 years later and we're back here. 
If you could meet your younger selves from 23 years ago, now. Is there any advice you'd give them? 
Not really. I've always been a firm believer in "Everything happens for a reason". I'm usually one of those no regret type people. I don't regret any mistakes that I've made because they've made me the man I am today. In a perfect world this would have been our line up forever but when the first album came out, Matt (Brunson, guitar) would have been 10, so that would have been a little odd. The way things have come full circle is great. It's a breath of fresh air and we're having fun. The energy, vibe and the whole shit really works now. 
What's a typical pre-gig Crowbar dressing room like? Do you guys just hang out and relax or party? 
It's not exciting! Me and Todd like a beer and Tommy (Buckley, drums) likes a smoke. My routine has always been, have a few beers, get out to meet fans, sign some shit and watch the other bands to get pumped up in the vibe of the gig. Some of the dudes prefer to chill but in general we just relax and rest. You have change the way you do things as you get older so you can keep doing it. 
One thing that's always intrigued me is you choice of cover versions. Over your albums you've had eclectic covers like 'DreamWeaver' by Gary Wright, 'Remember Tomorrow' by Iron Maiden and 'No Quarter' By  Led Zeppelin. What makes you chose a cover that will sit comfortably on a Crowbar album?
The Maiden song was one that the record company wanted. I don't know if they were trying to get us on an Iron Maiden tribute album of something. I'm a Paul Di'Anno fan, I love Bruce Dickinson but I was a Maiden fan before Bruce Joined. I could never sing like Bruce but I could sing like Paul. In my old band we did Phantom of the Opera, Sanctuary, remember Tomorrow and a couple of others. So when the record company ask if Crowbar could do a Maiden cover, I was like "Yeah".  We played the live version of Remember Tomorrow from Maiden Japan and we recorded it in like one take.  As far as No Quarter goes, when I was young I used to work as a dishwasher in a restaurant and every Saturday after work we used to go, filthy dirty and sweaty to a theatre out by the lake in New Orleans, where they were playing The Song Remains The Same movie by Led Zeppelin, at midnight. My favorite part was 'No Quarter' during John Paul Jone's kind of dream sequence/fantasy thing with the horse and the grave yard and the fucking big pipe organ in the cathedral and all. It was fucking creepy but still cool, so I always though that No Quarter would be a great song do. DreamWeaver was a joke. It was probably 4 O'clock in the morning and I was really drunk. We were just fucking about and making the upbeat verses sound heavier. I'm serious, I was fucking drunk, I don't even remember singing but we did it all in about an hour and somehow ended up putting it on the record, but There isn't a night that goes by that someone doesn't shout " Do DreamWeaver" at a gig. 
I won't take up any more of your time, thanks Kirk. 
You got it! It's a pleasure.
Want more Crowbar in your life? Find it HERE
You can read David's review of Crowbar's gig at the Bristol Bierkeller on 25th March 2017, HERE