KISS donate mammoth prize to raise funds for Manchester Children's Hospital Charity
7th March 2018

Children's Hospital gets International Support from American Rock Stars KISS
 
Legendary rock band KISS is supporting Royal Manchester Children's Hospital by donating an incredible, money-can't-buy prize to help raise valuable funds for the hospital's Paediatric Intensive Care Unit.
Following the tragic event at the Manchester Arena last year, the Children's Hospital has received an out-pouring of support from across the North West and beyond with individuals, schools and businesses wanting to help in any way possible to support the patients and staff at the hospital. This tremendous support has now stretched across the Atlantic with rock stars KISS getting in touch to pledge their support after the awful attack.
The band has donated a phenomenal prize of three of their personal guitars signed by Paul Stanley, Gene Simmons and Tommy Thayer respectively, plus a signed personal snare drum with signed drum sticks from Eric Singer. The guitar donated by Paul Stanley is his signature Ibanez PS120 guitar which he was intending to play at their Manchester Arena gig on Tuesday 30th May. The band sadly had to cancel the gig following the attack at the Manchester Arena. The guitar has never been played and will be up for auction along with VIP tickets to any sold out KISS show in the world, plus a cabin on the sold out 8th Kiss Kruise and two tickets for one of their sold out shows on the Kruise with a meet and greet with the band.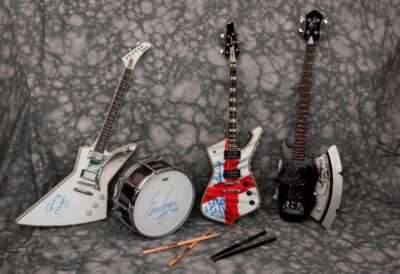 Paul Stanley said: "We were devastated by the heinous attack in Manchester Arena and had to do something to support the city. Royal Manchester Children's Hospital's incredible work with children was never more evident than after this horrific event. We are humbled to be able to give something to support them in their ongoing efforts. Knowing that the money raised will go towards purchasing life-support ventilators, our prayers and wishes will continue to help both those affected directly by the attack, and beyond. This night will give everyone an opportunity to do their part in raising as much money as possible for an incredibly worthy cause."    
This incredible prize will be auctioned off at the Red Sea Pedestrians (RSP) 10th Anniversary Charity ball in aid of Royal Manchester Children's Hospital, which will be held next month on17th March 2018 at the Lowry Hotel. The RSP Charitable committee have supported Royal Manchester Children's Hospital for a number of years with funds raised for the charity totalling to £827,381 since 2011.
The Charity Ball will be raising funds to support the hospital's Paediatric Intensive Care Unit (PICU) which cared for many of the young victims who were seriously injured in the Arena attack. Royal Manchester Children's Hospital is a regional major trauma centre with all paediatric major trauma cases from across the region directed to the hospital, with most of these cases cared for in the hospital's Intensive Care Unit.
A total of £740k is required to ensure the unit is able provide 26 cutting edge life support machines. The new state-of-the-art life support machines are the most advanced mechanical ventilators and the very real impact they will have on the quality of patient care, and the benefits it will mean for medical staff is considerable. 
Maurice Watkins CBE, Chairman of Royal Manchester Children's Hospital Charity's fundraising board added: "We're delighted that KISS has donated this incredible prize to be auctioned at the RSP Charity Ball and want to thank them for their tremendous generosity. In recent testing times staff at the hospital – just like the city of Manchester – pulled together to make sure the young victims from the attack got the best possible care, as quickly as possible. The new ventilators we are fundraising for will ensure that the medical teams in our Paediatric Intensive Care Unit can assess a patient's condition faster and more accurately, resulting in more effective treatment and care at a time when rapid reaction to a patient's condition is crucial."
The charity is accepting closed bids for this auction prize. To find out more information or to place a bid please contact the charity team on 0161 701 1124. Bids will close at midnight on Saturday 17th March 2018.
                                                     
For further information please contact:
Aimee Baines on 0161 701 5114/07827 886286 or e-mail aimee.baines@mft.nhs.uk
The support of Royal Manchester Children's Hospital Charity means that the hospital can provide additional resources that make life easier for patients and their families who use the hospital.
The Charity has three main areas of work:
to provide state-of-the-art equipment for diagnosis and treatment
to support research projects to improve our understanding of children's illnesses
to help to create an environment that's more child-friendly
 
The prize consists of:
Signed Ivanez Rhythm Guitar from Paul Stanley
Signed Axe Bass Guitar from Gene Simmons
Signed Epiphone Lead Electric Guitar from Tommy Thayer
Signed Attack Drumhead Snare Drum and signed Drumsticks from Eric Singer
Two VIP Tickets to ANY sold out Kiss show in the world (Travel to the show not included)
A cabin on the sold out Kiss Kruise 2018 plus meet and greet with the band
Kiss Kruise from 31st October 2018 to 5th November 2018
The cruise departs from Miami then onto Key West and finally docking in Nassau
(Travel to and from the cruise is not included)
Guest will stay in a cabin on the cruise
The cruise includes two tickets for one of the Kiss sold out shows on the Kruise
Full details about the cruise can be found here: ww.thekisskruise.com
 
 
The Charity provides resources to make a difficult time a little bit easier for children and their families who use Royal Manchester Children's Hospital. 
Royal Manchester Children's Hospital treats over 260,000 patients every year.  They come from all over the North West of England and from other parts of the country for some highly specialised treatments.  
Royal Manchester Children's Hospital Charity is part of the Manchester University NHS Foundation Trust (MFT) Charity.  Registered charity number 1049274. 
The other hospitals which make up Manchester Foundation Trust Charity are: University Dental Hospital of Manchester Charity; Manchester Royal Eye Hospital Charity; Manchester Royal Infirmary Charity; Saint Mary's Hospital Charity; Trafford Hospitals Charity and Wythenshawe & Withington Hospitals Charity
How useful was this post?
Click on a thumb to rate it!
Average rating / 5. Vote count: