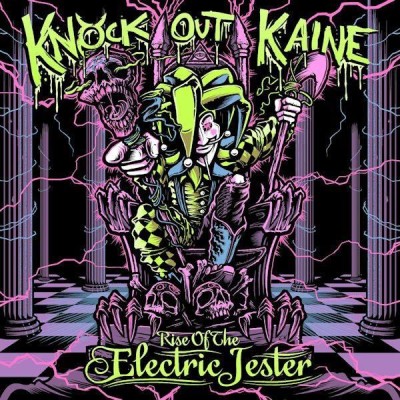 Knock Out Kaine Release FREE SINGLE
1st February 2015
KNOCK OUT KAINE RELEASE FREE SINGLE "16 GRAMS OF HEART ATTACK" FEATURING CHRISTIAN BRADY OF HELLYEAH! AS GUEST LEAD GUITARIST
Lincoln-based rockers Knock Out Kaine release the vivacious and pulsating free single "16 Grams Of Heart Attack" taken from their upcoming album "Rise of The Electric Jester".
The album is set for release on 2nd March 2015 on Rocksector Records, which will follow an already sold-out launch event on 28th February.
"16 Grams Of Heart Attack" is available now for streaming and download at https://soundcloud.com/rocksector and features a trademark solo by guest lead guitarist Christian Brady of HellYeah!
Formed in 2005, Knock Out Kaine went on to win KERRANG!'s Best Unsigned Live Act in 2008, following which they toured the UK and mainland Europe extensively during 2009-2011. This touring included 22 dates with Steven Adler of Guns n Roses fame. They also toured with Chris Holmes of W.A.S.P. and appeared at Download Festival in 2011.
"Rise Of The Electric Jester" is the 2nd album by the band; their "House of Sins" debut was released on German label DOTT Music in 2012, a year which also saw Knock Out Kaine support British rock legends Status Quo.
The new album is a melodic rock cocktail of great texture and flavor which without question sees the band harness much of the invaluable ingredients gained during the past 4 years especially. A trademark Knock Out Kaine spirit and sound remains un-disguised alongside layers of mature songwriting and craft which will energize existing fans whilst without doubt attracting legions of brand new followers.
Alongside the variety of influences and inspiration there's even a local twist whereby the vocal melody in the chorus of "Cascading" actually matches the hourly chime of the cathedral in the band's home city of Lincoln .
Track listing….
16 Grams Of Heart Attack
Fire And Smoke
How Would I Know
Diamond Blue
Cascading
Ain't Your Kind
Boxes
Flying Blind
Because You Were There
One More For The Road
"Rise Of The Electric Jester" was recorded at Axis Studios in Doncaster (Black Spiders, Terrorvision, Absolva) and mastered by Ray Staff (Zeppelin, Sabbath, Muse, The Clash).

Band members
Dean Foxx : lead vocals
Danny Krash : drums
Jimmy Bohemian : lead guitar
Lee Byrne : bass guitar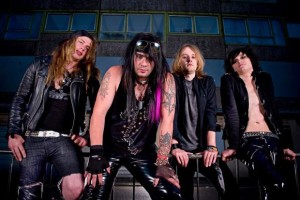 Tour dates are due to be announced eminently.
Band website www.knockoutkaine.com
Label website www.rocksector.com
Management www.razwhiteentertainment.com