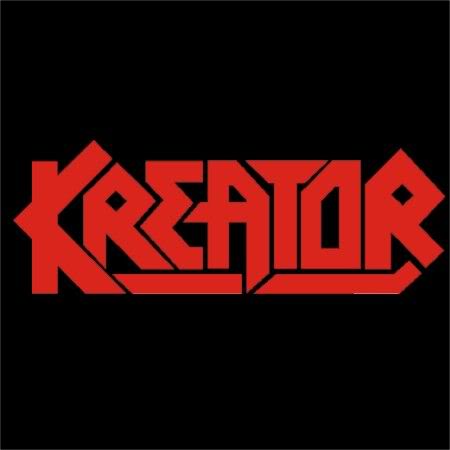 KREATOR announce tour with Sepultura, Soilwork and Aborted
11th May 2016
PREPARE YOURSELVES TO RAISE THE FLAG OF HATE AGAIN!
In early 2017, German thrash giants, KREATOR, will tour Europe in support of their upcoming, yet untitled new record. Legendary guitarist/singer Mille Petrozza and his crew will be accompanied by a varied as well as iconic billing. Brazilian-American extreme metal pioneers SEPULTURA are announced to be direct support to the headliners, followed by visionarySwedish melodic death metallers SOILWORK and Belgium's finest death/grind outfit, ABORTED.
Commented Mille Petrozza: "Finally we are gonna be back on a headlining tour through Europe again. It will be more than two years by then since our last run and we have some amazing ideas for a new stage show, supporting our new album. It will be nothing less than spectacular, I promise! Looking forward to see all of you metal maniacs in 2017. And this will just be the beginning…"
KREATOR: Ever since their inception in the early 1980's, KREATOR have pushed boundaries not only in speed/thrash metal in general but also influenced countless bands in other extreme metal genres. With iconic outputs like 'Endless Pain', 'Pleasure To Kill' and 'Extreme Aggression' under their belt the band is mainly responsible for putting Germany on the map of extreme music.
Unlike other acts in the genre, KREATOR managed to maintain their status even throughout the difficult 1990's when grunge dominated the music world. Ever since the early 2000's KREATOR have taken their sound and thrash metal in general to the next level by releasing modern classics like 'Violent Revolution', 'Enemy Of God', 'Hordes Of Chaos' and most recently 'Phantom Antichrist'. Fans and critics alike are looking forward to what KREATOR will be up to with their next, 14th record.
SEPULTURA: What is there to say about SEPULTURA that had not been said already? Guitarist extraordinaire, Andreas Kisser, and his gang of extreme metal lunatics have proven to prevail for over 32 years now. Be it the early iconic releases like 'Beneath The Remains' and 'Arise', the huge chartbreaking ones like 'Chaos A.D.' and 'Roots' or modern extreme metal milestones like 'A-lex' or 'The Mediator Between Head And Hands Must Be The Heart', SEPULTURA have shown how versatile and relevant they've always been and still are today. With a brand new record underway, the band will showcase a new brand of chaos at these upcoming shows.  Comments Andreas Kisser "I'm so happy to have the chance to tour with Kreator and Soilwork in Europe. Kreator are one of my main early influences in heavy music, it will be a privilege to share the stage with them. We are going to have a new album out in autumn 2016, and the tour with Kreator will be our first shows in Europe playing the new songs live, I couldn't think of a better way to start this new cycle. Rise Up Sepulnation, 2017 will be an amazing year for all of us, see you all on the tour! DESTROY!"
SOILWORK: No other European band has been as influential for modern extreme metal as these Swedes. SOILWORK revolutionized melodic death metal the day they started out by adding clean vocals, a forward-thinking mindset, progressive elements and ridiculously great guitarwork. Over the years the band has evolved to something so remarkably unique and set the blueprints for a modern sound other bands gladly took in. With their current masterpiece 'The Ride Majestic' SOILWORK are a great addition to this varied tour bill.
ABORTED: As one of a few successful artists from Belgium, ABORTED have always stood out from the rest. With the new album, 'Retrogore' out now and their unique blend of death metal and grindcore elements accompanied by sick artworks and brutal live performance, the quartet is set to unleash hell when opening the shows every night.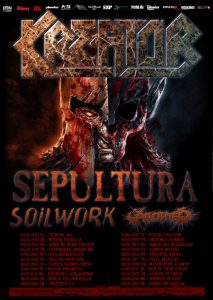 Presented by: EMP, ESP, Meinl, Metal.de, Metal hammer, Metal + Wine, Metalnews.de, Musix, Nuclear Blast, Peta2.de, Piranha, RTN-Touring, Tätowiermagazin, Visions
KREATOR
SEPULTURA
SOILWORK
ABORTED
Full tour-dates and UK ticket links below, on sale this Friday 13th at 11am.
02.02.2017 NL – Tilburg, 013
03.02.2017 DE – Munich, Tonhalle
04.02.2017 DE – Hamburg, Mehr! Theater
06.02.2017 DK – Copenhagen, Amager Bio
07.02.2017 NO – Oslo, Rockefeller
12.02.2017 EE – Tallinn, Rock Cafe
13.02.2017 LT – Vilnius, Siemens Arena
15.02.2017 PL – Warsaw, Progresja
17.02.2017 DE – Wiesbaden, Schlachthof
18.02.2017 DE – Berlin, Columbiahalle
19.02.2017 CH – Pratteln, Z 7
21.02.2017 IT – Trezzo, Live Club
22.02.2017 FR – Grenoble, Summum
23.02.2017 ES – Barcelona, Razzmatazz
24.02.2017 ES – Madrid, Riviera
25.02.2017 FR – Toulouse, Bikini
26.02.2017 FR – Paris, Bataclan
28.02.2017 UK – Manchester, Academy
https://www.manchesteracademy.net/order/tickets/13316619
01.03.2017 IR – Dublin, Vicar Street
www.ticketmaster.ie
02.03.2017 UK – London, O2 Forum
http://www.ticketweb.co.uk/event/GDP0203
03.03.2017 BE – Torhout, De Mast
04.03.2017 DE – Essen, Grugahalle
KREATOR on YouTube:
'Civilization Collapse' official video: https://youtu.be/EApMitnsXgg
'Phantom Antichrist' official video: https://youtu.be/ojpQ3LCeQTY
'Death To The World' live video: https://youtu.be/VRs1WwLqSdA
SEPULTURA on YouTube:
'The Vatican' official video: https://youtu.be/SSqYDgT-ykg
'Da Lama Ao Caos' official video: https://youtu.be/vhvXc7ccy8Q
SOILWORK on YouTube:
'Death In General' official video: https://youtu.be/kme-sxY2pAQ
'Enemies In Fidelity' official video: https://youtu.be/5aCvJWyeGnA
ABORTED on YouTube:
'Divine Impediment' official video: https://youtu.be/vCGOyvfzd-U
'Termination Redux' official video: https://youtu.be/p10lUL6CxBQ
How useful was this post?
Click on a thumb to rate it!
Average rating / 5. Vote count: