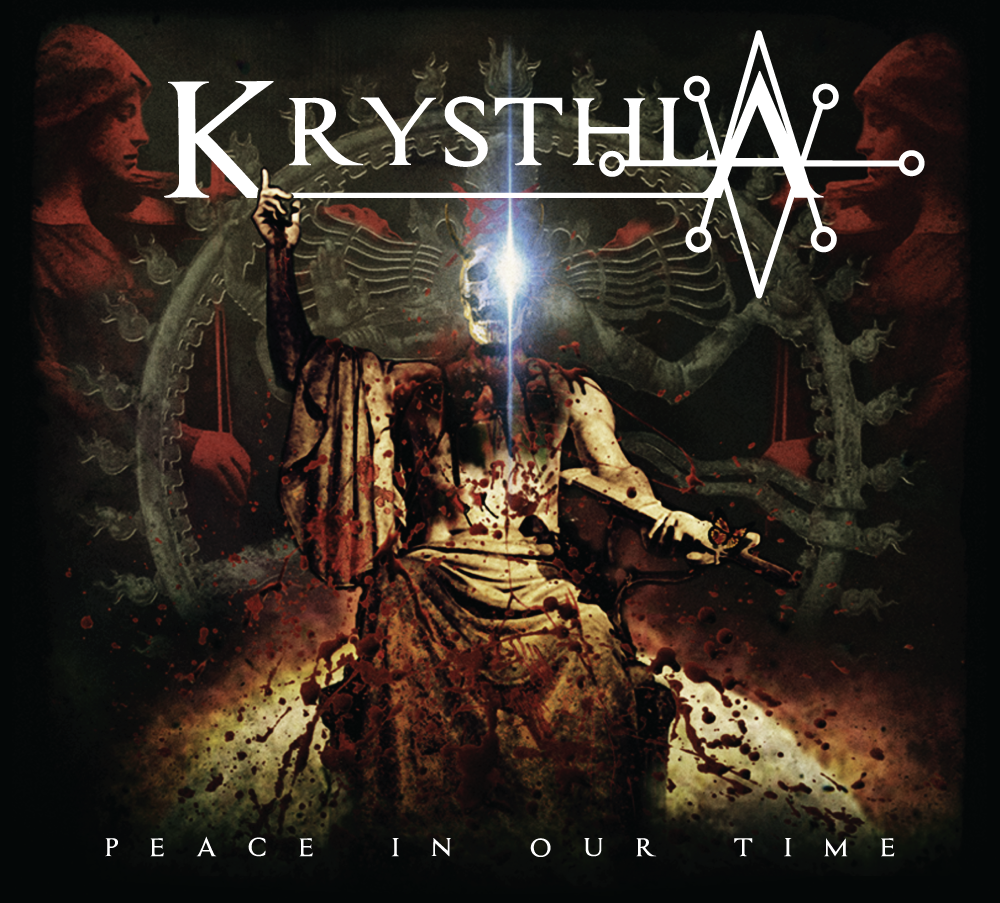 Krysthla Depths (new single/video) + New album
6th January 2017
Hailed by Metal Hammer Magazine (UK) as "setting 2016 on fire" (alongside Textures, Dream Theater, Anthrax, and Devin Townsend) one of the finest extreme metal acts around will release their sophomore album this April.
 
Titled 'Peace In Our Time', this new studio offering from Krysthla sees the British five-piece producing something extremely special. Part metal, part extreme, part technical, part progressive… Aurally this is a metal fan's nirvana. There's an abundance of aggression on offer, and yet the power of the band is amplified even more with melodic tinges and lighter musical landscapes, which never detract from the powerhouse delivery Krysthla is renowned for.
 
Following the announcement of their debut album 'A War Of Souls And Desires' in July 2015, Krysthla broke into Amazon UK's pre-release Top 10 album chart (alongside the likes of Iron Maiden and Disturbed), featured in-store nationwide at HMV as a "recommended buy" and lead music video 'Luminosity' was playlisted on Scuzz TV.
 
Krysthla's debut album received extremely positive reviews from the music press, setting the band up for an exceptional 2016. From their extensive European tour with Decapitated to a prestigious slot on the Sophie Lancaster stage at Bloodstock Open Air, and main support to Textures at Mammothfest, Krysthla has crafted their music and live shows to such a high standard, that they can't be ignored.
 
With 'Peace In Our Time', this is the sound of a band that has quickly found its place in the metal market, and given the chance, Krysthla will take the scene by storm. 
The new album 'Peace In Our Time' is released 7th April via PHD.
KRYSTHLA LIVE
26th March – LEICESTER, The Firebug
9th April – COVENTRY, MACCOV @The Arches
21st April – BOLTON, The Alma
22nd April – WARRINGTON, The Brewhouse
28th April – CARDIFF, Fuel
5th May – HIGH WYCOMBE, Phoenix
6th May – WORTHING. Bar 42
7th May – BOURNEMOUTH, The Anvil
12th May – INVERNESS, Mad Hatters
13th May – DUNDEE, Beat Generator
26th May – NORTHAMPTON, King Billy Rock Bar
27th May – LONDON, The Devonshire Arms
28th May – LEICESTER, Uprising Aftermath @ The Firebug
24th June – NORWICH, B2
1st July – MILTON KEYNES, Craufurd Arms
More dates to be announced.
KRYSTHLA IS
Adi Mayes – Vocals
Neil Hudson – Guitars
Carl Davis – Bass
Noel Davis – Guitars
Wayne Minney – Drums
Website – www.krysthla.co.uk
Facebook – www.facebook.com/krysthla
Twitter – https://twitter.com/Krysthlaband
You Tube / Instagram

Photo credit: Marie Korner Photography