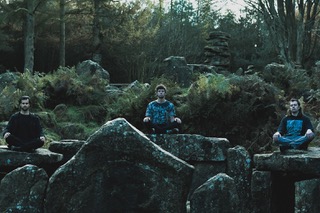 KUROKUMA SHARE NEW SINGLE 'SACRIFICE TO HUITZILOPOCHTLI' FROM DEBUT ALBUM 'BORN OF OBSIDIAN' RELEASED 4TH FEBRUARY
20th January 2022
0
By
John Deaux
Equal parts primitive brutality and mind-bending psychedelia, Kurokuma will bring a fresh dose of exotic heaviness to the extreme music scene in 2022 with their debut album 'Born of Obsidian', set for release on 4th February. 
Recorded in London with Sanford Parker (YOB, Eyehategod, Indian) at Narcissus Studio, the Sheffield-based psychedelic sludge trio have been sharpening their mantra-like songwriting since forming in late 2013, finally culminating in a debut album that melds their expansive ideas and abrasive influences together perfectly.
Always ones to avoid the traditional tropes of the doom and sludge metal scene, Kurokuma have often embraced different elements into their 'heavy' sound. This includes the worlds of Latin rhythm, kraut-rock and electronica, most recently evident in 2019 when they became the first artist to put out a metal release on legendary underground electronic music label, Off Me Nut with an EP titled, ''Sheffield's Best Metal Bands Vol.1'.
'Born of Obsidian' traverses various subgenres of metal while maintaining a unified atmosphere all of its own. Thematically it digs deep into the ancient history of major Mesoamerican civilisations; concepts range from Aztec deities, such as Tezcatlipoca and human sacrifice to the god of sun, Huitzilopochtli, to priests' use of seeds and mushrooms in divine religious ceremonies.  Drummer Joe Allen comments on new single,
"Sacrifice to Huitzilopochtli':
"Sacrifice to Huitzilopochtli is about human sacrifice to the god of sun and war and the Templo Mayor. It was the last thing we wrote for the album when we wanted something faster and shorter than the rest of the eight minute tracks. People know us as a slow band, and while it still has our syrupy tone, this track isn't slow. It's more DM/PV to me. In the couple of shows we've had the chance to play this live the crowd were totally into it.
After the music had been written there was only one choice for lyrics here. Much of the album is Aztec-themed and we still hadn't covered human sacrifice. It's something I remember seeing in an encyclopedia at school, and I was hooked from then on. It was actually a central part of life. They believed if they stopped sacrificing the sun would stop in the sky and an eternal night would come. The direct and brutal nature of the words suited the death metal feel of this song and it makes the perfect second track on our album."
Obsidian itself is a naturally occurring volcanic glass which these civilisations used to create tools, ornaments, scrying mirrors and other instruments of dark magic. 'Born of Obsidian' is Kurokuma's heavy metal-inspired take on bygone Mesoamerican eras, breathing life into these ancient cultures that treasured this igneous rock as an integral resource.
The trio was formed in late 2013 by guitarist/vocalist Jacob Mazlum and drummer Joe Allen in Sheffield, England. George Ionita was soon brought into the mix following the departure of their original bassist, and the die was cast. 
The band spent a year crafting their nascent sound before releasing a self-titled demo in the Autumn of 2014, quickly garnering them attention and earning support slots with the likes of KEN mode, Samothrace and Skeletonwitch. Their first EP, 'Advorsus' followed in September 2016 on Medusa Crush Records.
Grinding their way through 2017 and starring in the indie documentary film 'The Doom Doc', Kurokuma hit 2018 hard with a tour of Japan supporting Conan, followed by a 4/20 show in Reykjavik, Iceland.
Summer 2018 saw the release of the much-anticipated 'Dope Rider' concept EP, along with an Eastern European tour over which the band played eight countries and appeared at the notorious Brutal Assault festival in the Czech Republic. Successful UK tours with Friendship from Japan and Boss Keloid finished 2018 for them.
Their 2019 EP was quickly followed up by an appearance at Desertfest London, and while COVID slowed things down in 2020, Kurokuma became the first metal band in the world to launch their own cannabis seed after partnering with NemeSeeds on KuroKush. 
Originally scheduled to fly out to Chicago to record their debut album at Sanford Parker's studio, the pandemic caused these plans to be amended, and towards the end of the year Parker agreed to fly out to London instead, making this the first record he has ever produced in the UK.
Kurokuma returned to the live circuit in 2021 with a crushing performance at Bloodstock Festival and more live shows planned for 2022.
For fans of: Oranssi Pazuzu, Ufomammut, Sepultura, Negura Bunget.
Upcoming live dates:
Boston Music Room, London – 25th February 2022
Record Junkee, Sheffield – 26th February 2022 
EBGBs, Liverpool – 27th February 2022 
"Enough weight, chops and ideas to make so called bigger bands scratch their heads and say 'why didn't I think of that?!'" – The Sludgelord
"Take the trip yourself and go a little insane" – Metal Sucks
"Not only is Born of Obsidian one of the most intense sludge releases you're likely to hear this year, it also sounds nothing like its competition." – Invisible Oranges
"This is essential listening for riff-worshippers everywhere and cannot come highly-rated enough." – SonicAbuse
"Both spacious and significant" – The Obelisk
"Red-eyed purists should definitely take a big hit." – Kerrang!
'Kurokuma, you constantly surprise and amaze, please continue' – Ninehertz
'a delightful blend of gritty sludge and kaleidoscopic psychedelia' – Astral Noize
'an essential listen' – Punktastic
Jacob Mazlum (guitar/vocals), Joe Allen (drums), George Ionita (bass).
How useful was this post?
Click on a thumb to rate it!
Average rating 0 / 5. Vote count: 0
No votes so far! Be the first to rate this post.
Related