KXM – Circle of Dolls
9th August 2019
KXM are back with their third album Circle of Dolls. Released on the RatPack Records label on 13th September, this is the follow up to 2017's Scatterbrain from this talented hard rocking trio.
Made up of dUg Pinnick (Kings X), Ray Luzier (Korn) and George Lynch (Dokken and Lynch Mob), KXM draw on a wide range of influences and a vast degree of experience to create good sounding music.
The Review
It is clear from the first track "War of Words", that this album would be at home in the late 90's and early 00's. For better or worse it feels like a cousin of Nu-Metal.
Dislikes
Let's get a couple of things that I don't like out of the way with first, so let's talk about dUg. The man has been making music for longer than I've been alive, so he knows what he's doing. For the most part his vocals are fine, good in places however, being on the other side of 65 means that at times his voice struggles to reach the power the song needs. 
There are also a couple of songs, "Mind Swamp" as an example, where the music and vocals feel muddled or a bit dis-jointed. 
Likes
However, what I do like is the punches that come on tracks such as "Circle of Dolls" and "Big as the Sun". Indeed, along with the slower track "Lightning", these are my favorite tracks on the album.
"Circle of Dolls" has a really cool drum pattern which added an element of fascination when I listen to the song, plus it has a quality solo from George Lynch showing that he's still got it.
In the first slower song on the album, "Lightning", they allow the music to breath. It isn't a balled by any stretch, they just play the song slower. This adds a cool dimension to the song which provides a clever change of pace and shows the guys know what they're doing.
Conclusion
I like this album. I appreciate the career of dUg and George have had and are still having. However, overall the album isn't very ground breaking or unique. At times it's muddled but there are some very nice sections.
It may be 'damning with faint praise' but this is a nice album.
Whilst none of the songs are going to make my main playlist, I'll be keeping it on my phone and if one of the songs comes up on a random shuffle, then I'll be glad to listen to it instead of skipping.
Score 7/10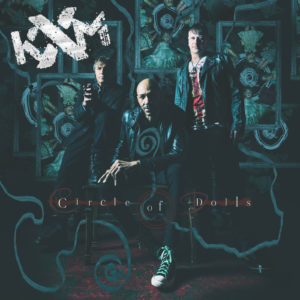 Track Listing
War of Words
Mind Swamp
Circle Of Dolls
Lightning
Time Flies
Twice
Big As The Sun
Vessel of Destruction
A Day Without Me
Wide Awake
Shadow Lover
Cold Sweats
The Border
Bonus Track