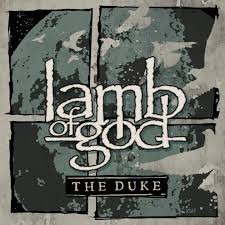 Lamb of God: The Duke – CD review
4th November 2016
Lamb of God's music has always been difficult to categorise, but if anyone wants to come up with a term that combines straight heavy metal, thrash, death, grindcore, hardcore and punk, then I'm all ears.
This EP comes only a year after their last studio album, Sturm und Drang. Unlike other EPs, this isn't a stopgap or an attempt to cash in with limited new material.
The Duke is a tribute to a fan who became friends with singer Randy Blythe. Wayne Ford died after a five year battle with cancer.
So the EP is to raise awareness of the Leukemia and Lymphoma Society and BeTheMatch.org, a website for bone marrow donation. Lamb of God have also started a charity campaign to raise money for the Leukemia and Lymphoma Society where the members will be donating lots of signed merchandise and personal effects to raise money.
This makes reviewing this objectively quite difficult, but I'll try.
Title track, The Duke, is a sombre, yet heavy affair. It's not the greatest song the band have penned, but the emotional story behind it scores points. It's written from Ford's perspective and gives a dark look inside the mind of a dying man. Musically it's alright. Just alright.
Second track, Culling, is the better of the new offerings. It's certainly heavier and growlier than the title track and it's worth several listens where unfortunately track 1 really isn't.
And then the EP is filled up with three live tracks, Still Echoes, 512 and Engage the Fear Machine – all from previous studio album Sturm und Drang and all acceptable versions.
Overall, it's a decent offering that any fan of Lamb of God will want add to their collection. Newcomers should probably delve into their back catalogue if they want to truly know what Lamb of God are about.
But considering The Duke was to honour a fan and to raise awareness of cancer charities, it's difficult to knock it.
Score:  For the charity aspect – 10 out of 10
             For the music – 6/10
The Duke Information
Track listing:
1. The Duke
2. Culling
3. Still Echoes (Live)
4. 512 (Live)
5. Engage the Fear Machine (Live)
Record Label:
Nuclear Blast
Release Date:
18th of November 2016
The Duke is out on 18th November on Nuclear Blast Records – preorder it here.